15,000 firms face investor appeal for greater environmental disclosure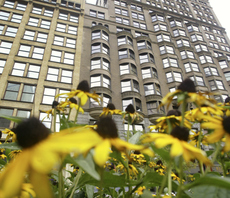 CDP says annual call for firms to provide more data on their climate and nature impacts and dependencies is the largest to date
Many of the world's leading investors have signed a joint appeal to urge companies to boost their environmental impact disclosures, arguing that firms' that provide a comprehensive overview of the environmental risks and opportunities they face are better candidates for long-term investment.
A letter sent this morning to the boards of more than 15,000 companies around the world emphasises the need for the business community to disclose their exposure to climate, deforestation, water security, biodiversity, and – for the first time this year – plastic related risks through the CDP's annual questionnaire.
CDP said the request, which has been backed by 746 financial institutions holding more than $136tr in assets, was the "largest voluntary environmental impact disclosure request" it had ever coordinated.
Aviva, the New York State Common Retirement Fund, Storebrand, and the Canada Pension Plan Investment Board are among the many banks, insurance companies, and asset managers to have called on listed companies to make disclosures via the CDP's platforms.
"Your response to this request will not only provide valuable, relevant, and material information to inform our capital market signatories investment decisions, but also increase market transparency on environmental risks and opportunities," the letter states.
CDP said that significantly more investors had joined this year's appeal to encourage companies to disclose their nature and climate impacts and dependencies, noting it had seen a 10 per cent increase in financial institutions requesting disclosure compared to 2022's appeal.
CDP founder and chair Paul Dickinson said the growing number of investors that had got behind this year's 'letter to the board' exercise was proof that investors were not losing interest in environmental risks, regardless of some claims to the contrary.
"Despite suggestions that investors are deprioritising ESG considerations, this year's Letter to the Board shows the complete opposite," Dickenson said. "Capital markets understand the necessity for comprehensive corporate environmental data in informing investment and lending decisions across markets.
"This, coupled with a record 18,700 disclosures last year – a 38 per cent increase, demonstrates corporate ambition on meeting the mid-century goals of the Paris Agreement."
Moreover, companies that do not yet disclose their impacts and dependencies on climate and nature voluntarily could soon be forced to do so in many jurisdictions. Environmental disclosure has been made mandatory for companies of certain sizes in the UK and similar regulations exist or are in the pipeline in the EU, Brazil, Japan, and the US.
In the letter, the investors warn that companies operating in the EU, or with investors based in the bloc, will soon need to comply with upcoming Sustainable Finance Disclosure Regulation. "Responding to this request with comprehensive environmental disclosure will support the compliance of your investors with this regulation and bolster their confidence in assessing your company as a sustainable long-term investment," it states.
Dickinson said that companies that were not making any environmental disclosures were "simply out of touch with market reality and are overestimating their own resilience".
"They must act now to get ahead of governments and market regulations, and to future-proof their operations," he added.
For the first time this year, CDP will support companies to disclose on plastics, and will also allow companies to disclose their activities under the EU Taxonomy, through a set of pilot questions.