'Asleep at the wheel': CCC urges government to go all-in on 2035 green grid goal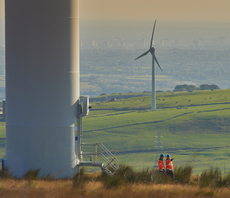 Climate Change Committee warns UK must deliver policies, reforms, and clear strategy before next election if it is to overcome intermittency challenges and deliver on its promise of a net zero emission power grid by 2035
The government is "asleep at the wheel" and risks reneging on its promise to deliver a secure, affordable, and decarbonised electricity system by 2035, according to the latest highly critical report from the Climate Change Committee (CCC), which today warns urgent action is needed ahead of the next election to accelerate the deployment of the clean technologies needed to deliver a net zero emission grid.
The UK's climate advisory body latest report provides an in-depth assessment of the mix of renewable, flexible grid, hydrogen, nuclear, and carbon capture technologies that will need to be in place by the middle of the 2030s if the government is to deliver on its stated goal of operating a nearly completely decarbonised power grid by 2035.
The CCC report rejects the contention that the intermittent nature of renewables makes it impossible to deliver a largely fossil-fuel-free power grid, arguing that it is technically and economically feasible to build a net zero emission grid by 2035, as well as being the most plausible means of improving Britain's energy security, driving down costs for consumers, and meeting the UK's emissions reduction goals – particularly in the face of heightened geopolitical tensions sparked by Russia's war in Ukraine.
But it warns that in order to deliver on its goals the government must urgently deliver a raft of new policies, investments, and grid reforms to pave the way for a massive scaling up in clean power capacity and green energy technologies needed over the next decade and beyond.
It estimated demand for electricity could grow 50 per cent between now and 2035, and potentially more than double by 2050, due to the growing shift towards electrification right across the economy as technologies such as heat pumps and electric vehicles (EVs) come online, placing unprecedented pressure on the grid.
The CCC said the government's ambitious vision for a five-fold increase in offshore wind capacity, including 5GW from floating wind, and a tripling of solar power by 2030, alongside a goal for 24GW of nuclear capacity by 2050 – as set out in the British Energy Security Strategy – were therefore broadly set at the right level.
But it stressed the huge surge in demand for electricity largely provided by intermittent renewables would necessitate a transformation in how the grid operates. The report emphasised how energy storage, back-up power, flexible grid technologies, and hydrogen, as well as carbon capture and storage (CCS) and bioenergy with carbon capture technologies would all have a vital role to play in a net zero emission grid.
And it recommended some electricity generation capacity from fossil-gas power plants should still be retained in 2035 as back up for the grid, albeit used sparingly – potentially accounting for as little as two per cent of the UK's power mix in any given year – and in conjunction with CCS capability. Unless gas power plants are carbon capture-ready, they risk becoming stranded assets as the economy fully transitions to net zero, the CCC warned.
Chris Stark, CEO of the CCC, stressed that decarbonising the power sector in the mid 2030s was mission critical for the UK achieving its overarching target to reach net zero emissions economy-wide by 2050. "I think if we don't reach decarbonised power by the mid 2030s – not to say that net zero is unachievable, but it just means it's really much, much harder," he told journalists during a briefing yesterday. "So it's a such a clear, sensible thing to aim for, because you then have that very simple discussion after 2035 of what you do beyond the power sector."
Lord Deben, chair of the CCC, pointed out the Committee had been calling on the government to focus on decarbonising the power system for the past 15 years, adding that the offer of "cheap, decarbonised electricity for every consumer and business is now within reach" thanks to the monumental advances from renewable energy technologies over the past decade.
However, he stressed that the Russian invasion of Ukraine had hammered home the fragility of the UK's energy security, and further underscored the case for building a more reliable, clean energy system as quickly as possible.
"We know how to do this, but government is asleep at the wheel," he said. "Recent commitments for new nuclear and renewables are welcome, but these alone are insufficient. A rapid overhaul of the planning system and regulations is needed. It is not clear where the responsibility lies for the design and operations of our modern energy system. Countries around the world are now racing for this goal. The UK is further ahead than most, but we risk losing our early lead at the worst possible time."
The report also emphasises the importance of hydrogen in providing energy storage and back up power to ensure the resilience of a UK grid that will be increasingly powered by intermittent renewables. But it warns limited production capacity for the versatile energy source in the near term presents a further challenge to efforts to deliver on the government's green grid goals.
As such, the CCC calls on the government to ramp up its capacity targets for green hydrogen production made from clean energy, while acknowledging that imports and hydrogen made from fossil fuels with CCS is still likely to be required to meet demand.
However, it added that if the government is to achieve its aim of total energy independence by 2040, it would need to aim for scenarios that limit overreliance on hydrogen and ensure the fuel is directed towards sectors – including energy storage – where it is most needed.
Stark said the government therefore needed to take "more of a designing hand in some of this and some early decisions right now on what they expect to see happen from hydrogen".
"By 2050, the situation may have changed, but over the next 15 years or so, [hydrogen capacity] is pretty tight," Stark warned. "So I think there's a bit of wishful thinking going on out there from many of the sectors that think they'll have free and unconstrained access to that hydrogen in the 2030s and beyond. Actually, that's not the case, so we've got to make careful decisions about that."
The report represents the CCC's most in-depth analysis to date on decarbonising the UK's power system, using detailed modelling, historical weather data, and stress-testing to illustrate the requirements of the power system in 2035 and demonstrate how concerns over the stability of a renewables-reliant grid can be addressed.
As such, it sets out a raft of urgent policy recommendations to the government, calling on Ministers to move quickly to remove barriers to clean energy development, unlock investment in hydrogen and CCS capacity, and push through reforms that should make it easier to manage an increasingly flexible grid.
The report joins a host of recent studies calling on the government to strengthen its Net Zero Strategy and put in place the policy, funding, business models, and governance structures needed to decarbonise the electricity system. For example, just last week the government's own spending watchdog – the National Audit Committee – called on the government to urgently publish a clear, detailed strategy for delivering a decarbonised grid by 2035, with a particular focus on speeding up the planning process for clean power infrastructure and laying the policy groundwork for greater grid flexibility and back up power capacity.
The UK's energy sector, and business body's such as the CBI, Aldersgate Group, and the Institute of Directors have similarly issued warnings in recent weeks that the UK is at serious risk of being left behind in the rapidly accelerating global green investment arms race sparked by the US Inflation Reduction Act, the EU's corresponding suite of fresh net zero policy support, and China's ongoing state-sponsored push to secure as much of the growing global clean tech market as possible.
Echoing these groups' demands, the CCC today reiterated its call for the government to act as quickly as possible to provide much needed confidence to businesses and investors that the UK remains at the forefront of the net zero transition and has a clear strategy for building a clean energy system by 2035.
Stark said the UK risked missing out on much needed clean technology investment in the face of competitive threats from the US, EU, and China, "if we don't act this year on making the environment better for investment" domestically.
"What we need is stability – that's what investors ask for," he added. "My worry is that collectively we start to look forward to the next General Election as the point when you can introduce those policies, and it will be too late. But actually, this window coming up for the government to respond to the court case that they lost last year on the Net Zero Strategy; to respond to the Chris Skidmore review; for this green moment that we hope will be in the Budget next week – actually that's the window."
"There is a really important need to signal to the wider world – to the investor community, to global companies that have choices about where they put their capital – that we are responding in the right way to this crisis and that we have still got good plans in place to deliver goals like the 2035 power target. They are completely central. They are really important anchor targets in boardroom discussions in my experience and it would be an enormous mistake, I think, to wait for the next election to introduce new ambitious policy."
The government has given growing attention to clean energy and its net zero goals since the turn of the year, with a revamp on Whitehall leading to the establishment of a new Department for Energy Security and Net Zero (DESNZ) that is specifically tasked with building a clean, low cost and energy efficient power system.
Moreover, it is consulting on plans to speed up the planning process for critical green infrastructure such as offshore wind farms, exploring the potential to lift the de facto ban on new onshore wind farms, and is widely expected to put more flesh on the bones of its energy strategy before the end of this month when it is required to publish an updated Net Zero Strategy.
Responding to the CCC's report today, DESNZ said the UK remained at "world leader" on efforts to reach net zero and stressed that it had "a laser-like focus on maintaining that position".
"Already we are decarbonising faster than any other G7 country, while low-carbon sources like renewables and nuclear provide half of our total UK energy generation," the Department said in a statement. "But we are also investing in the new technologies of the future, rapidly progressing developments in CCS, alongside being the first government in decades to invest in nuclear energy which will be critical to energy security and making energy more affordable."
The government also faces growing domestic political pressure to accelerate its net zero efforts, as the Conservative Party continues to languish far behind Labour in the polls, which have consistently shown more concerted action on climate and renewable energy is overwhelmingly popular among voters.
Labour has pledged £28bn annual public investment in climate action should it win the next general election, in addition to establishing a state-owned clean energy company and targeting a fully decarbonised UK power system by 2030.
Quizzed over the credibility of Labour's 2030 goal, Stark stopped short of declaring the target impossible, emphasising that decarbonising the power grid so quickly would be hugely beneficial for the climate, but he stressed that meeting the target amounted to an extraordinarily difficult undertaking.
"I don't think we're quite at the point of saying [Labour's 2030 target] can't be met, but it is a huge challenge," said Stark. "So you could expect for an incoming Labour government they would have to turn absolutely everything towards this on day one of its administration if they wanted to pull it off. I think the prize at the end of the day is so big that of course that might be worth it for [Labour], and I'm sure that's what Ed Miliband [Labour's Shadow Secretary of State of Climate Change and Net Zero] would say if he was here.
"But I think the goal for 2035 is very stretching, so doing it sooner – which would be very valuable for the climate and to our energy system, of course – becomes harder and harder each year that we bring that forward."
The Labour Party was considering a request for comment at the time of going to press.
Lawrence Slade, chief executive of the Energy Networks Association (ENA) – the trade body representing the UK and Ireland's electricity and gas network operators – largely echoed the CCC's recommendations today, as warned that "policy progress is lacking".
"If we are to hit the government's decarbonisation targets, secure energy investment in an increasingly competitive global market and protect long term energy security for customers then the government needs to be acting faster now," he said. "The networks are ready to invest, innovate and deliver but a lack of political action risks holding decarbonisation back."
The CCC's findings will also add further impetus to the urgent need to phase out fossil fuels as quickly as practicable from the UK economy, which faces worrying headwinds from inflation, sluggish productivity, and cost of living pressures largely driven by the fossil gas energy crisis.
Jess Ralston, head of energy at the Energy and Climate Intelligence Unit (ECIU), highlighted the "huge investment opportunity in a cleaner, cheaper electricity system that isn't blown about by international gas markets", but stressed that "the government needs a clearer plan for investors to pile in".
"The additional costs involved in balancing a renewables grid are minimal particularly when compared to the cost of gas power," she said. "With batteries building quickly, and the opportunity of demand responding to supply demonstrated by the Demand Flexibility Service, there are obvious routes forwards."