Can luxury fashion ever be sustainable?
Luxury consumers care about the environment – but can the industry shape up? Faran Krentcil talks to Marie-Claire Daveu – the doyenne of sustainability behind Gucci, Balenciaga and Yves Saint Laurent – to find out.
Channing Tatum is hot. One evening in September, he was also a bit overheated. The Hollywood actor was at New York's Four Seasons Hotel as a guest of the Kering Foundation, a charity that was launched to combat gender-based violence. The foundation was marking its 15th anniversary with a September gala that showcased Kering's luxury brands – Gucci, Balenciaga and Yves Saint Laurent among them. While Mr Tatum gently dabbed his forehead with a cocktail napkin, Isabelle Huppert, Oprah Winfrey, Kim Kardashian and Linda Evangelista were making the rounds and posing for photos. All were clad in designer gowns; all were a tiny bit sweaty.
More like this:
– Can Victoria's Secret fix its image?
– Iconic portraits of glamorous stars
– How Madras became a preppy staple
The doyenne of this literal hotspot was Marie-Claire Daveu, 51, who serves as Kering's chief sustainability and institutional affairs officer. Daveu heads up the brand's efforts on everything from recycled material sourcing to carbon footprint reduction. Famously, she also has a strict environmental policy of limiting "wasteful" air conditioning whenever possible – even when it's a balmy night in September, and Nicole Kidman is wearing a Balenciaga catwalk gown with full-length black gloves.
Nicole Kidman, Kim Kardashian and Isabelle Huppert were guests at a recent Kering Foundation charity dinner (Credit: Getty Images)
"Air conditioning seems like a small thing, almost a silly thing, which I understand," says Daveu when we speak earlier that day at The Whitby Hotel in midtown Manhattan. "But with sustainability, you have to act very locally. If you are working in an office, it can start at your office. Collectively, that truly can make a big difference." Daveu's rule for air conditioning in Kering's business spaces is simple: "No disturbances from 19 to 26 degrees Celsius."
Daveu isn't just making red-carpet royalty sweat a little – she's also making her competitors in the luxury fashion sector sweat a lot. A 2022 survey by consumer consulting firm Deloitte found that 57% of luxury consumers take sustainability factors into account when they buy a new designer item. Daveu's cadre of style sects, including critical darlings like Bottega Veneta and revered innovators like Alexander McQueen, now come with published, public standards for environmental requirements like responsible cotton sourcing and water use during precious metalwork.
In March of this year, Kering publicly announced they would cut greenhouse gas emissions by 40% by 2035. Gucci (which is owned by Kering) set up its "circular hub" in February as "the first hub [for recycled luxury] in Italy". Kering's "material innovations lab", which is aiming to find cleaner solutions to high-resource textiles like leather, silk and wool, just celebrated its 10th birthday. From the autumn of 2022, the company banned the use of all fur.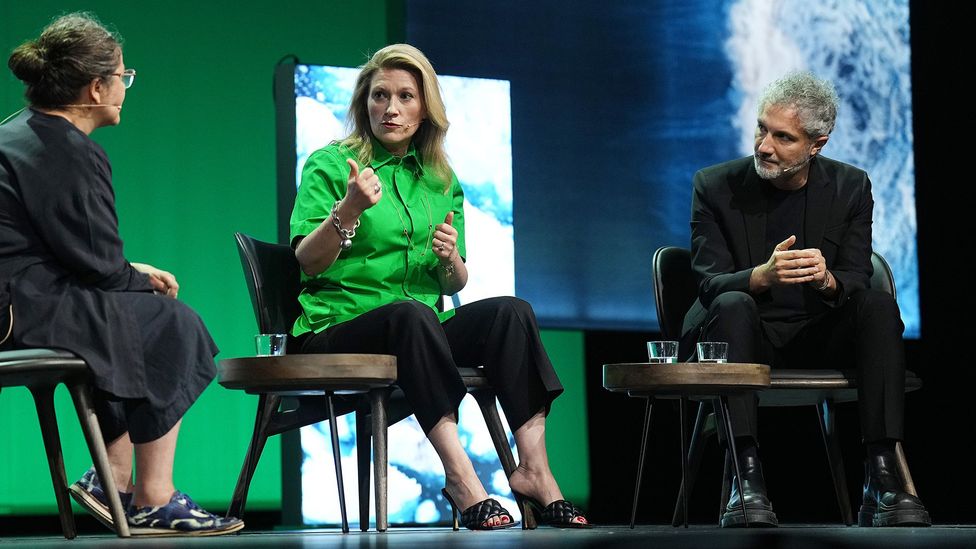 Marie-Claire Daveu – shown here at the Copenhagen Global Fashion Summit – is the head of sustainability at Kering (Credit: Getty Images)
Before joining the billion-dollar luxury firm in 2012, Daveu was part of a different type of French establishment: the government. A former technical advisor to the cabinet of Prime Minister Jean-Pierre Raffarin, she was also the principal private secretary of France's minister of ecology and sustainable development. She was later the post's chief of staff.
"What I learned is that change takes time, and also that change is very possible if you commit to it," she says of her civil servant years. "That's the key, you know? That commitment. So when I met [Kering president and CEO] François-Henri Pinault, that is what I was looking for. ​​I was like, 'Oh. You really understand this aspect. It's very important to you. And you're very open to listening to new ways to achieve sustainability.'"
With Pinault's blessing, Daveu began establishing cross-channel systems ensuring the creative, financial, and logistics teams were all on the same team when it came to sustainable practices and regenerative solutions. But the Paris native and former environmental engineer sees herself less as an air traffic controller than a performance coach, training her elite team to create more responsible clothes and accessories.
"You know how a CFO makes a financial roadmap?" she asks. "It's just like that, except for sustainability. You define KPIs, you define the calendar of progress, and you check in with your team to ensure you're on track to meet your targets."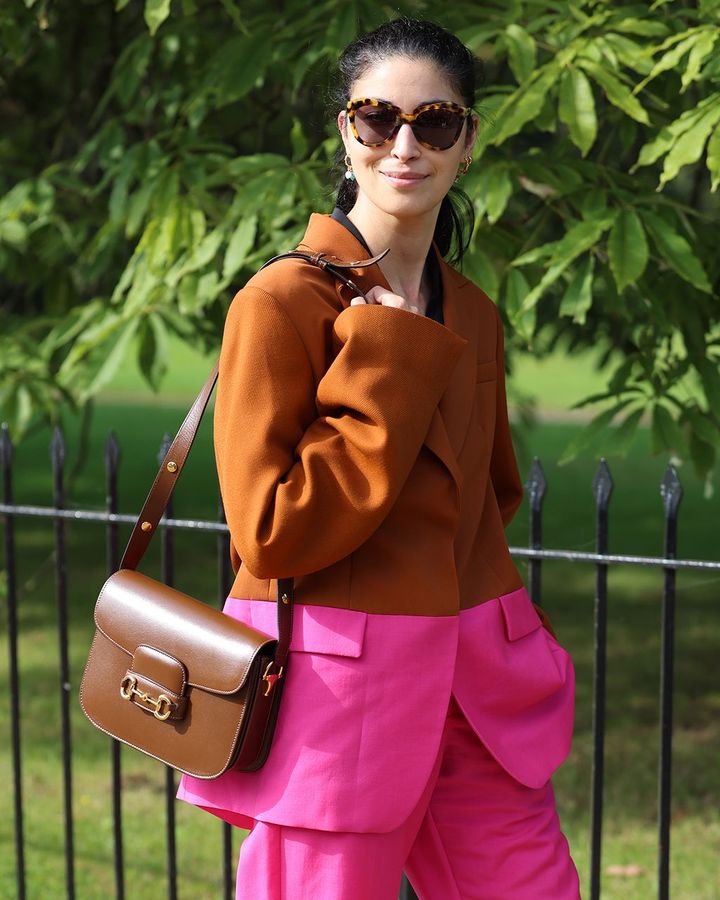 The iconic Gucci horsebit 1955 handbag has recently been reinvented using sustainable materials (Credit: Getty Images)
Daveu encourages "cross pollination" between Kering's design teams and their environmental scientists. She is also unapologetic about pushing more sustainable practices to happen as quickly as possible, citing the immediate threats of the climate crisis like extreme weather, loss of viable farmland, and endangered marine life. To that end, Kering has pledged to reduce its carbon emissions in absolute value by 2035, using methods guided by the Nature Climate Solutions Alliance.
"When you see what's happening with climate change and with loss of biodiversity, it's not enough to have a clear diagnosis," says Daveu. "It's not enough to say, 'I will have the solution someday'. You are ready to push to go faster and faster with the scientific data you have… I am not God. I cannot say, 'We can save the world no matter what'. But I have hope. And with that hope, I can try. We can try."
'Sustainable capitalism'
The logo-printed elephant in the room, of course, is that Kering is still a business. Their job is to sell things, and then make more things to sell. The markets don't care if you're doing good; only that you're doing numbers. And though "sustainable capitalism" – the idea that a brand can make more money by scaling its environmental impact – is a favourite buzzword for established brands like Patagonia and emerging ones like Sky High Farm, it is hard to see a fashion leader like Kering pulling back on the timely trends they create. Gucci's spangled logomania as seen on Harry Styles, for instance, or Balenciaga's sleek body stockings worn by Ms Kardashian create cultural moments, and drive buying frenzies in the process. What happens to a hot pink Saint Laurent jumpsuit now that the "Barbiecore" craze of summer is over? A new version must be procured in order to stay in the "now". And that takes resources, both financial and environmental.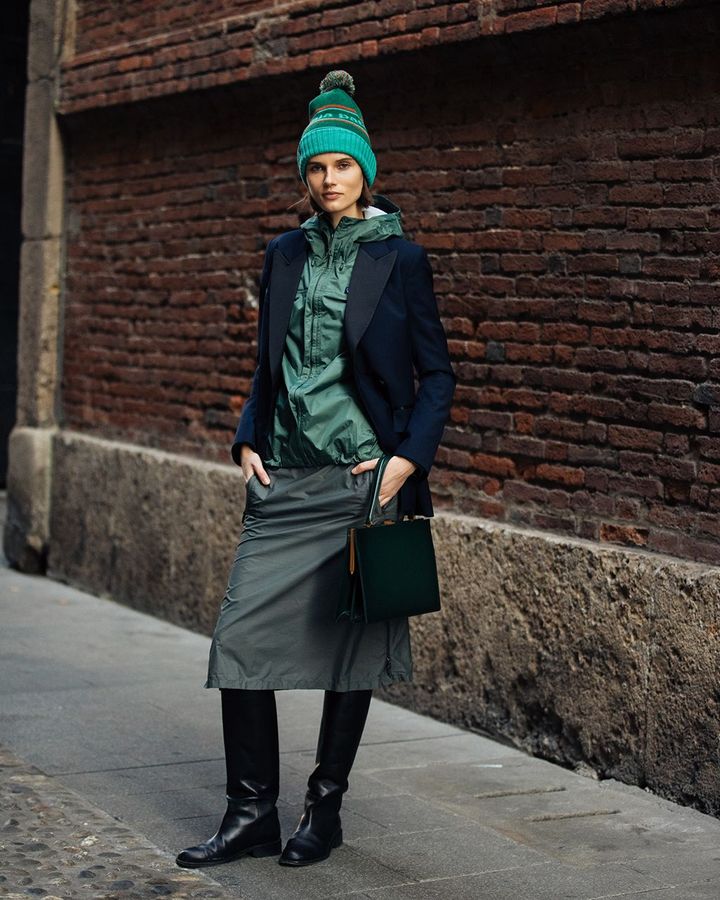 Model Giedre Dukauskaite wears a Patagonia hat and zip-up jacket – the label is a pioneer of sustainable practices (Credit: Getty Images)
Moreover, until more materials become fully recycled or upcycled, the rising demand for sustainable goods could actually harm the brand's goals of capping emissions altogether. Industry leader The Business of Fashion reports that Kering's carbon emissions actually increased 12% in 2022, thanks in part to the rising demand from red-hot brands like Bottega Veneta and Gucci. In the words of their sustainability editor Sarah Kent, "we cannot consume our way out of the climate crisis".
What is promising, however, is that under Daveu's leadership, Kering has become more transparent about the challenges, and more realistic about their goals. "They're doing a good job addressing the problem [of emissions versus production] head-on," says Peter Sadera, the editor-in-chief of Sourcing Journal, a leading industry publication on sustainable fashion development. "But of course, it's not perfect. Their main problem is that the current fibres everyone uses – synthetics, silk, even cotton – are not inherently sustainable. Making new clothes requires using new fibres and new technologies. The problem is, they tend not to be scalable, at least not yet… So while it's awesome to say, 'Hey, we have this new eco-leather, or we're working with mushroom things, or some kind of biomaterials' – that's one capsule collection. What kind of dent is that making in 99% of the other materials they are selling?"
Sadera is also watching Kering's outreach efforts to smaller sustainability start-ups with interest –and some concern. "They have these Kering Generation Awards, where they look for sustainable start-ups and help fund them. The sceptic in me thinks it's brilliant for them to give an award to the scrappier innovators who join their team. In some way, it's cheaper for them to find [sustainable] tech that already exists, plus it's a very good PR strategy. But are these innovative materials going to be a major part of any collection at any point in time? The hope is there. It's starting to happen a little bit. But again, can they scale it?"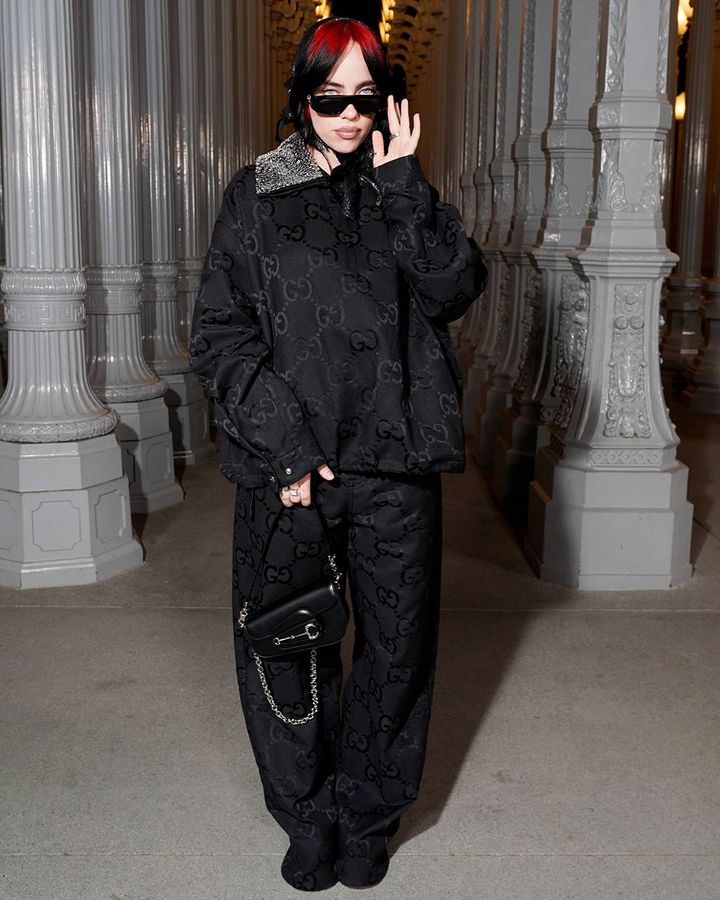 Billie Eilish, shown here with the Gucci horsebit bag made from biomaterials at the LACMA Art and Film Gala on 4 November, is a face of the brand (Credit: Getty Images)
In October, Kering brand Balenciaga debuted a collaboration with Gozen, a female-led Turkish biotech company making a fabric called Lunaform from microalgae. "It is only one look for now," says co-founder Ece Gozen, a former womenswear designer, from her Istanbul studio. "But it shows the possibility of connecting the dots from what I learned from the fashion industry and what we can do in this [sustainable] space."
As their leather-like material was used on Balenciaga Look 41 – a puffy black robe resembling an off-duty Jedi costume from Star Wars – Gozen secured $3.3 million in seed funding from outside investors (which did not include Kering), which will enable them to build a factory with over one million sq ft to scale their textile production. "We are disrupting things in the materials world," says Gozen. "They are disrupting the design world. Obviously, each industry needs the other to build bigger solutions."
As global conflicts and economic anxiety overtake our social media feeds, luxury shopping has taken a backseat to more immediate forms of self-care like comfort food and skincare rituals. Kering's most recent earnings report is down 9%, although that still puts their Q3 sales earnings at $4.72 billion. The company has also faced recent scrutiny for filling its latest open design post – at Alexander McQueen – with yet another white male designer, an odd twist from a brand with a financial commitment to female empowerment.
The Changing Room
The Changing Room is a new column from BBC Culture that spotlights the fashion innovators on the frontlines of a style and sustainability evolution
Still, interesting – and potentially ground-breaking – projects are on the horizon. Last month, Artémis was part of a much-discussed industry takeover, buying a majority stake in Creative Artists Agency, or CAA, the Hollywood talent firm that's home to megastars like Zendaya and Margot Robbie. (It also represents Salma Hayek, who is married to Mr Pinault himself.) Though the move has no direct link to Kering's sustainability goals, it may help make them even more mainstream in the future.
"Kering wants to push [environmentalism] in a way that will resonate with the current generation, and celebrities are a really great way to do it," says Segara. "If you can get one of your brand ambassadors wearing something that you want to promote as sustainable, that would have legs. But the question is, what are they doing with the talent at CAA? I don't know if they have the answer to that yet."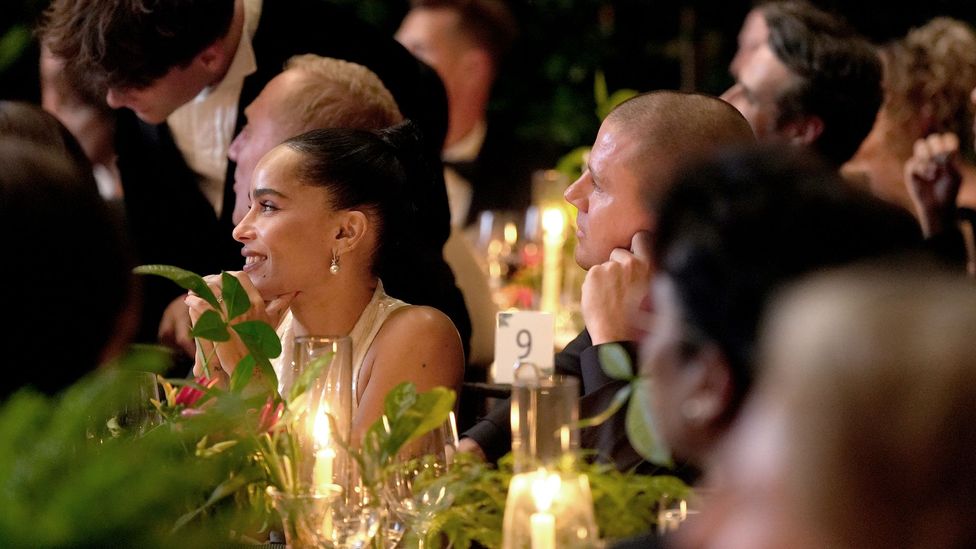 Zoe Kravitz and Channing Tatum at the Kering Foundation event – celebrity connections are key to luxury brands for the promotion of sustainable products (Credit: Getty Images)
And of course, many non-CAA clients are also faces of Kering. That includes Billie Eilish, the Gen Z pop star who collaborated with Gucci on a revamped version of their classic Horsebit 1955 handbag made from biomaterials. The collection already has over one million Instagram likes, plus a music video set to Eilish's hit summer song, What Was I Made For?
For Daveu, it's just one more example of the cross-pollination between modern luxury and sustainable practices, and how like air and water, both must exist for the other to thrive. "We don't just see luxury and culture and sustainability as these separate things," says Daveu. "When we speak about luxury, it's about the heritage; it's about quality; it's about craftsmanship… And luxury also means to be pioneering, in design and technology and in pop culture as well. It is not just our job to make sure sustainability is luxury " she says. "It is also our obligation."
The Changing Room is a new column from BBC Culture that spotlights the fashion innovators on the frontlines of a style and sustainability evolution.
If you liked this story, sign up for The Essential List newsletter – a handpicked selection of features, videos and can't-miss news delivered to your inbox every Friday.
Sign up to the Future Earth newsletter to get essential climate news and hopeful developments in your inbox every Tuesday from Carl Nasman. This email is currently available to non-UK readers. In the UK? Sign up for newsletters here.