Cornish geothermal, food waste, and a UN sea life treaty: BusinessGreen's most read stories of the week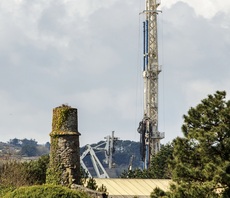 From the Climate Change Committee's latest report to a new UN High Seas Treaty, BusinessGreen rounds up the most widely read stories this week
Geothermal Engineering claims United Downs heat and power project is on track to begin generating energy next year following latest investor backing.
– by Michael Holder (@michaelholder)
Energy giant to offer new range of solar, energy efficiency, EV charger, and insulation services to households across the UK.
– by James Murray (@James_BG)
Climate Change Committee warns UK must deliver policies, reforms, and clear strategy before next election if it is to overcome intermittency challenges and deliver on its promise of a net zero emission power grid by 2035.
– by Michael Holder (@michaelholder)
New legal powers for countries to create protected areas in high seas seen as major boost to hopes of delivering '30×30′ biodiversity target.
– by Cecilia Keating (@cecilia_keating)
Waitrose research finds that a fifth of households that have access to kerbside food waste collections are not taking advantage of them.
– by James Murray (@James_BG)