Could a Scottish basalt quarry help turbocharge the carbon cycle?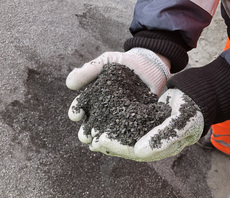 In the first of a series of features on the UK's nascent carbon removal sector, BusinessGreen reports from Fife, where crushed basalt rock is being spread on fields to draw carbon from the air at breakneck pace
At the Orrock Quarry in Fife, huge trucks are careering around manmade mountains of rock, buckets and backends loaded with a coarse black material. The machines are circling a crushing machine, which extends like a supersized periscope at the heart of the quarry, churning rocks blasted from the Scottish hillside into a finer crumbly aggregate. All around the growling machinery, the hillside is scarred by decades of extractive activity.
It is not a place you would expect to be on a press trip focused on climate solutions. But the clue for why I am here is found the rockface around me. Tightly packed, hexagonal columns groove the walls of the quarry – proof the bedrock is rich in basalt, a volcanic rock famous for this so-called columnar jointing. The staircase-shaped rocks that protrude out from the Irish Sea at the Giant's Causeway are the best known example of the geological phenomenon that results from rapidly-cooling magma.
A favourite among amateur geologists, basalt has also been coveted by civil engineers and builders since the Roman times. The basalt aggregate produced at the Orrock Quarry has made its way in roads, bridges, paving, and buildings and been used in tar and cement production for the best part of 50 years.
But now the challenges of the 21st century look set to create an exciting new market for basalt once more. There are high hopes the rock could play a major role in the industrial-scale carbon removal scientists have warned is required to slow spiralling global temperatures. A seasoning of basalt dust on farmers' fields between crop cycles has been found to fast-track a natural mineralisation process that happens when volcanic rocks, rain, and air come into contact. Over time, the rocks react with carbon dioxide in the air and rain to dissolve into smaller particles, which eventually drain into groundwaters and rivers, and get 'locked away' for good in the ocean as calcium carbonate.
This enhanced rock weathering process forms a critical part of Earth's natural carbon cycle that, among other things, helps to make the planet habitable by keeping soils fertile and oceans alkaline. But now an industry is growing around the promise of fast-tracking this natural carbon sequestration process to help tackle climate change. The key to speeding up the chemical reaction so it can be measured in years rather than millenia is found in the use of crushed basalt, which is tens of thousands of times more reactive than large rocks due to its exposed surface area. Conveniently, basalt is one of the most common rocks on Earth, and quarries typically have stockpiles of basalt dust, given it is a byproduct of producing aggregate for asphalt and concrete that has limited uses and tends to pile up faster than it can be shifted.
While enhanced rock weathering remains in its infancy – the Climate Change Committee did not include it in its latest central pathway for how the UK can meet its net zero emissions goals, categorising it as a "speculative technology" – research is advancing that suggests so called enhanced rock weathering has significant carbon removal potential. A paper published in Nature Geoscience last year, for instance, estimated that integrating the use of rock dust into the UK agricultural industry could remove up to 30 million metric tons of carbon dioxide a year by 2050 – meeting roughly 45 per cent of the country's overall carbon removal needs. Moreover, there is evidence the approach can deliver wider benefits in terms of soil and ocean health.
All of which helps to explain why I am in a quarry, thumbing volcanic rock dust. This area of Scotland has all three elements required for cost and carbon effective enhanced rock weathering: basalt-rich bedrock, high levels of rainfall, and a large-scale agricultural industry. And a start up called UNDO has bought the pile of basalt dust in front of me in a bid to test the hypothesis that basalt could provide the foundation stone for a whole new industry.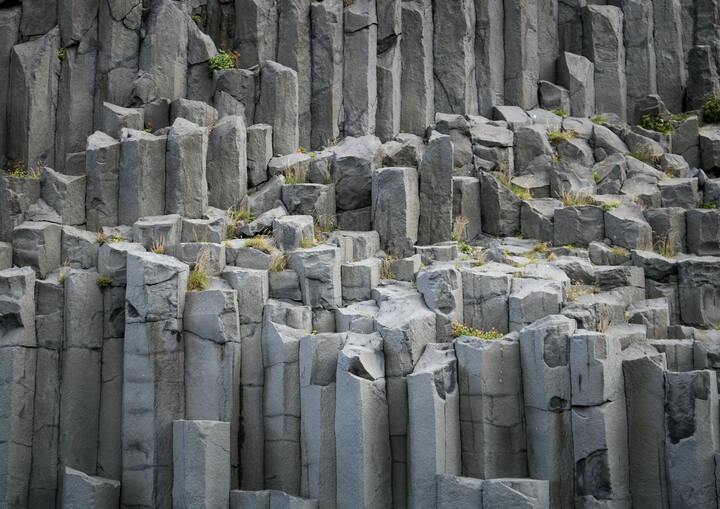 Fast-tracking the carbon cycle
UNDO specialises in enhanced rock weathering and is hoping to get its hand on as much basalt dust as possible in the coming years. It is already working with 23 farms and five quarries in the UK, and the company is aiming to significantly ramp up its activity to meet an ambitious goal of locking away a cumulative billion tonnes of carbon from the air by 2030. The plan is to fund these efforts by selling carbon credits on the rapidly growing voluntary carbon market.
UNDO CEO and founder Jim Mann, said the company's aim is to play a role in "reversing the carbon cycle" by putting carbon back into the natural reservoirs from which it has been depleted.
"We have a really ambitious goals, and the reason we think they are possible is because we are tying in with existing infrastructure," he told BusinessGreen. "What we try and do is not build out new stuff. We don't have to build big DAC [direct air capture] plants. We take existing infrastructure, existing labour force, and we lock into that, we work with that to scale quickly. We provide the technology, we provide the science."
In the near-term, UNDO is aiming to remove one million tonnes of carbon dioxide from the air by 2025, and then to subsequently increase its removals capacity by a factor of 10 every 18 months to reach a billion tonne target. For context, experts from the University of Oxford argued last month the world as a whole draws two billion tonnes of CO2 from the air each year, with the vast majority of removals – 99.9 per cent – achieved through what the researchers dubbed "conventional carbon dioxide removal (CDR)", such as afforestation, reforestation, and magrove restoration.
Enhanced rock weathering contains elements of nature-based and engineered carbon removals solutions, by offering permanent carbon credits through a natural process that would not have happened without human intervention. If UNDO meets it enhanced earth weathering goals, it would be a major coup for a fledgling technology.
Leveraging farmer FOMO
Enhanced rock weathering may be a less technically risky investment than some other emerging carbon removals technologies, but it has its own challenges. For starters, farmers are unlikely to initially jump at the prospect of spraying volcanic rocks across fields once every three years, even if the rock is being supplied for them for free and its application is managed by the external haulage companies they already work with.
But advocates of enhanced rock weathering are banking on growing understanding of the soil enhancement benefits of basalt dust to eventually win farmers over. A growing body of research, some of it funded by UNDO, is focused specifically on how the minerals released by enhanced rock weathering can boost crop yields and reduce the need for other soil additives, such as lime.
University of Newcastle researchers recently found a crop of spring oats at a site in Northern England increased its yield by 13 per cent in the year after the basalt was applied, according to UNDO's Mann. "It reduces the need for [the application] of lime, it reduced the inputs on potash, it reduces the inputs on phosphates, which causes so much trouble in our rivers, and it looks like it may well reduce the need for nitrogen fertiliser, although we don't fully understand the mechanism yet," he said.
UNDO agronomist Jim Wardman said the key driver of farmer uptake of basalt additive would not be scientific papers, but word of mouth. "The [case to come on board] should be even stronger once we get the proper agronomic information of how beneficial it is," he said. "But at the end of the day, there's nothing better than a farmer saying to his neighbour, I've tried this, and it is really good. There's massive FOMO (fear of missing out) with farmers."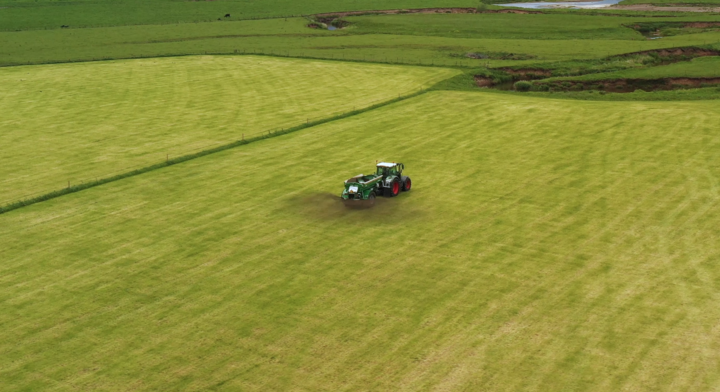 Monitoring, reporting, and verification
While there is little debate over the underlying scientific principles of the technology – rock weathering, after all, is a critical part of the Earth's carbon cycle – the question of how to measure the sequestration of carbon and calculate exactly how fast rock powders dissolve remains the subject of debate.
UNDO intensively-researched monitoring, reporting, and verification (MRV) process marks an attempt to quantify the carbon benefits on offer. "There is no set way to do verification measurement in-field on enhanced rock weathering – that's well established and proven," acknowledged XinRan Liu, head of science and research at UNDO, a particle physicist who previously developed technology to find dark matter in deep underground mines. "So, we are trying to approach this by deploying all the existing known MRV techniques whilst innovating to bring cutting-edge technology from our partners at world-leading academic institutes and laboratories to the field."
Liu's team of inter-disciplinary scientists at the company has developed a sophisticated geochemical model designed to calculate each project's weathering curve by crunching a variety of inputs, including the basalt mineralogy, climate, and soil chemistry, in addition to the size, surface area, and application density of the basalt additive. The model's resulting predictions are then combined with results from in-field measurements of weathering proxies such as soil pH, electric conductivity and alkalinity, to calculate the overall carbon removals potential of any one project. "The vision is to combine robust field data with our geochemistry model to create a scalable, MRV approach that can be deployed globally," Liu said.
Despite confidence that enhanced rock weathering can scale significantly more rapidly than other carbon removal technologies given its reliance on waste material and the economic case for basalt applications on fields, UNDO executives said their key challenge was bridging a "cash flow gap", with most of the costs associated with the solution required up-front. UNDO has applied 24,000 tonnes of crushed basalt rock over 1,200 hectares of agricultural land in the UK and the US to date and is aiming to spread 185,000 tonnes of basalt dust in 2023 alone, but the revenues will only come down the line as carbon credits are issued and sold.
"We need to source the rock, transport the rock and spread the rock," said chief commercial officer Ryan King. "All those things carry costs. So, when we're working with customers, whether directly or through resellers, our cost profile lends itself to needing to finance early activity. The activity itself takes place over time – it's a bit like financing a forest."
However, progress is being made. The company has already signed a supply deal for its credits with US payments company Stripe and is currently courting other customers, as well as financiers and trading desks that might be interested in buying credits in bulk now ahead of a predicted increase in demand throughout the course of the decade.
Not all credits are equal
UNDO's senior management insist they remain largely unfazed by some of the bad publicity attached to the carbon credits market, arguing recent allegations that leading standards bodies and developers were trading in 'junk' or 'phantom' credits would only serve to boost awareness among corporates of the need to invest in high-quality carbon credits that can demonstrate real world carbon removals.
While admitting he was initially worried about the fallout of a recent report into deforestation credits in the Guardian, Mann said his fears had proved short lived. "I think this is a positive," he said. "It is part of the education gap closing and [enabling] people to understand that credits are not all equal. It is forcing people to understand what they are buying better… What we're seeing is they're moving towards high quality [credits], which is exactly what they should have been doing in the first place."
Part of the way UNDO is aiming to prove its integity is by opting to register with Puro.Earth, a standards body that has to date evaded the scandals that have dogged some of its peers and only issues credit that require some form of human engineering. "We definitely want to be seen as separate from other standards bodies, focused only on high-quality carbon removals, also on engineered removals – removals that have had a technological process," explained Elba Horta, Puro.Earth's head of communications. "The feedstock might be natural, but it requires a human engineering process to stabilise the carbon and store it."
The Nasdaq-owned company, which is responsible for orchestrating the third-party audit of the removals claims of all companies on its registry, has taken a deliberate step away from being a marketplace for credits to zero in on becoming a standards body and credits issuer. The move should help insulate Puro.Earth from accusations levelled at some other player in the market that their mission to embed integrity into the voluntary carbon market is compromised by their direct incentive to sell credits.
Carbon removals will always remain unpopular among some environmental campaigners and green business leaders, who argue the very existence of carbon offsets provides an avenue for companies and financiers to greenwash and delay efforts to cut their emissions at source. But the advice from leading climate scientists is that carbon dioxide needs to removed from the atmosphere at scale if the world is to stand chance of meeting the goals of the Paris Agreement and avoiding some of the worst climate impacts. And with governments largely failing to take steps to deliver carbon removals capacity it is left to private companies to try and build a negative emissions market from scratch.
Among an ever-growing portfolio of carbon removal solutions, enhanced rock weathering is clearly a compelling option, especially if a consensus can reached on how best to measure its climate impact. The prospect of an emissions-reducing soil enhancement should also pique the interests of civil servants and policymakers at the Department for Food, Environment and Rural Affairs wrestling with how to boost food security while reducing farming's contribution to the climate and nature crises. It could also mean that quarry trips become a more regular occurence for climate journalists, especially if they happen to live in rainy, basalt-rich nations.
Cecilia Keating's trip to Scotland was paid for by Puro.Earth