Could the EU's Fit for 55 programme unleash a new wave of climate litigation?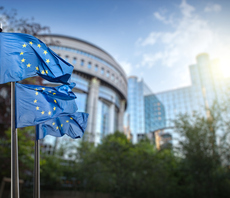 A new report by the Grantham Research Institute on Climate Change and the Environment predicts that upcoming changes to EU law could fill the courts with a new wave of climate litigation cases
The rapid shift in the scale and ambition of climate policy in Europe is set to send shockwaves throughout the EU legal system, with decarbonisation strategies such as the Fit for 55 programme expected to spark a surge in climate litigation cases designed to force governments to strengthen their decarbonisation policies.
That is the hypothesis advanced in a new report published today by the Grantham Research Institute on Climate Change and the Environment at the London School of Economics and Political Science.
The authors – Catherine Higham, Joana Setzer, Harj Narulla, and Emily Bradeen – contend that following the announcement of the European Green Deal and the passage of European Climate Law, including the Fit for 55 package which comprises a collection of measures designed to keep the EU on track to deliver its target of reducing emissions by 55 per cent by 2030 against 1990 levels, climate campaigners have been handed a valuable new legal weapon.
As such, the authors expect that "significant litigation" is likely to involve a series of challenges to government action or inaction, and could include both strategic and non-strategic cases against the extension of the European Union Emissions Trading System (EU ETS), government framework litigation cases, cases over the distribution of benefits and burdens of climate action and decision-making processes at the Member State and EU level, as well as disputes over what constitutes renewable energy, particularly in cases regarding bioenergy, and over permitting for both renewable and fossil fuel projects.
"There is a high likelihood that states may be involved in litigation, as both defendants and plaintiffs, particularly as civil society activists seek to ensure that national-level policies and action are as ambitious as possible, and as controversies over the type and nature of new energy technologies continue to play out," they said. "It is also likely that there will be a spate of legal cases concerning the application of reforms to the Emissions Trading System and the creation of ETS-2 to encompass new sectors, following the trend seen in the past."
The authors highlight how the Intergovernmental Panel on Climate Change (IPCC) has previously recognised the important role climate litigation can play in influencing climate governance, and as such anticipate that litigation may play a "major role" in helping ensure Europe ramps up efforts to meet its emissions goals in the coming years.
The authors anticipate the upcoming Fit for 55 package in particular is set to trigger several new cases. While the package is still being finalised, according to Commission documents seen by the authors, it is likely to include at least 13 measures, including five new legislative acts as well as amendments to eight pieces of existing climate legislation. The authors counselled that the proposed reforms are still subject to change, and finalising them could prove "the most challenging policy making process" of the last decade, with many parties likely to be "unhappy" with the results.
However, once adopted many of the reforms will place intense pressure on governments and corporates to accelerate decarbonisation efforts, and provide multiple avenues for challenging continued inaction through the courts. The package is set to cover almost every aspect of the EU's climate legislation framework, including the EU Emissions Trading System (EU ETS); the Land Use, Land Use Change and Forestry Regulation (LULUCF Regulation), first adopted in 2018, which introduces new and more comprehensive rules concerning the accounting for greenhouse gas emissions from the LULUCF sector; the Effort Sharing Regulation (ESR), which creates an obligation on Member States to meet emissions reduction targets for emissions not covered by the ETS and LULUCF Regulation through domestic action; and two energy-focused Directives, the Recast Renewable Energy Directive (RED II) and the Energy Efficiency Directive (EED), both of which seek to reduce greenhouse gas emissions associated with energy generation.
The authors predicted the package could enable litigation multiple fronts. For example, they expect to see 'government framework' litigation focused on the overall ambition and implementation of new climate policies and legislation by the EU and its Member States. They added that these cases could be grounded in human or constitutional rights, and could argue that governments are not taking sufficiently ambitious action to protect these rights. Cases could also be grounded in domestic climate change framework laws, arguing that government actors are failing to comply with relevant duties established under these laws.
Similarly, 'just transition' litigation could focus on the distribution and benefits of climate action as well as the decision-making processes within Member States and at an EU level. The authors said such litigation would be likely to be particularly relevant in the context of new requirements for Member States to create 'Social Climate Plans' to access the Social Climate Fund created by the new legislation.
The report also predicts disputes over what constitutes 'renewable energy' or 'green' investment. It added that such cases could be particularly relevant for the bioenergy sector, as well as permitting processes for both renewables and fossil fuel projects.
In addition, the authors warned that measures aimed at ensuring that the EU's climate goals translate into activities in the real economy may well give rise to litigation against companies and financial institutions as well.
As well as extending existing obligations under the EU ETS, the authors noted that several of the proposed measures in the Fit for 55 package are focused on corporate governance, many of which share a common focus on the collection and disclosure of information with a goal of influencing the choices made by consumers and investors.
Other legislative proposals discussed include the introduction of the Corporate Sustainability Due Diligence Directive, which aims to introduce mandatory human rights and environmental due diligence requirements into EU law.
The authors suggested these could give rise to a series of legal reforms, including reforms to the governance of corporations and corporate value chains, the extent of which they said is currently unclear in proposals and is therefore likely to remain the subject of disputes even once legislation has been passed.
They also anticipate that there could be reforms regarding the provision and use of sustainability information in financial transactions as well as by financial service providers, and reforms to consumer protection legislation, which they suggested may be invoked in the context of a recent wave of 'climate-washing' litigation across Europe.
However, it is not just environmental campaigners that are poised to launch legal action in response to the EU's new legislation. The report warns that based on historical precedent there are likely to be cases on the extension of the EU ETS, which could "seek to prevent or delay the implementation of new rules that impose new costs and obligations on the private sector".
Moving forwards, the authors argued it is "critical that governments and legislators, businesses, lawyers, and civil society groups understand the bigger picture of how climate change law in Europe is changing. This includes a need to understand legislative developments holistically, rather than focusing on individual measures in isolation".
They added that it will be important to understand both new and amended legislation in the context of the history of European climate litigation, and anticipate the ways in which litigation may be used by a wide range of actors in the coming years.
In particular, they advised governments and legislators to try and avoid legal controversy by bringing together key stakeholders in the development of new legislation and policies, and consider litigation risks when transposing new and amended EU directives into national law.
They added that businesses and professional advisors should also be aware of litigation risks and reform internal practices to avoid such risks where possible. And the report recommends that that civil society groups should consider how litigation pathways could complement their campaigns.
There are plenty of examples of climate litigation in Europe being used as a lever to influence climate policies which the authors highlight in the report, stating that over the past three decades a "broad array" of litigants have used European legislation to try and deliver more ambitious decarbonisation strategies.
According to the report, more than 318 cases in Europe have been identified as climate cases since 1993. During the mid 2000s there was a boom in climate policy, which has in turn led to an uptick in strategic climate cases.
One such example is the case of Urgenda Foundation v. State of the Netherlands which was filed in 2019 by the Dutch environmental group and nine hundred Dutch citizens who sued the government over its failure to deliver a sufficiently ambitious climate strategy. The result was that the Dutch state's existing pledge to reduce emissions by 17 per cent was declared insufficient to meet the state's fair contribution toward the UN goal of keeping global temperature increases within 2Celsius of pre-industrial conditions and it was ordered by the court to limit emissions to 25 per cent below 1990 levels by 2020. Similar cases in the UK and France have also forced governments to strengthen their decarbonisation plans.
On the other hand, there have also been historic cases of "anti-climate litigation" that seek to delay or dilute decarbonisation policies and which the authors said have had a "considerable impact" on climate policy development.
For example, in 2011 US airline operators from the Air Transport Association of America filed a claim in the European Union Court of Justice which sought to avoid its inclusion in the EU Emissions Trading System on the grounds it should not apply to flights that took place outside EU territory. The court rejected the argument, and from January 2012 all airlines flying into and out of the EU where required to possess enough carbon allowances to cover their greenhouse gas emissions.
In addition, there have already been several high-profile climate cases filed this year. Environmental NGO ClientEarth has taken on oil giant Shell over its "flawed" climate plan, threatened food and drinks company Danone with court action over its plastic packaging, and hit the UK's financial regulator FCA with a legal challenge over its decision to approve the prospectus documents of an oil and gas company which allegedly failed to meet a legal requirement on climate-related risk disclosure. A raft of NGOs led by Friends of the Earth France also recently sued BNP Paribas over its climate credentials which is believed to be the first climate lawsuit against a commercial bank.
Previous cases show that climate litigation can clearly have an impact on both government and corporate climate policy, and as the report shows this is "especially true" in Europe where there has been a concentration of cases pushing governments and businesses to deliver more ambitious decarbonisation plans. While climate litigation is nothing new, it will be fascinating to see if the authors of today's report are right and a new tidal wave of cases is about to be released. The success or failure of Europe's climate strategy could depend on the result of such cases.