Do better: How to foster diversity and inclusion in sustainability teams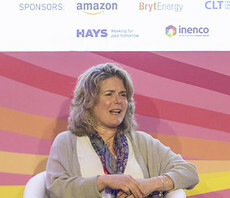 WATCH: Sarah Mukherjee, CEO of IEMA, and Women in Sustainability Network founder Rhian Sherrington share experiences and insight on how companies can build more equitable and inclusive sustainability teams
Businesses have a vital role to play in ensuring diversity and inclusion within their sustainability teams, and building stronger representation for minority views in decision making is a critical for delivering a Just Transition.
At BusinessGreen's Net Zero Festival 2023, broadcaster Lucy Siegel hosted a discussion on strategies to recruit, retain, and promote talent from underrepresented communities within businesses, with a particular emphasis on the intersection of sustainability and social justice. On hand to share their experiences and expert insights on how companies can build more equitable and inclusive teams and create a workplace culture that values diversity were Sarah Mukherjee, CEO of the Institute of Environmental Management and Assessment (IEMA), and Women in Sustainability Network founder Rhian Sherrington.
Their fascinating conversation can be watched back in full in the video below.
With thanks to Net Zero Festival 2023's headline sponsors Innovate UK and OVO.
While this year's event may have drawn to a close, the Net Zero Festival will be back in force again in 2024 – so sign up below to stay in the loop on the plans for next year's event.
hbspt.forms.create({ region: "eu1", portalId: "26640399", formId: "162f147a-2a92-49dc-857e-2f3039d846b9" });