Global Briefing: US Postal Service order 9,250 Ford EVs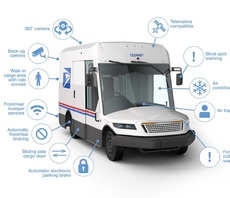 All the top green business news from around the world, including hydrogen-powered ferries in Norway, renewables investment plans from EDP and BP, and the deepening row over ESG in US Congress
US Postal Service revs up electrication strategy with Ford EV mega-order
The United States Postal Service (USPS) has this week announced it has awarded contracts for over 9,000 battery electric vehicles (BEVs) as well as initial orders for more than 14,000 charging stations to be deployed at it facilities.
The service said that after a competitive search it had ordered 9,250 Ford E-Transit vans, with delivery of the vehicles set to commence from December of this year. The 100 per cent electric vans form part of the USPS's $9.6bn electrification plan, which is backed by $3bn from the government's Inflation Reduction Act (IRA) funds. The vans will be manufactured in Kansas City, Missouri.
"We are moving forward with our plans to simultaneously improve our service, reduce our cost, grow our revenue, and improve the working environment for our employees," said Louis DeJoy, postmaster general. "Electrification of our vehicle fleet is now an important component of these initiatives. We have developed a strategy that mitigates both cost and risk of deployment – which enable execution on this initiative to begin now."
The service also announced it had awarded competitive contracts to three suppliers for the purchase of more than 14,000 charging stations to establish an initial and ongoing Electric Vehicle Supply Equipment (EVSE) inventory.
The orders are the latest step in one of the world's largest fleet electrification programmes. The USPS saifd that by 2028 it expects to be operating 66,230 electric delivery vehicles and have completed an overall acquisition of 106,000 delivery vehicles.
Senate passes bill attempting to crackdown on ESG investing
Elsewhere in the US, the politicisation of Environmental, Social, and Governance (ESG) investing continued to escalate as the Senate passed a bill that aims to prevent pension managers from making investment decisions primarily based on non-financial factors.
The Republican-backed bill passed after two Democrat Senators – Joe Manchin and Jon Tester – sided with the GOP. The White House has said President Biden will veto the bill.
The bill aims to overturn a Labor Department rule that they claim would make it easier for pension fund managers to consider ESG issues when allocating investments and undertaking proxy votes. It forms part of a wider movement from GOP politicians across the US to hinder investments and funds that consider what they regard as non-financial factors.
But Democrats hit back at a move that they argued would impinge upon investors freedoms and failed to account for how considering ESG factors could result in better financial returns in the long run.
Senate Democratic leader Chuck Schumer accused Republicans of "forcing their own views down the throats of every company and every investor".
Experts also argued that the Labor Department regulation would not in fact force investors to take ESG factors into account and would have no impact on existing fiduciary duties.
Meanwhile, Republicans acknowledged their bill would not stop funds from considering ESG issues altogether, but would rather aim to ensure it was not the primary consideration.
PowerCell secures order for world's largest marine fuel cell
Hydrogen fuel cell supplier PowerCell has this week signed an agreement to deliver hydrogen fuel cells to two ships operating on Norway's longest ferry route, marking a "significant milestone for the shipping industry's energy transition".
The €19.2m deal represents the largest non-combustion fuel propulsion project to date in the global marine industry.
PowerCell said it will now deliver its PowerCellution Marine System 200 to two vessels owned and operated by Norwegian transport group Torghatten Nord, enabling the ferries to produce approximately 6MW of power each. The ferries, which will predominantly be powered by green hydrogen, are expected to reduce their combined CO2 emissions by 26,500 tonnes per year.
"This is a groundbreaking project not just for PowerCell or Norway, but for the entire marine industry, and one that we are very happy and proud to be part of," said Richard Berkling, CEO of PowerCell. "Norway led the development in the introduction of liquefied natural gas in the marine industry and now the country is taking an important step to establish green hydrogen as a clean energy source for our hard to abate sector. Our solutions are perfectly suited for demanding applications where operational reliability, high power density and compact format are important parameters.
"The transition to electrification and emission-free energy is accelerating and is supported by supranational initiatives such as the EU's Green Deal and the large-scale investments to reach the Paris Agreement. In Norway alone, there are roughly 800 ferry lines and ferries are a segment where we can expect great interest in hydrogen-electric solutions. Starting next year, the maritime sector will be included in the EU Emissions Trading System, which will increase the demand for net zero, hydrogen-powered solutions."
EDP Renewables unveils €25bn global clean energy investment plan
Wind and solar developer EDP Renewables has today announced plans to increase its global investment to €25bn through to 2026 as it looks to reinforce its position as one of the world's top clean power generators.
The company said the 2023-2026 Business Plan would see it allocate 85 per cent of the total investment to renewables, clients, and energy management and 15 per cent to electricity networks across fast-growing and low-risk markets in four regional hubs: Europe, North America, South America, and Asia-Pacific. EDP said its yearly investment rate will increase by 30 per cent to €6.2bn.
"Today, we ramp up our ambition to lead the energy transition supported by a competitive and resilient portfolio, strong financials, an empowered team, and the will to contribute to a climate-positive world for the coming generations," said Miguel Stilwell d'Andrade, EDP's CEO. "This Business Plan reinforces our growth ambition while pushing even further our commitment to the planet and creating superior value for all."
BP ramps up Spanish solar and hydrogen plans
Lightsource BP has this week announced plans toinvest €1.2bn in 19 Spanish solar PV projects that are set to deliver 1.6GW of new capacity and create more than 5,000 jobs in the construction phase and about 90 jobs for the subsequent operation of the plants.
"At Lightsource BP we are very pleased to have achieved environmental authorization for these projects, a milestone that demonstrates the company's leadership position in Spain and the dedication of our team," said Fernando Roger, development director for Southern Europe at Lightsource BP. "Our ambition and commitment are clear: Spain is a key market in our global growth strategy."
The news came in the same week as BP also announced plans to invest €2bn through to 2030 in transforming its Spanish refinery to produce biofuels and low carbon hydrogen and inked a new alliances with energy giant Iberdrola to jointly invest €1bn in Spain's electric vehicle charging network.