'Green' commercial buildings attract higher rents, UK real estate survey finds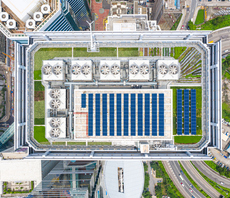 Poll of UK real estate managers indicates commercial properties with improved energy efficiency hold higher value and rental yields compared to less efficient buildings
The majority of UK real estate managers have seen both the value and rental yields from the 'green' commercial properties in their portfolios increase in comparison to less efficient buildings, amid growing interest in properties that offer energy bill savings for businesses.
That is the conclusion from a new poll of 50 real estate managers in the UK, which found 82 per cent had seen their more energy efficient commercial properties rise in value by between 16 and 25 per cent compared to buildings that cannot command so-called 'green premia'.
Moreover, almost nine in 10 respondents – 88 per cent – said they had seen rental yields for commercial properties with 'green premia' rise by between 16 and 25 per cent compared to more inefficient buildings, as tenants are willing to pay more for properties that offer lower bills.
The survey findings also suggest sustainable commercial buildings have fewer vacancy periods, with almost two-thirds of respondents indicating that vacancy periods for their greener properties were shorter than for less efficient buildings.
The research, which was commissioned by real estate ESG data intelligence platform Deepki, also asked real estate professionals to rank the most important measures to help buildings drive down energy costs and emissions in order to attract 'green premia' values.
Top priority measures listed by respondents included more efficient operation of lighting, heating, ventilation, and air conditioning in line with building usage patterns and seasonal weather changes, followed by improving maintenance of equipment, such as regular cleaning of air conditioning filters to boost performance.
The research was carried out by Pureprofile and took in responses from 50 commercial real estate management professionals in the UK in October last year, of which almost nine in 10 worked for a large institution responsible for managing over £500m in assets, Deepki said.
The findings come amid heightened concern around the energy efficiency of commercial buildings for businesses and industrial manufacturers, which have seen their energy costs soar over the past two years in the wake of the Covid-19 pandemic and Russia's war in Ukraine.
High energy costs have placed a significant strain on the UK economy, particularly for high energy user firms and manufacturers which are facing major challenges to compete with rivals that benefit from lower energy and operating costs in countries abroad.
Against this backdrop, Katie Whipp, head of UK at Deepki, said the research demonstrated the growing value of energy efficient commercial property "in terms of the overall asset and rental values they can command" when compared to draughtier, less energy efficient properties.
"Where assets need to improve their carbon footprint, managers are focusing on the easy wins which can deliver improvements quickly and at lower cost," she added.