How to create a cosy minimalist home
When it comes to interior design, there is a happy medium to be found between minimalist and maximalist. Dominic Lutyens speaks to the advocates of "relaxed minimalism".
The word "minimalist" elicits mixed reactions. From the 1990s, it has been used by many as a derogatory term. Even ardent design fans associate it with soulless interiors and a humourless reverence for design that prioritises aesthetics over comfort, or simply regard it as impractical, given all the stuff many of us inevitably accumulate. In recent years, some designers have even gone to the other extreme, cultivating maximalism, welcomed by many as a joyful, exuberant antidote to uptight minimalism. Floral wallpapers and rich, intense colours became popular in interiors crammed with contrasting textures and an eclectic mix of furniture, artworks and curios.
More like this:
– Origins of the de-cluttered home
– Inside Japan's most minimalist homes
– Five ways to be calm and why it matters
But there's a happy medium to be found between these two extremes. We're now witnessing a return to more restrained, uncluttered interiors – but with a more relaxed, comfortable feel. One indication of this is paint colours, which are moving away from maximalism's dramatic, even oppressive hues, such as navy or bottle green, to paler, earthier mid-tones like sandy beige and sage green that arguably make rooms feel more spacious. Perhaps lockdowns, which reawakened an interest in nature, helped foster this taste for a palette inspired by the great outdoors. A perception of maximalism as excessive and wasteful in the light of growing environmental concerns might have also sparked a trend for more clean-lined homes.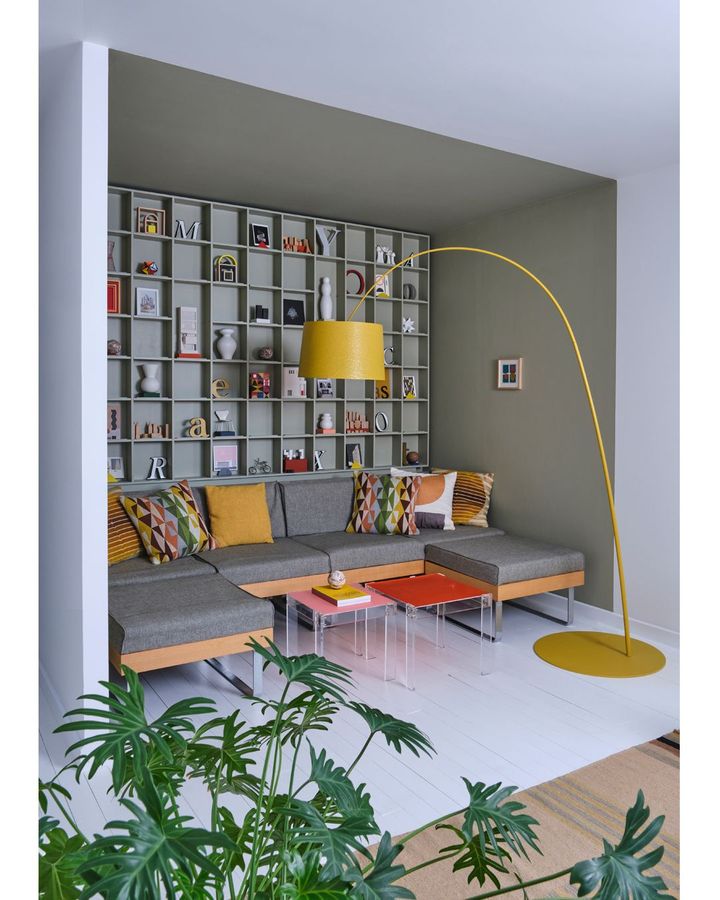 Pops of colour and display shelving help provide both character and a sense of order (Credit: Betsy Smith)
"People now want a simpler life partly because they're more conscious of sustainability," says Betsy Smith, an interiors stylist and colour consultant for Graphenstone Paints, who dubs her taste "relaxed minimalism". She tells BBC Culture: "As we're becoming more informed about what we buy, our interiors are becoming more considered. We're using fewer elements to curate a comfortable, practical, stylish home."
The 1990s vogue for radically minimalist interiors sprung from early 20th-Century modernism and a zero tolerance, among some of its exponents, for extraneous elements. Technological advances in reinforced concrete and steel frames obviated the need for internal load-bearing walls, resulting in spacious, open-plan interiors. A seminal example is Dutch architect and designer Gerrit Rietveld's Schröder House of 1924. Comprising intersecting vertical and horizontal rectangular planes, its interiors were open-plan and devoid of ornament. And German architect Ludwig Mies van der Rohe advocated extreme simplicity with his German Pavilion created in 1929 for the International Exposition in Barcelona and cuboid Tugendhat House in the Czech Republic, built in 1930.
Yet aspects of these seemingly severe buildings are influencing today's warm minimalism trend. These include a strong connection between their interiors and surrounding landscape thanks to their expansive glazing. A graceful willow tree stands outside the dining area of Tugendhat House.
Another modernist element inspiring architects of minimalist homes today is the rich palette of materials favoured by Van der Rohe. For the German Pavilion, he created two luxurious, leather-covered seats – still in production – for use by the visiting King and Queen of Spain.
"Minimalism, born out of early 20th-Century modernism, was in many ways a reaction against over-decorated, over-furnished high-Victorian interiors," says James Gorst, founder of James Gorst Architects. "At Tugenhadt, Van der Rohe deployed a palette of richly veined marbles, exotic veneers, fabrics and rugs to animate and soften its essentially white interiors."
Gorst says his project, Sandpipers, a house in rural Surrey, which boasts many floor-to-ceiling windows, channels this aesthetic: "Its transparency opens itself confidently to the outside world with the exterior landscape replacing the stencilled wallpapers of the 19th Century. Its walls are white, its flooring made of bare polished concrete and the window frames are metal. Yet its interior is warm, thanks to oak panelling, paintings and leather-covered furniture, such as the LC1 chair, co-designed by modernists Le Corbusier, Charlotte Perriand and Pierre Jeanneret."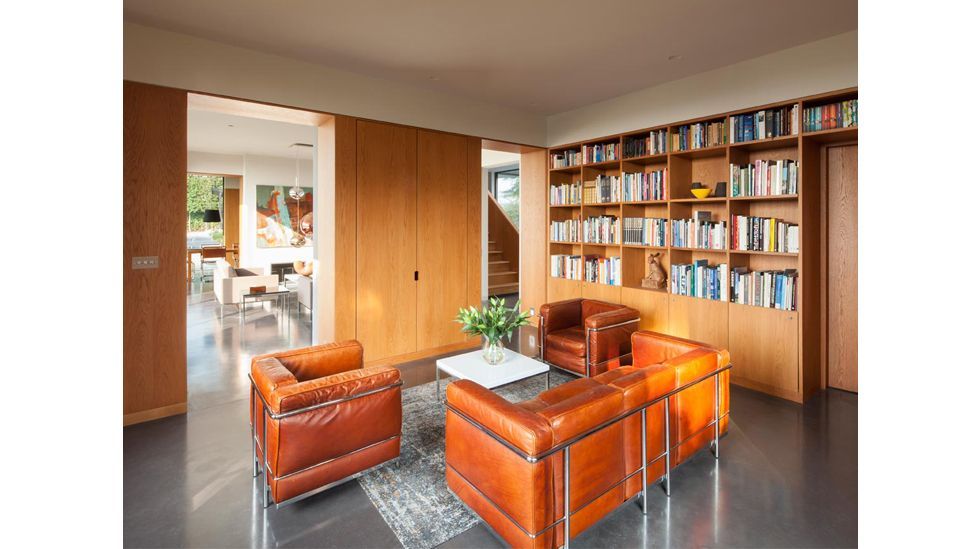 Oak panelling and leather-covered furniture create a warm feel in a house in rural Surrey, UK (Credit: Gorst Architects)
Danish interior design studio Space Copenhagen also links indoors and out when dreaming up minimalist interiors. "We prefer sheer fabrics for curtains and blinds that allow for outside daylight to filter softly into spaces," says Signe Bindslev Henriksen, co-founder of the company, who sums up its style as "poetic modernism". She tells BBC Culture: "Translucency avoids creating a hard boundary between inside and outside. Overall, we choose natural, tactile, organic materials – wood, stone, leather, linen, warm-toned metals and exposed plaster – and subdued, earthy colour tones."
For David Montalba, founder of Montalba Architects, which has offices in Los Angeles and Lausanne, Switzerland, integrating views of the surrounding landscape into a minimalist home is essential to making it feel warm. "The landscape can be a house's rural setting or a courtyard with paving and planting, as found within a triple-height atrium at our project Vertical Courtyard House in LA," says Montalba, who grew up in Switzerland and the Carmel area of California. He is influenced by the Southern Californian regionalist architecture of Irving Gill, whose early 20th-Century houses featured simple interiors, plain fireplaces and skylights, and George Brook-Kothlow, who incorporated an abundance of wood into his houses. "Engaging with the outdoors helps soften a minimalist home, as do bookshelves, art and textiles. In one living space at Vertical Courtyard House, a wall-hung textile piece by Canadian artist Brent Wadden adds warmth and texture."
Comfort zone
And interior designer Rukmini Patel has created a warmly minimalist living room for a home in Stratford-upon-Avon, using colours and materials inspired by nature. "My client, who has a house with a garden, expressed a wish for the interior to connect with the outdoors," she says. "When creating a cosy minimalist home, I feel it's important to use a multitude of natural materials, textures and colours that engage the senses. For the living room I chose autumnal tones – rust, burnt orange and olive green – and wicker and wood to evoke nature. I opted for wood flooring, echoing this with wood, rather than colder metal or glass furniture, and a warm peachy cream shade for the walls. I also plumped for a thick, tactile Berber rug that is calming and relaxing when you sink your feet into it."
Smith believes a warmly minimalist interior can be achieved simply by combining a limited number of contrasting textures: "Play with the juxtaposition of opposites as transitioning from one to the other heightens the senses. Imagine walking barefoot on a hard smooth floor, then stepping on to a soft textured rug, and the feeling of warmth and luxury that brings."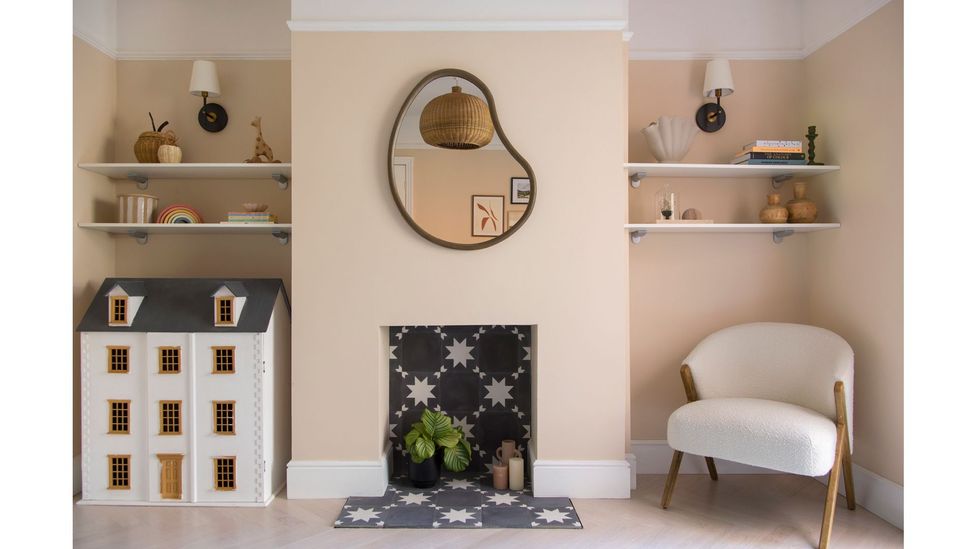 Interior designer Rukmini Patel created a "cosy minimalist" interior with rattan and wood details (Credit: Megan Taylor)
Bathrooms can look especially cold due to their hard surfaces but subtle touches can warm them up. For an understated bathroom in a Victorian home in Hampstead, Katy Manolescue, founder of Article Design Studio, chose nuanced, pale tones, such as "clotted cream, biscuit and stone", while vanity units were topped with speckled terrazzo that enlivens the space. Tiles with a warm white glaze were paired with biscuit-toned grout for a warmer look, while pewter and bronze fittings were chosen instead of chilly-looking silver finishes.
Smith advises choosing neutral paint colours, but judiciously: "Minimal interiors are typically neutral and airy, creating a relaxing environment. But neutral paints are often more challenging to get right than more saturated hues. It's essential to get the right undertone when selecting a neutral paint colour as this impacts on a room's atmosphere. Neutrals with a red undertone work well in light-deprived spaces as they warm them up. They also accentuate the beauty of natural materials, such as stone and leather. Standard pure brilliant whites tinged with a cold blue tone are overly stark and should be avoided."
Yet Smith believes minimalism and accents of bright colour aren't mutually exclusive: "Introduce strong colour, albeit sparingly," she counsels. "Opt for a single statement piece of furniture like a mustard or orange upholstered sofa, which instantly adds warmth. Coloured chairs around a table make a dining area inviting." That said, she adds, bulky unused furniture make a space look lifeless. "A large dining table is great when it's a hive of activity but makes a space feel empty if unoccupied. I arrange pieces, such as ceramics, on mine when it's not used so it looks less static."
According to Smith, the modern minimalist home needn't exclude visible "objects or belongings", although she advises displaying them in an ordered fashion. "I've used a giant grid of pigeonholes to show my collection of objects, which ties everything into one focused statement. I also like a single shelf with a collection of objects displayed in a linear row. Placing a shelf high up in an unexpected place, such as above a doorway, adds an element of surprise and humour in minimal settings."
Interior designers and architects also recommend including vintage furniture in rooms for a cosy feel. "Mid-century furniture creates a welcome sense of familiarity and nostalgia," says Montalba. "In the entrance hall of Vertical Courtyard House is a bench by French modernist architect Jean Prouvé."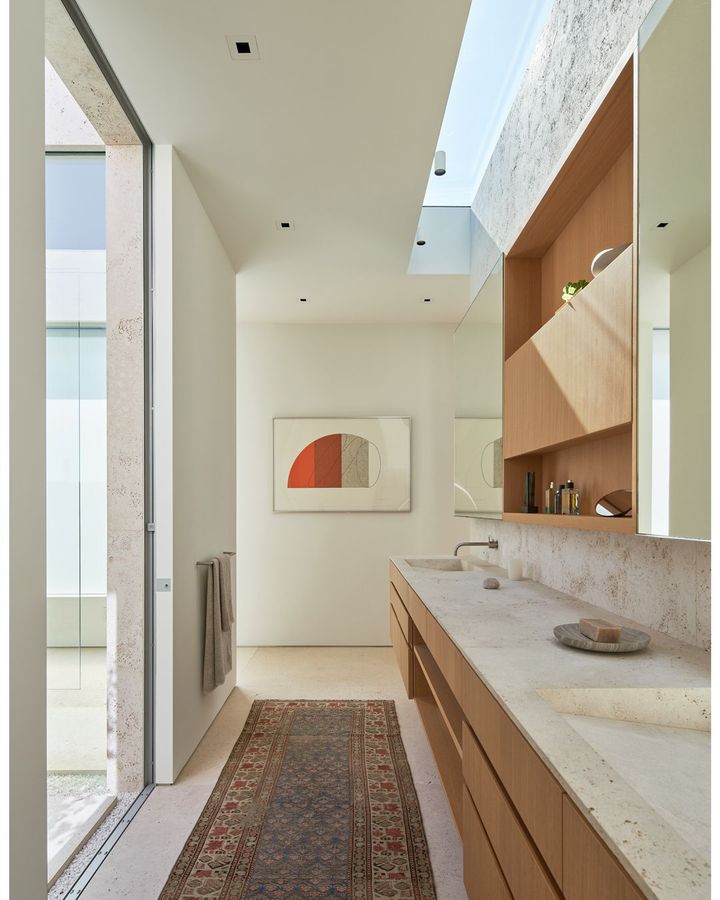 The Vertical Courtyard House in LA has a light, airy aesthetic but also has character (Credit: Montalba Architects)
Many designers believe lighting is a vital ingredient in warmly minimalist interiors. "Lighting completely changes a minimal space's ambience," says Smith. "Fragmented light projected through perforated metal or woven-cane lampshades becomes magical in pared-back interiors, adding subtle, ever-changing animation throughout the day."
It may have seemed, not long ago, that reductive, stripped-down minimalist interiors had no future, that they represented a stylistic cul-de-sac. But architects and designers are demonstrating now that minimalist homes can combine clarity with comfort and practicality with style.
If you would like to comment on this story or anything else you have seen on BBC Culture, head over to our Facebook page or message us on Twitter.
And if you liked this story, sign up for the weekly bbc.com features newsletter, called The Essential List. A handpicked selection of stories from BBC Future, Culture, Worklife and Travel, delivered to your inbox every Friday.