King's Speech, SMR deals, and Minister cools on hydrogen heating: BusinessGreen's most read stories of the week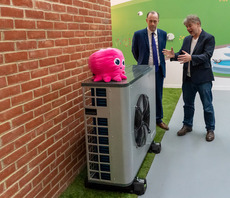 BusinessGreen rounds up the most widely read stories on the site this week
EXCLUSIVE: Lord Callanan touts heat pumps and heat networks as replacement for vast majority of fossil gas boilers as he warns that hydrogen remains 'very problematical' for home heating.
– by Michael Holder (@michaelholder)
National Grid moves capacity equivalent to six Hinkley Point C nuclear power stations up connections queue, promising major boost to energy storage developers.
– by Stuart Stone (@sstone26)
Speech confirms plans for annual oil and gas licensing rounds, as government also promises action to boost renewables investment, accelerate clean energy grid connections, and deliver new self-driving vehicles.
– by James Murray (@James_BG)
Partnership with ULC-Energy and Topsoe to explore the potential for zero emission hydrogen production using power from small modular reactors.
– by Cecilia Keating (@cecilia_keating)
New analysis from the Association of British Insurers warns UK faces £615bn funding challenge to meet requirements for energy, transport, and housing infrastructure through to 2030 – having secured a little over half the £1.3tr needed.
– by Stuart Stone (@sstone26)
Keep up to date with all the latest green business news by signing up to the free Daily and Weekly BusinessGreen Newsletters.