TfL unveils first Climate Action Plan in response to worsening extreme weather risks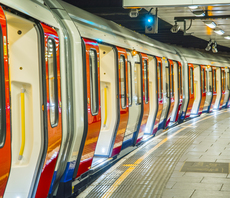 Climate resilience plan aims to address challenges faced by London's transport network as flood and heatwave risks intensify
Transport for London (TfL) has this week published its first Climate Change Action Plan as it looks to respond to the escalating impact of extreme weather events on the capital's transport network.
The transport operator warned climate change is now an "urgent issue", highlighting how in the last few years alone it has faced severe disruption to its network from heavy rainfall and flooding in July 2021, high winds and storms in February 2022, and the impact of the record-breaking heatwave last summer.
TfL, which operates London's Tube, buses, as well as connecting transport links with Network Rail throughout the city, said these adverse weather conditions affected its entire network, causing safety issues, lost revenue, and increased costs through emergency responses to get operations back up and running and the cost of repaired damaged assets.
"Our challenge is to adapt our systems to reduce the impacts of climate change, and ensure that we are resilient in the face of more extreme and frequent weather events across London," said Lilli Matson, chief safety, health, and environment officer at TfL.
She called climate change "one of the biggest challenges of our generation", promising that TfL's adaptation efforts would comprise a "comprehensive and holistic plan of action".
As such the new Climate Change Action plan includes a host of workstreams designed to enhance climate resilience across the network, including a number that are already underway across its organisation.
For example, it is working to transition its procurement processes to a new system which includes environmental considerations into the whole procurement lifestyle. As part the project, TfL said it will provide the appropriate Met Office scenarios to help its suppliers design assets which are fit for future climate challenges.
It added that it would also be working with its suppliers to understand their risks in relation to climate change and help protect its supply of critical assets.
In addition, TfL revealed it would be working with key stakeholders in the transport sector and beyond to help improve adaptation knowledge among its staff, with a view to ensuring that all future TfL professionals have specific climate adaptation training.
The operator added that it would look to embed climate experts into each relevant business area so that it can upskill colleagues and guide teams to make the best decisions to further protect its network from climate risk.
The plan also includes the wider installation and maintenance of weather stations which would be strategically placed across the network to give more specific insight into the performance of assets under different weather conditions.
And TfL said it would look at how its own stations and MetDesk data could be further combined with its own asset data for risk modelling purposes.
Meanwhile, planting trees and installing green infrastructure will also form part of the plan. TfL said it is already actively looking for new locations across its network where it can plant trees which will help to provide shade and cooling during hot weather, as well as reducing the amount of run-off water before it reaches "over-burdened" drainage systems.
As such, the plan aims to complement the Mayor's separate transport strategy which includes a target to deliver 50,000 square meters of catchment draining into highways sustainable urban drainage systems (SuDS) every year.
As TfL owns and manages London's strategic road network, which represents around five per cent of London's roads by length, it said it is committed to delivering 5,000 square meters of SuDS a year in support of the Mayor's target.
TfL added that SuDS should be considered as a default design feature for any project which will involve excavation or structural changes to a roof, and added that moving forwards all its designers will be expected to fully justify any instances where SuDS have not been included.
The operator also highlighted its recently published business plan, where it has allocated up to £2m per year of funding to help improve understanding of the impacts of climate change as well as developing and delivering plans to adapt to it.
"Working together will help us to build a more sustainable transport network for all Londoners – both now and in the future," Matson concluded.