The ancient symbol that defines Korea
The moon jar came to stand for Korea's post-colonial national identity. Now a new generation of artists are re-interpreting this iconic sculptural form, writes Clare Dowdy.
Centuries-old and steeped in cultural significance, the South Korean moon jar (dal-hang-ari in Korean) is still giving the country's potters and artists pause for thought. In pottery terms, it's a deceptively simple item: two big clay rice bowl shapes are put together rim to rim in the kiln, explains Lloyd Choi, curator of a new exhibition in London on moon jars, and "gravity does the rest". Typically, the pale clay is glazed but left unadorned, looking rather like a full moon.
More like this:
– Inside Japan's most minimalist homes
– The ancient enigma that resonates now
– Five ways to be calm, and why it matters
As well as being aesthetically pleasing, the moon jar sheds light on Korean identity. They were first made during the Joseon Dynasty (1392-1910). At that time, Korea followed the neo-Confucian belief system. Propagated by Chinese philosopher Confucius in the 6th to 5th Century BCE, the meditative Confucian ideals of simplicity, humbleness, modesty, purity and austerity had spread beyond China to Korea, Japan and Vietnam.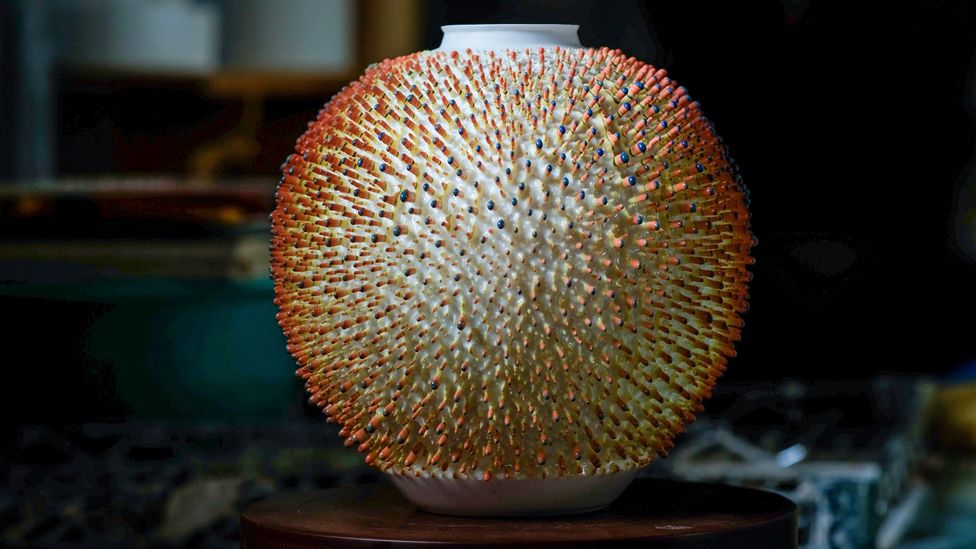 The striking work of Yun Ju-cheol is included in the exhibition, Moon Jar: The Untold Story, which is part of London Craft Week (Credit: Dan Fontanelli)
Most ceramics in the region were of plain white porcelain, but in the 18th Century, the country's elite started to develop a new, distinctly Korean identity. The moon jars began to take on the importance they have now, as they embodied these Confucian ideals.
By the 17th and 18th Centuries, rather than perfection, naturalism and spontaneity were the preferred aesthetic. By then, it was about "the ability to accept the imperfections of nature, and appreciate the beauty in that", says Choi. The moon jars epitomised this way of thinking. Because while they were minimal, they were not identical. All handmade on the wheel, they would shrink and sag in the firing so that each one had a distinct, slightly asymmetrical shape. And around the middle was a visible horizontal seam where the two hemispherical halves had been joined.
Meanwhile, the globular form's surface was white, which in Korea represents simplicity and asceticism. This is in contrast to much Chinese porcelain, which was highly decorated.
The jars had both ceremonial and utilitarian roles, Choi explains. In royal palaces, they were displayed as vases when foreign dignitaries were visiting. And more practically, they could be used to store dry goods such as rice.
The moon jar's more recent symbolism is tied up with 20th-Century events. Korea was annexed by the Empire of Japan from 1910 to 1945. During the occupation, Koreans struggled to regain their independence, while the Korean language was banned, and Koreans were conscripted into the occupiers' workforce or as uniformed soldiers in the Pacific War. Joseon culture and art were portrayed in a negative light by colonial Japanese officials and intellectuals, and its resources were pillaged.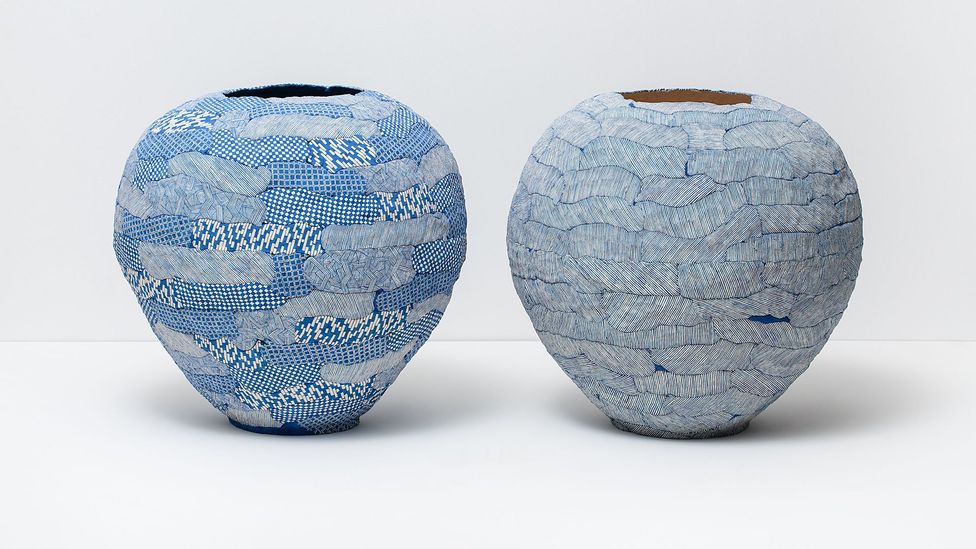 Simplicity of form and texture is a feature of traditional Korean pottery, according to artist Choi Bo-Ram (Credit: Choi Bo-Ram)
"The fashioning of this ceramic as a South Korean cultural icon was in direct response to liberation from 35 years of colonial rule in 1945," when Japan surrendered to the Americans, says Sol Jung, assistant curator of Japanese art at the Smithsonian's National Museum of Asian Art.
It was after the Korean War of 1950-53 (when North invaded South) that the moon jar became synonymous with South Korean cultural identity, he adds.
The first generation of South Korean potters in the post-colonial, post-war era began to study moon jars with fresh eyes, and to recreate them. The pioneering abstract painter Kim Whan-ki collected these ceramics and featured them in his paintings, and is widely credited for coining the term "moon jar". Other contemporary painters like Choi Young Wook have taken moon jars as their subject matter.
Moonstruck
Meanwhile, the jars were also gaining new fans in the West. British potter Bernard Leach, who was born in Hong Kong, had lived and worked in Japan for many years in the first half of the 20th Century, and also travelled to Korea. He collected Korean ceramics and furniture, including a moon jar with a diameter of 44.5cm, now held at London's British Museum.
Its ubiquity, popularity and link to cultural identity mean that "the moon jar is now a quintessential Korean object", says Jung, and has become "the focal point of museum exhibitions and gallery spaces featuring Korean art". It even made an appearance at the 2018 Pyeongchang Winter Olympics, where the official Olympic cauldron lit during the opening ceremony was fashioned to look like an enormous moon jar on stilts.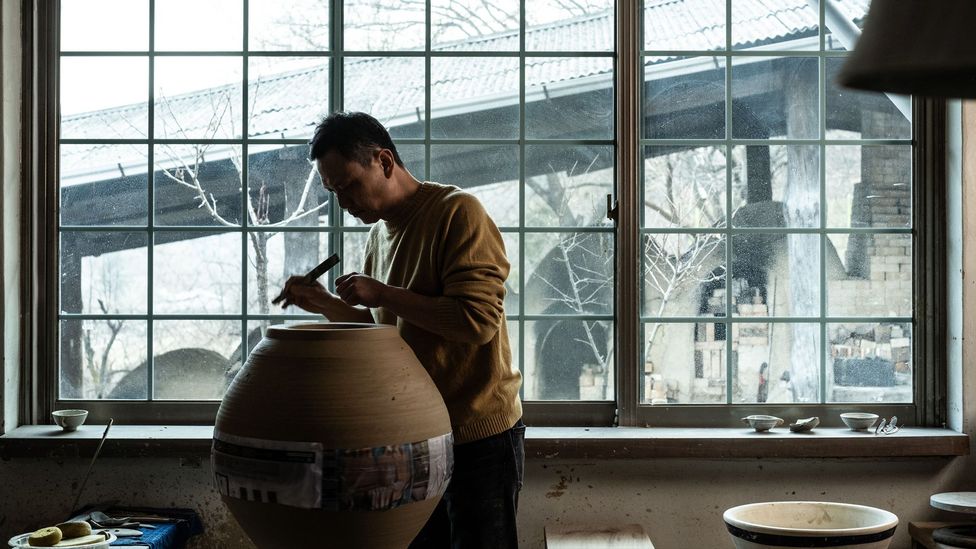 Park Sung-wook makes moon jars using a method that originated in the Joseon Dynasty (Credit: Dan Fontanelli)
Its very significance has meant that it has become an iconic shape for Korean potters. "These artists have felt the need to 'address' the moon jar," says Choi. "The moon jar has cast a long shadow over the individuality of modern potters. Everyone wants to make the moon jar, they've almost forgotten about their own artistic inspiration." However, her feeling is that once it has been addressed, "they should move on. We need to let the form go."
In her exhibition Moon Jar: The Untold Story, six contemporary Korean makers show how they are reinventing the traditional vessel in their own way. Creations by modern masters Ree Soo-jong and Lee Gee-jo sit alongside those by Yun Ju-cheol and Park Sung-wook, as well as work by two young female artists Choi Bo-ram and Kwak Hye-young. The exhibition is accompanied by films of these creatives at work, in which they explain their reasons for approaching this subject.
In his film, Ree Soo-Jong explains that instead of forming a perfect circle, moon jars are bound to have an asymmetrical form, which makes them unique compared to other porcelain work. "What makes my moon jars even more unique is that I intentionally leave the natural patterns that occur when the two large bowls are connected."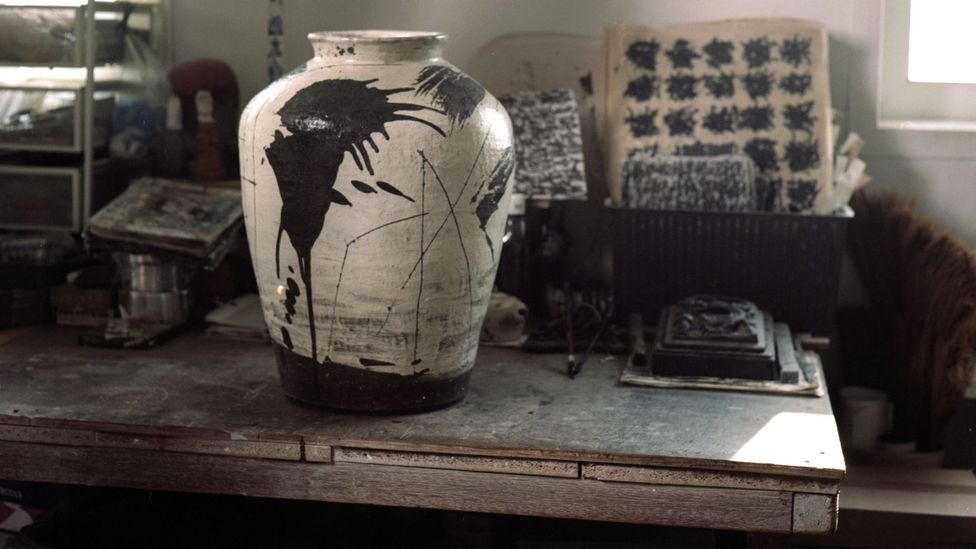 Modern master Ree Soo-jong says that his moon jars are intentionally asymmetrical (Credit: Dan Fontanelli)
Park Sung-wook makes moon jars in the Buncheong Dumbung style, which first appeared in the early Joseon Dynasty. It involves dipping the vessel into a white clay solution. "A lot of interesting things go on during the process. The slip sometimes drips down on to the surface," he says in the film. "Sometimes it soaks into the pottery and there are times when the shape itself becomes a bit distorted during the drying process."
Choi Bo-Ram echoes the point that much traditional Korean pottery has a simple form and smooth texture. Rather than using a potter's wheel, she kneads small lumps of clay into a basic lozenge shape and squeezes them together to build up a pot. For her, it's not about conforming to a traditional jar shape, and she doesn't even glaze them. "Instead, I add a pattern of random lines on the surface," she says in the film. "Most of the patterns consist of a series of connected lines." It seems the ancient, iconic moon jar continues to resonate – and re-shape – in each new era.
Moon Jar: The Untold Story is at Arc Gallery, London, until 14 May. It is part of London Craft Week.
If you would like to comment on this story or anything else you have seen on BBC Culture, head over to our Facebook page or message us on Twitter.
And if you liked this story, sign up for the weekly bbc.com features newsletter, called The Essential List. A handpicked selection of stories from BBC Future, Culture, Worklife and Travel, delivered to your inbox every Friday.