The Birth of the US Dollar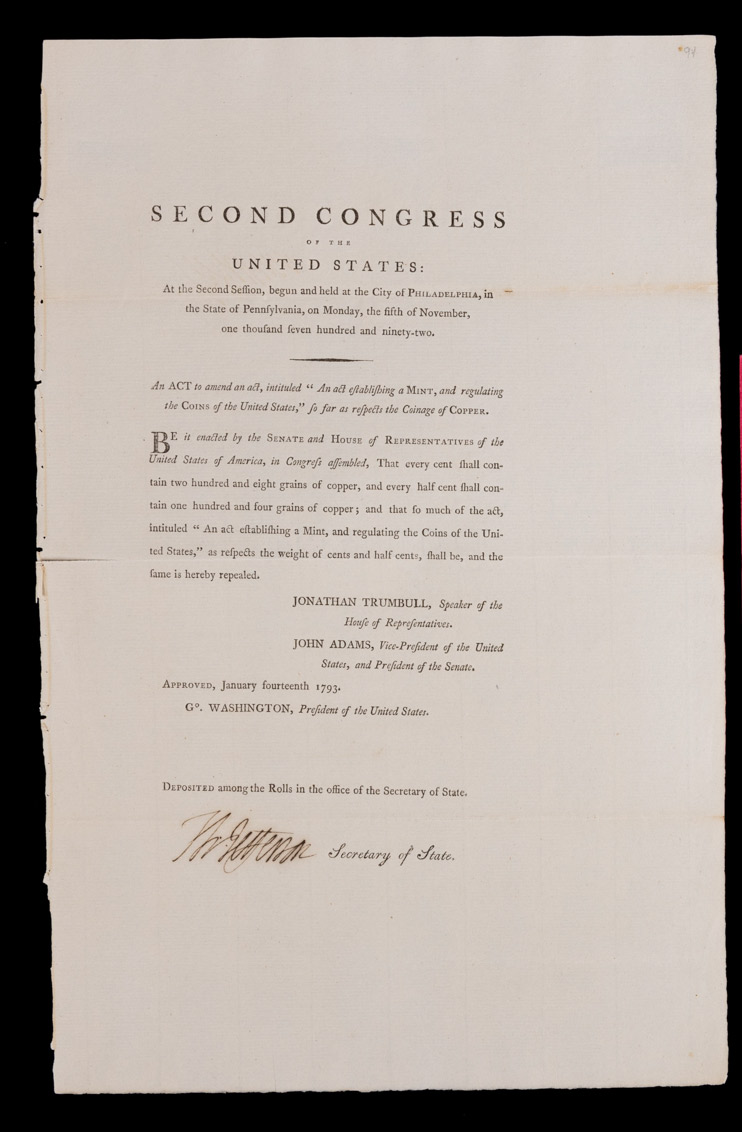 Thomas Jefferson Act of Congress Signed as Secretary of State, January 14th, 1793,
Second Congress of the United States (1743-1826)
As Secretary of State, Thomas Jefferson amended a previous Act, "establishing a Mint and regulating the Coins of the United States," establishing the copper weight specifications for the first US coins issued in 1793 – the Cent and Half Cent. This is a document from our collection on the Monetary System of the World, establishes the birth of the US dollar authorizing the first issue of the coinage of the United States. It is unique and of tremendous historical importance.
The first copper coins created by the new United States of America were introduced into circulation in March of 1793. This document is signed "Th' Jefferson" as Secretary of State and countersigned (in type) by George Washington as President, John Adams as Vice President and President of the Senate, and Jonathan Trumbull as Speaker of the House of Representatives.
"Second Congress of the United States: At the Second Session, begun and held at the City of Philadelphia, in the state of Pennsylvania, on Monday, the fifth of November, one thousand seven hundred and ninety-two. An act establishing a Mint, and regulating the coins of the United States, so far as respects the Coinage of Copper."
"Be it enacted by the Senate and House of Representatives of the United States of America in Congress assembled, That every cent shall contain two hundred and eight grains of copper, and every half cent shall contain one hundred and four grains of copper; and that so much of the act 'An act establishing a mint, and regulating the coins of the United States,' as respects the weight of cents and half cents, shall be, and the same is hereby repealed…. Approved January fourteenth 1793…"