The dress that shocked the world
When Lady Gaga appeared at the 2010 MTV VMAs clad in flank steak, she managed to outdo even herself. Clare Thorp talks to the woman who inspired the look, with an earlier outfit of bacon boots and chipolata hairpieces.
It takes some effort to upstage Cher at an awards show. This is the woman whose Oscar outfits alone have included towering feather headpieces, sequinned bralettes, floral bikinis and nearly naked dresses. But when the singer – wearing a sheer, sequinned bodystocking – presented the award for best video at the 2010 MTV Video Music Awards, even she looked a little taken aback as Lady Gaga took to the stage wearing a dress made entirely of cuts of meat.
More like this:
– From fetish to fashion: The rise of latex
– 'I made Lady Gaga's meat dress'
– Why sequins are so exhilarating to wear
Slashed to the thigh, and featuring a cowl neck, the dress came with matching beefy boots, hat and meat clutch. "I never thought I'd be asking Cher to hold my meat purse," said Gaga as she picked up her award for the Bad Romance video – perhaps unaware that Cher doesn't eat meat.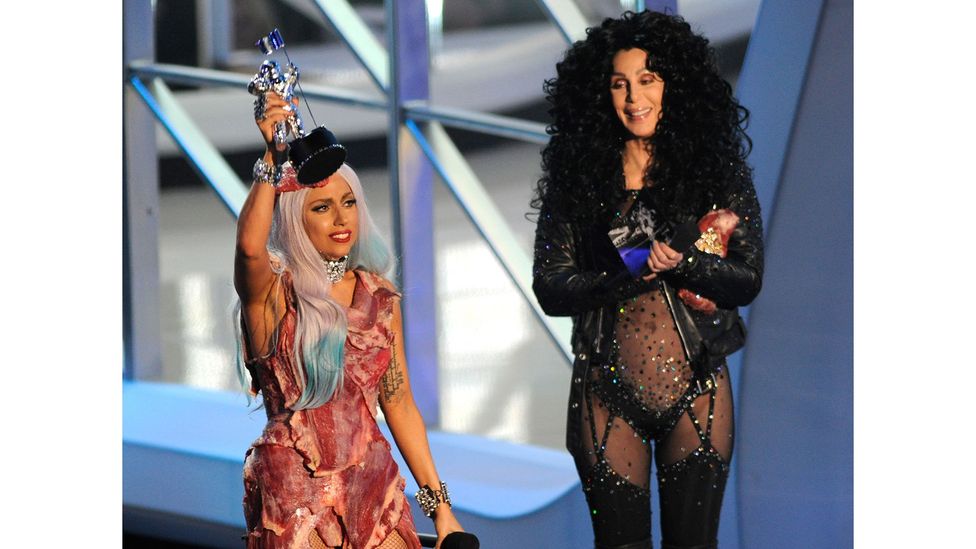 Lady Gaga managed to upstage even Cher when she wore the 'meat dress' (Credit: Getty Images)
It was one of three outfits Gaga wore that night. She'd already walked the red carpet wearing a custom-made Alexander McQueen gown with a Renaissance-inspired print, 12in Armadillo shoes and a gold feather headpiece. She collected her best pop video award wearing a voluminous black leather Armani dress. However, her meat dress was not only the most memorable outfit of that evening, but arguably of her entire career – some feat when you consider this is the woman who arrived at the 2011 Grammys in an egg.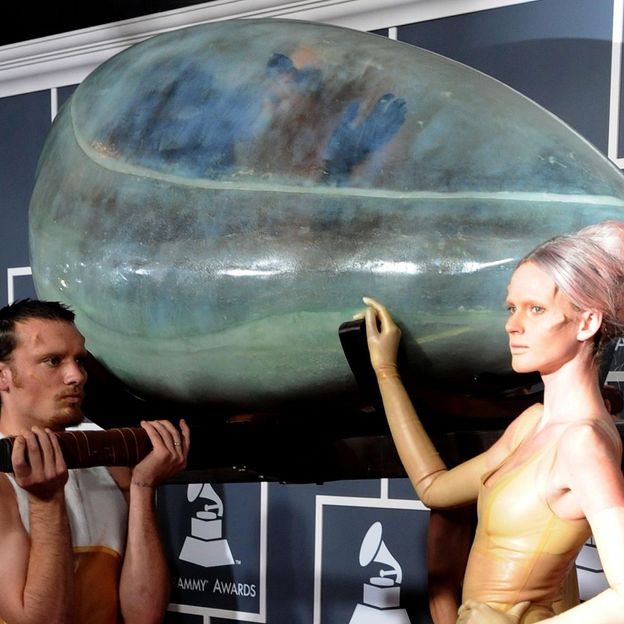 Lady Gaga said that she'd spent three days inside the egg-shaped 'vessel' designed by Hussein Chalayan before climbing out of it (Credit: Alamy)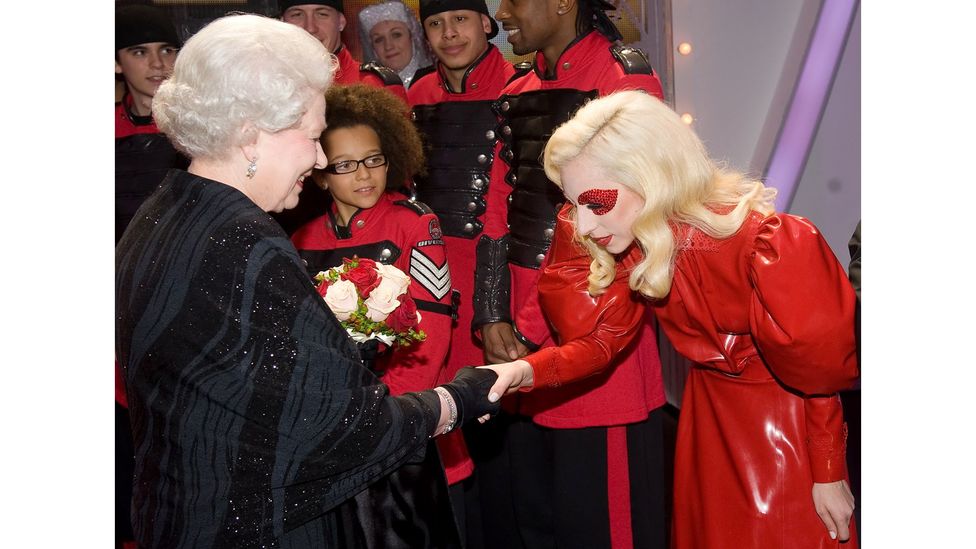 When meeting Queen Elizabeth II at the annual Royal Variety Performance in 2009, Lady Gaga donned a floor-length red latex Atsuko Kudo dress (Credit: Getty Images)
The idea was originally sparked by a conversation Gaga had with make-up artist Val Garland, who had worn her own version of a meat dress back in the 1980s. "Before I was a make-up artist, I was a hairdresser, and I used to live in Australia," Garland tells BBC Culture. "The clubs in Australia then were amazing. It was all about being individual, pushing the boundaries and getting noticed. I was going to this daytime party and I thought, what can I wear that nobody's ever seen before?"
She settled on an outfit constructed from meat and leather. "In my head I thought I was going to be like some kind of warrior. I flattened steaks and made a sort of bra bikini top, and then I cooked bacon and made that into some kind of boot." For her hair, Garland used pork chipolatas to resemble braids. "I thought, why not? I went off to this party but wasn't there for very long because, you know, I was very fresh, and the flies loved it."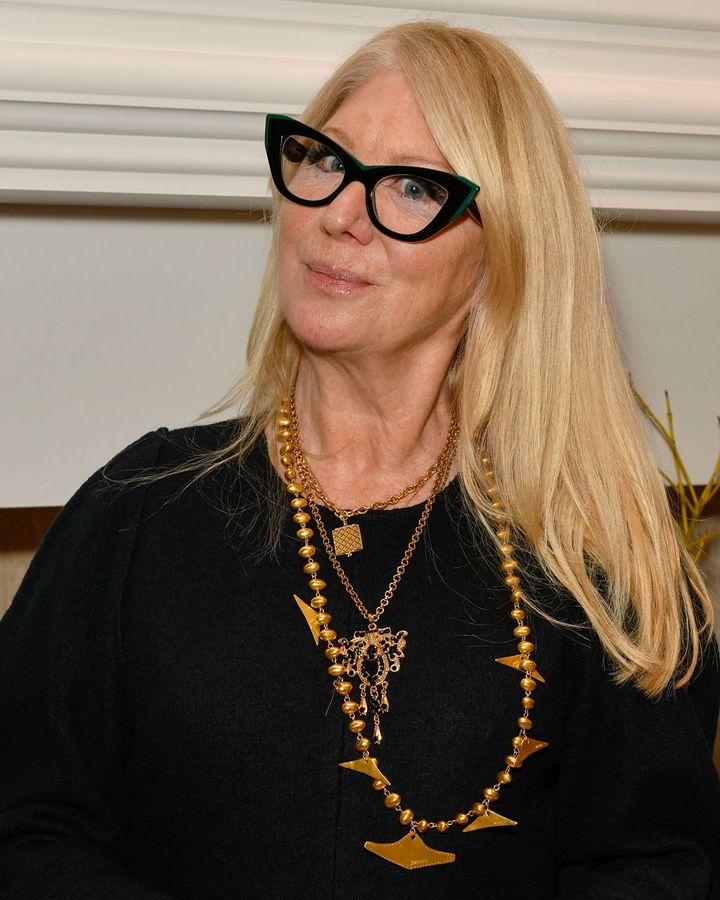 Make-up artist Val Garland wore her own version of a meat dress in the 1980s (Credit: Getty Images)
Many years later, she found herself working with Gaga. "It was just before her Born This Way album and we were swapping stories, and she asked me: 'what's the most outrageous outfit you've worn?' So I told her and she said 'do you mind if I develop that idea?' I said 'be my guest'. She always wanted to do something different."
Haus of Gaga – the singer's creative team – came up with a concept and asked designer Franc Fernandez to create it. Speaking on a recent episode of BBC podcast Witness History, he recalled the process. "I'm Argentinean so most of our dishes are essentially just red meat, so we have a very close relationship with butchers. So literally I went to my family butcher, told them I was going to sew meat as if it was fabric, and they were 'oh, then you want to use this cut, that cut'… it was very straightforward." He found the process challenging – but surprisingly enjoyable. "It feels wrong, so it's fun to do… it's got like a horror-movie energy to it."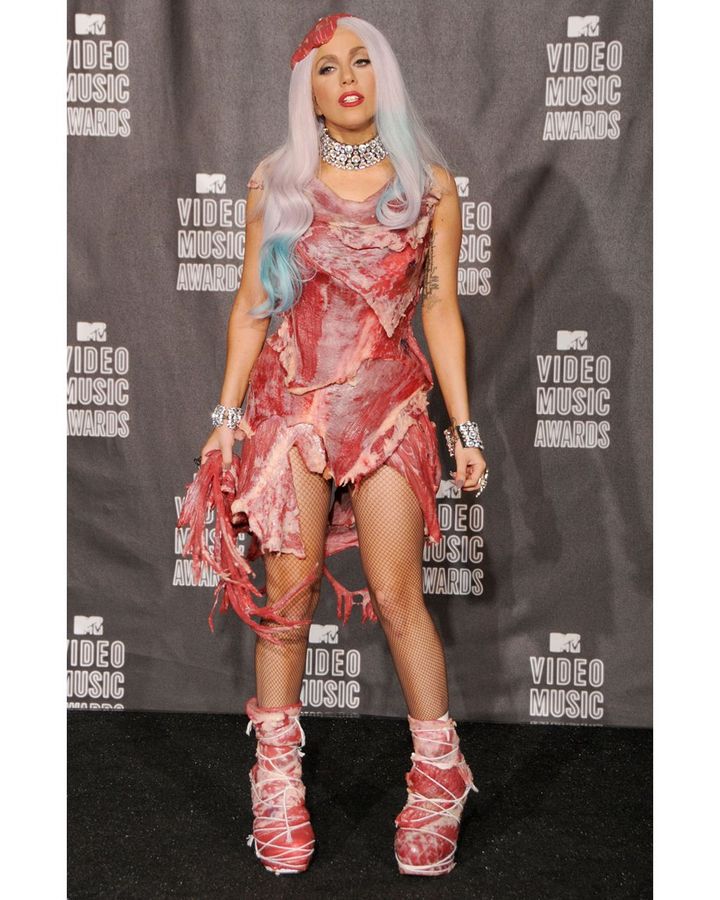 Lady Gaga intended the meat dress to be a protest against the US military's 'Don't Ask, Don't Tell' policy (Credit: Getty Images)
Talking to Vogue about the dress in 2021, Gaga recalled: "It smelled like meat. It was thrilling to wear. There's a corset under [it] but the corset was sewn to the meat. So this is actually a garment. They didn't just drape meat over me and cross their fingers."
It wasn't the first time Gaga had worn an outfit made of meat. A week earlier, she'd appeared on the cover of Vogue Hommes Japan wearing a meat bikini. But at the MTV awards she had an audience of millions. "There's this great image of the [studio] audience while she's onstage accepting that award and everyone's just got this very confused face," says Fernandez.
Garland wasn't with her on the night, but saw the pictures online. "I thought it was fabulous," she remembers. "It's all about being noticed. It's all about, 'did I make you think? Have I left a lasting impression?' And I guess there's that shock factor as well, which is, whether people like it or not, they're all going to be talking about it."
They certainly were. Francesca Granata, associate professor of Fashion Studies at the Parsons School of Design, and author of Experimental Fashion: Performance Art, Carnival and the Grotesque Body, says the combination of raw meat on bare skin was what was most shocking to people. "It is the ultimate abjection," says Granata. "It troubles the inside versus outside of the body, literally having flesh on the outside of the body. It reminds people of their own mortality. I don't think any of her other looks were so explicitly disturbing."
Granata says the dress can also be read as a critique of the objectification of women, "particularly the way female pop stars have been read as sex objects. With Lady Gaga's meat dress, the expression 'a piece of meat' is turned on its head."
Some were angry. Animals rights charities condemned the dress, with Peta calling it "offensive" and saying "there are more people who are upset by butchery than who are impressed by it."
In a post-show interview with Ellen DeGeneres, Gaga said no offence was intended, and explained that the dress was a statement protesting the US military's "Don't Ask, Don't Tell" policy – which prevented service people from disclosing their sexual identity. "For me this evening it's [saying], 'If we don't stand up for what we believe in, if we don't fight for our rights, pretty soon we're going to have as much rights as the meat on our bones'." A week later, she appeared at a rally calling for the repeal of the policy and gave an address entitled "The Prime rib of America". The law was formally repealed three months later.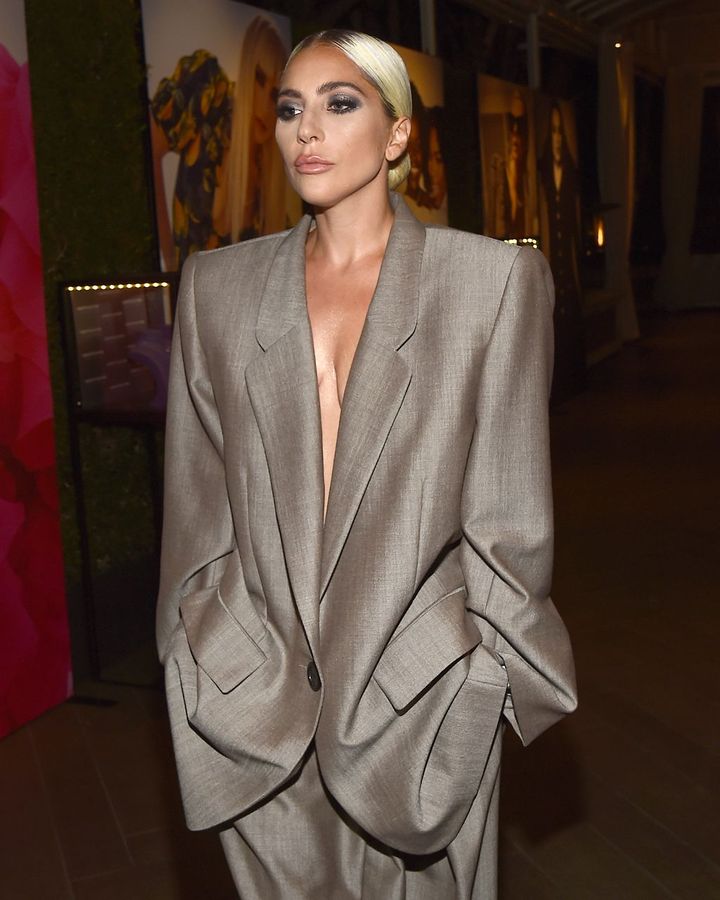 Lady Gaga said that when she wore the Marc Jacobs suit at a 2018 awards ceremony, 'I felt the truth of who I am well up in my gut' (Credit: Getty Images)
In the years that followed, Gaga continued to use fashion as a mode of activism. At the 2018 Elle Women in Hollywood Awards, she wore an oversized suit. In a speech referencing her own sexual assault, she explained that choosing the outfit over dresses was a way to "take the power back… today I wear the pants."
Gaga certainly wasn't the first to use fashion as protest – but she did embrace it at a time when the red carpet had become a place of few risks. Post Bjork's 2001 swan dress, A-listers had been playing it safe for fear of attracting negative attention. But post Gaga's meat moment, activism has slowly crept back on to the red carpet, albeit in not quite such a dramatic fashion.
When the Cannes Film Festival said heels were mandatory for women, some actresses turned up barefoot. The 2017 #metoo movement resulted in several red carpet protests against sexual assault in the industry – from wearing suits to all-black dress codes. There have also been statements on sustainability, equal pay, climate change and Russia's invasion of Ukraine.
As well as being covered with Swarovski crystals for Schiaparelli's 2023 show, Doja Cat has sported gold body paint and chicken feet boots on the red carpet (Credit: Getty Images)
Gaga didn't just help revive protest on the red carpet, but performance art too. Recently, Doja Cat has taken up the mantle, with outfits including being painted head-to-toe in red and covered in 30,000 Swarovski crystals, and dressing as Karl Lagerfeld's cat, Choupette.
No one does it quite like Gaga, though. At the 2019 Met Gala – where the theme was "Camp: Notes on Fashion" – she asked Anna Wintour for an unprecedented 20-minute slot on the red (or rather, pink) carpet to transition through several costume changes in a performance that she had rehearsed for three weeks.
As for the meat dress – a taxidermist used bleach, formaldehyde and detergent to preserve the dress, and it now lives in Cleveland's Rock and Roll Hall of Fame. "It's got a very weird, gross texture," says Fernandez. "It's definitely a little greyer."
If you liked this story, sign up for the weekly bbc.com features newsletter, called The Essential List. A handpicked selection of stories from BBC Future, Culture, Worklife and Travel, delivered to your inbox every Friday.
If you would like to comment on this story or anything else you have seen on BBC Culture, head over to our Facebook page or message us on Twitter.