The people living low-waste lives
A sustainable lifestyle is possible – but it's a "trial and error" process. Tara Okeke talks to the people aiming to lead zero-waste lifestyles.
This summer marked 45 years since the final episode of the classic BBC sitcom, The Good Life. Over the course of four series, audiences were treated to the madcap adventures in suburban self-sufficiency of the titular Goods – Tom (Richard Briers) and Barbara (Felicity Kendal). In principle, the show was a simple yet effective comedy of manners and contrast – with the endearingly countercultural Goods and their rough-hewn, self-sufficient idyll positioned as the foil to their classically suburban neighbours, the Leadbetters, and their stuffy milieu. In retrospect, however, The Good Life – serving up, as it did, several studies of crisis, beginning with Tom's midlife one in the series premiere – was actually an unexpected harbinger of things to come in society and in sustainability.
More like this:
– The 300-year-old Japanese upcycling method
– Why 'wash, wear, repeat' makes sense
– How to dye clothes at home, naturally
Now, a life similar to the one Tom and Barbara sought is appealing and relevant to many of us. We would most likely call it sustainable, zero-waste or circular living, rather than self-sufficiency, but the principle is the same. According to findings laid out in this year's The Sustainable Consumer report from Deloitte, over a third of respondents wanted "more regulations requiring companies to improve [sustainable] options for consumers", while more than three quarters of respondents were already engaging in their own regular sustainable practices such as recycling or composting household waste. But is a sustainable, low or zero-waste life attainable for all?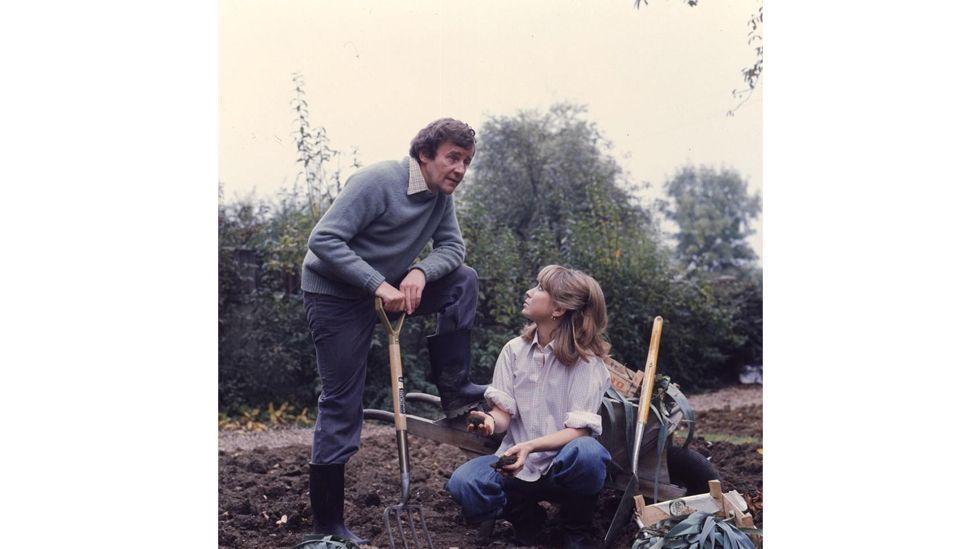 In the classic British sitcom The Good Life, Tom and Barbara Good embarked on a sustainable, self-sufficient life in suburbia (Credit: BBC)
Perhaps not at first. Watching repeats of The Good Life as a child in the mid-noughties, I would take my reaction cues from my late father – laughing where he laughed. Later, I found myself struck by how the show portrayed the huge effort Tom and Barbara put into their life: intense agrarian labour belied by the laughter and all those twee, 70s knits.
Farihah Choudhury, a public health nutritionist based just outside London, also laughs when she recalls her own effortful early foray into sustainable living. As the founder of the Instagram account @easypeasysustainability and its allied blog, Choudhury has documented her sustainability journey from its inception."I [started with] plastic audits of all of the plastic that came into my house," she explains, sharing her initially stringent low-to-zero-waste methodology and fledgling embrace of plastic-free swaps, as well as the associated time commitment. "I don't know where I found the time! I must have still been a student…"
Choudhury studied biology as an undergraduate, and it was through her degree course – the global health modules, specifically – that an interest in sustainable living was piqued. "I'd always been conscious about [the environment] but I hadn't really understood the literature nor the facts and figures behind it until I went to university," she says.
Choudhury credits her British-Bangladeshi heritage for giving her the insight to grapple with the wider, intersectional implications of environmental and economic factors: "[In recent years] Bangladesh's economy has skyrocketed, but it's still a really young country and, historically, it's been quite a poor country. And so, one thing that I was always brought up with was the concept of frugality. That was always something that was already part of my psyche, you know – 'you have to be frugal, you have to make things go further'."
Farihah Choudhury has documented her sustainability journey from the beginning – she says it has been a "learning" experience (Credit: Farihah Choudhury)
Since she began thinking of her sustainability journey as a "learning" one – a path of trial and error rather than total perfection – Choudhury no longer finds it as difficult to stay the course. And while she would "never do a plastic audit ever again", she has adopted other approaches to changing her consumer habits and to challenging the status quo – most notably a "two-out, one-in" system when thrifting clothes, in order to cut down her wardrobe by half over time – that are still mensurable but, in the effort required, far more measured.
'Lifestyle overhaul'
This journey arc – the arduous first steps and the instinct to undertake a complete lifestyle overhaul giving way to more pragmatic manoeuvres – is echoed by Tash Gorst, the founder of Gather, an award-winning low-waste independent shop and organic refillery based in Peckham, South-East London. Gorst, like Choudhury, had always been environmentally conscious, "though mostly in an at-a-distance sort of way". It was not until she gave birth to her son in 2016, though, that Gorst began to bring awareness and action into alignment, embarking not only on a more sustainable way of living but also making it, like Tom and Barbara, her life's work.
"Midnight hours holding a sleeping newborn were whiled away reading about the extent of plastic pollution… To be frank, it stressed me out," Gorst tells BBC Culture. "I became hellbent on lowering my family's impact to help protect my son's future. It meant changing our lives and habits and it often felt overwhelming." Gradually – and "with effort" – Gorst reflects, "it got easier and the changes added up".
Five tips for low-waste living
1. When shopping online, avoid impulse buys.
2. Set achievable and measurable goals and targets.
3. Get friends and family involved to boost morale.
4. Find local sources of sustainable, second-hand or low to zero-waste goods.
5. Collective action is key, so seek out and build your sustainable community.
Gather opened in 2019 with a mission to "help others make the same changes [Gorst's] family had made" and the public one of "mak[ing] low-waste living super simple for the people of Peckham". It has not been easy. Gorst built the shop "from scratch, literally, with secondhand furniture and scrap wood scavenged from skips" and she stresses Gather only survived the pandemic rather than doing well.
But through "​​sharing the highs and lows", whether through social media or the shop's long-running book club, connections were made that felt deeply "purposeful and meaningful". Gorst continues, "The sense of community is strongest with those who shop with us, [though], rather than those who follow us on Instagram."
According to a report published in 2020 by Women's Wear Daily, #zerowaste garnered more than 4.7m uses on Instagram that year, making it one of the fastest growing and widely used sustainability-related hashtags on the platform. I ask about this pandemic-era proliferation of low and zero-waste trends and tribes, endeavours and advocates, and to what Gorst would attribute their appeal; she theorises a combination of people having "plenty of time on [their] hands to try new things and embed new habits" and "a desire to exert some control over [their] lives in a tangible, manageable way".
Control, it seems, is key. This is worth keeping in mind when beginning a sustainability journey. This is how you might combat climate anxiety along the way, says Gorst, by "doing whatever [you] feel able to do" and by "taking control of the things [you] can control".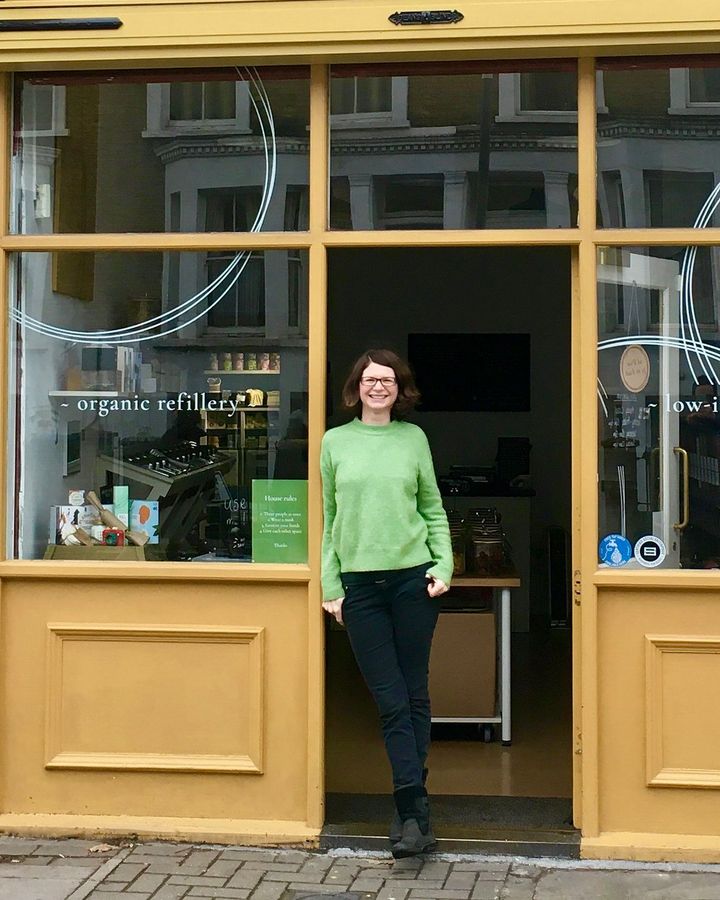 Tash Gorst aims to live sustainably, and runs a business that encourages low-waste living (Credit: Gather)
Outside of her business, when researching and sourcing products for her own home, Gorst looks for a few primary "eco creds", such as B Corp, plastic-free and 1% for the Planet. She also keeps a lookout for products she need not buy. "Where I live," Gorst explains, "People often leave items outside their house that they no longer want. I've picked up a few pieces: a couple of side tables, two small shelving units, kitchen worktops that I turned into basic shelves." To the sustainably inclined, the streets are paved with gold.
Ella Shone, founder of TopUp Truck, an innovative social enterprise offering refill groceries across North and East London from a refurbished electric milk float, knows this better than most. As a peripatetic sustainable business, both the streets and the communities found within TopUp Truck's catchment area are of the utmost importance. "With TopUp Truck we want to provide plastic-free and nutritious food at affordable prices to people locally," Shone tells BBC Culture. "We also want to raise the visibility of refilleries and really embed sustainability into the heart of the neighbourhood."
Video: How to live a zero-waste life
Like Gorst, Shone has not found any of this easy. Having launched in 2020 – "in a climate that was favourable to it [and] where there was a captive audience of people at home in lockdown" – she has begun to notice an unfavourable shift in the messaging around the "urgency of climate action", she says. "It's extremely difficult to convince people of their [environmental] impact when they can't afford to heat their homes or put food on the table, which is completely understandable. People feel let down."
It's not easy being green – and, very often, it's no laughing matter. It is also sobering to reckon with the conclusion many reach – including dynamic and deeply committed advocates for the cause, such as Choudhury, Gorst and Shone – that our individual actions will only go so far as a corrective to crises compounded by austerity. A sustainable life can still make for a good life, though – one of renewal, redress, all-round better outcomes for people and planet – but only if we want it, and work for it, collectively.
If you liked this story, sign up for The Essential List newsletter – a handpicked selection of features, videos and can't-miss news delivered to your inbox every Friday.
Sign up to the Future Earth newsletter to get essential climate news and hopeful developments in your inbox every Tuesday from Carl Nasman. This email is currently available to non-UK readers. In the UK? Sign up for newsletters here.