UK Green Business Awards – Finalists Announced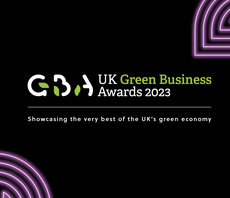 The shortlist for the inaugural UK Green Business Awards has been unveiled and tickets are now available for the glittering awards ceremony on the evening of Thursday 29th June
BusinessGreen has today announced the short list for the inaugural UK Green Business Awards, which will take place on the evening of Thursday 29th June at the Leonardo Royal in St Pauls, London.
The awards were remarkably competitive with hundreds of brilliant entries and scores of companies and projects competing in many of the categories. The short listed entries will now go before our expert judging panel ahead of the awards dinner and ceremony in the summer.
"We are delighted to unveil today's list of finalists, all of which really are at the forefront of the UK's burgeoning green economy and its transition to a net zero and sustainable economy," said BusinessGreen editor-in-chief James Murray. "The number and quality of entries to this awards really are testament to the remarkable level of innovation and investment that is transforming the UK economy and environment for the better. We look forward to celebrating all of our finalists at the inaugural UK Green Business Awards ceremony in June."
Finalists can now book their place at the UK Green Business Awards through the event website, with an early bird offer in place for bookings completed before 27th March.
Behaviour Change Campaign of the Year
Adobe UK&I & Giki – The Sustainability Games
Business for Nature, the Capitals Coalition, & Greenhouse Communications – Make it Mandatory
CUBE UK – CUBE Competition
Fast Familiar – The Strategy Room
Global Action Plan & Unilever – Dirt is Good Schools Programme
Hubbub – Manchester Is Green
NatWest Group – Sustainable Futures Network
Supply Pilot – ESG Supplier Engagement
Trainline – 'I Came By Train'
Zero Carbon Forum – Save While You Sleep
Circular Economy Project of the Year
Anthesis & Microsoft – Stretch Wrap Alternative Project
BBC Studios – BBC Eastenders and Community Wood Recycling pilot
GPE – 2 Aldermanbury Square
JLL – 20 Water Street
Meryl Fabrics – 100% Recyclable Fabrics
n2s – Infinity Loop with KA2 COzPro
NatWest Group – Reverse Vending Machines
Utelize – Utelize Solar Community Hubs
Green Building Project of the Year
Barratt Developments – Energy house 2.0
BBC Studios – Bridgewater House Relocation
GPE – 50 Finsbury Square
Grid 2.0 & the London Borough of Brent – St Raphael's SolarSpace Community Centre
Grosvenor – Holbein Gardens
IBM Corporation – Hursley Datacentre
IF_DO – Brent Cross Town Substation
SEGRO – SEGRO Park Tottenham
The Office Group – Black & White Building
Green Heat Project of the Year
Barratt Developments – Energy House 2.0
Equans – Stratford City Heat Pump Project
Finn Geotherm & Panasonic – Paragon House Project
Kensa Utilities Ltd – Heat the Streets
Mixergy – Smart Water Tanks
Octopus Energy – Taking Zero Emission Heat Pumps Global
Graphene Star & Rustins – G Therm
Recycling Project of the Year
Automedi, Alphabet, and NHS North West – #Remasked Project
Barings – Bio Processor Project
Effective Consumable Solutions – The Greener Side
Go Ahead Group – Project Go Eco
Hubbub Foundation – #InTheLoop recycling on-the-go campaigns and toolkit
King's Cross Estate – Waste Free by 2030 Strategy
NatWest Group – Reverse Vending Machines
Sokito – Football boot pilot recycling scheme
Unwasted – Neverwaste
Supply Chain and Logistics Project of the Year
EVRI – 'Parcel Delivery That Doesn't Cost The Earth' Strategy
Grosvenor & Heart of the City – Supplier Mentorship Programme
Packfleet
Planet Tracker – Traceability Transformation in Seafood Supply Chains Project
Zedify
Mobility Project of the Year
Beryl and Norfolk County Council – Norwich Micromobility Scheme
Innovation Gateway – HGVzero Action Group
Kaluza – Vehicle-to-Grid (V2G) Project
Lombard & EV8 Technologies – EV8Switch App
National Express West Midlands – Coventry Electric Bus Fleet Project
Ohme Operations – Smart Charger Project
Zenobe Energy – Electric Bus Financing Platform
ZeroAvia – Hydrogen-Electric Regional Aircraft Project
Marketing/Advertising Campaign of the Year
BBC Studios – The Green Planet campaign
Energy Saving Trust – Warm Home Hacks Campaign
Hubbub – Eat Your Pumpkin Campaign
Milliways – Felicity Plasticity Viral Video Campaign
Savills UK – Re:Imagining Retail Campaign
The Anti-Greenwash Charter Campaign
The B Team – Environmentally Harmful Subsidies Campaign
Trainline – 'I Came By Train' Campaign
Uber Green – Driving Change Campaign
Nature-based Project of the Year
CGI IT UK – Sustainability Exploration and Environmental Data Science (SEEDS) Project
Ground Control – The Wildfell Centre for Environmental Recovery
Faith In Nature – Nature on the Board Project
Finance Earth & Wildlife Trusts – Habitat Banking Model
Foresight Group – Foresight Sustainable Forestry Company
Planet Tracker – No Rain on the Plain Project
Sizewell C – Aldhurst Farm Habitat Creation Scheme
U+I – Mayfield Park
Wanderlands – Winford (Hartcliffe) Rocks Restoration Project
Wilder Carbon – The Wilder Carbon Standard
Renewable Energy Project of the Year
Barratt Developments – Energy House 2.0
Ripple Energy – Graig Fatha Wind Farm
PPAYA Ltd – PPA Platform
Syzygy – Metrocentre Decarbonisation Project
TES – Sustainable End-of-Life Batteries Management Project
WASE – Hepworth Brewery Project
Communications Agency of the Year
Barley Communications
Blakeney
Greenhouse Communications
Higginson Strategy
Hill+Knowlton Strategies
Seahorse Environmental
SEC Newgate UK
The Marketing Pod
Consultancy of the Year
Anthesis Group
Aura
Bioregional
Capgemini
Carbon Limiting Technologies
Chronos Sustainability
Finance Earth
Sancroft
Syzygy
UCL Climate Action Unit
Manufacturer of the Year
Automedi
Coca-Cola Europacific Partners
Effective Consumable Solutions
PVA Hygiene
Vaillant UK
ESG Investor of the Year
Church Commissioners for England
Coutts & Co.
EQ Investors
Foresight Group
Gresham House BSIF strategy
Thrive Renewables
Tribe Impact Capital
Triodos Investment Management
WHEB Asset Management
Early-Stage Investor of the Year
Challenge Works
Clean Growth Fund
Elbow Beach Capital
Green Angel Syndicate
Legal & General Capital
Zouk Capital
Small Business of the Year
CCm Technologies
Ecosphere+
FORE Partnership
Frugalpac
Futurepump
Net Purpose
Notpla
One Tribe
PPAYA Ltd.
The Bulb
Fast Track Company of the Year
Aura
Go Climate Positive
Ohme Operations
onHand
Oxbury Bank Plc
PPAYA Ltd
The Cheeky Panda
The Electric Car Scheme
Innovation of the Year
Bank of America & Smith School of Enterprise and the Environment, University of Oxford – Global Stocktake of Carbon Dioxide Removal
Canary Wharf Group – Decarbonising Concrete Project
Carbon Clean – CycloneCC
GeoPura Ltd – Hydrogen Power Unit
Graphene Star & Rustins – G Insulate
GridBeyond – Point Intelligent Energy Platform
Kaluza – Kaluza Vehicle-to-Grid (V2G) Trial
OVO Energy – Power Move
UK Power Networks – Project Stratus
Upp – AI-powered Harvesting Technology
Whitefox – Whitefox ICE XL
WUKA Wear – WUKA Stretch
Net Zero Strategy of the Year
Bupa – Net Zero Strategy
Commercial – 2028 Net Zero Target
easyJet – Net Zero Roadmap
EY UK – Net Zero Strategy
GreenZone – Net Zero Action Plan
Landsec – Net Zero Strategy
Lamington Group – Net Zero Roadmap
NatWest Group – Science Based Targets initiative
Phoenix Group – Net Zero by 2050
Triodos Bank UK – 'As One To Zero'
Rising Star of the Year
Alexandra Tait – NatWest Group
Amy Baker – Equans UK & Ireland
Ellie Rowlands – Ripple Energy
George Atkinson – Valpak
Helena Houghton-Casella – OPEN Media
Kim van Lieshout – OVO Energy
Dr Laura Kirwan – Nutritics Group
Nadia Crowe – AVEVA
Olivia O'Brien – Longevity Partners
Thom Groot – The Electric Car Scheme
Sustainability Leader of the Year
Danielle Mulder – BBC
Dharel Patel – National Express UK
Ian Corder – ESI Monitor
Janet Hughes – Agria Pet Insurance
Julia Pyke – Sizewell C
Julie Tucker – BE Offices
Lisa Wee – AVEVA
Michelle Miles – Sustainable Wedding Alliance
Oliver Novokovic – Barratt Developments
Simon Cox – Prologis UK
Politician of the Year
To be announced on the night
Leader of the Year
Ana Haurie – Respira International
Greg Gormley – SKOOT
Mark Chapman – Zero Carbon Forum
Neil Kermode – The European Marine Energy Centre
Nicola Stopps – Simply Sustainable
Polly Billington – UK100
Rachel Rowley – Encore Environment
Richard Stockdale – Oxygen Conservation
Stuart Debar – SRL Publishing
Tommy Ricketts – BeZero Carbon
Company of the Year
BeZero Carbon
EMEC
EY
Go Ahead Group
Johnson Matthey
Low Carbon
Octopus Energy
OVO Energy
The National Trust
Triodos Bank UK
Lifetime Achievement Award
To be announced on the night