What to expect from 'Green Day'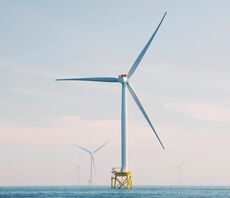 The government is poised to update its Net Zero Strategy – here's what we know so far about what the new plan will likely contain
This Thursday the government will unveil a raft of climate policies in what is expected to be a hugely significant day for both the UK's net zero transition and the country's long term economic prospects.
Following months of warnings that the UK is off track to meet its medium-term climate goals and at risk of missing out on billions of dollars of essential clean tech and low carbon infrastructure investment, Ministers will finally unveil their much anticipated plans for accelerating the country's decarbonisation efforts.
The announcements are non-negotiable, given the High Court ruled last year that the UK's current Net Zero Strategy is 'inadequate' and unlawful under the Climate Change Act. Ministers were given until the end of March this year to provide an updated plan that provides more detail on how they intend to meet legally binding emissions goals for the 2030s onwards. They are expected to meet the deadline with just a day to spare.
The government is also expected to provide a formal response to the Mission Zero report from Conservative MP Chris Skidmore, which reviewed the current net zero policy regime and called for a rapid acceleration of decarbonisation efforts across almost every part of the economy.
How then will Ministers respond and what will the revamped strategy entail? Will it deliver the much needed step change in clean tech investment and emissions reduction programmes the Climate Change Committee (CCC), the CBI, and myriad others insist is urgently needed? Or will it once again provide a mixture of low and high carbon policies that fail to adequately respond to the scale of both the climate crisis and the competitive threat presented by the the multi-billion dollar investments now planned on both sides of the Atlantic?
A combination of media briefings, previous announcements, and the sizeable pipeline of climate policy consultations the government is due to respond to provides significant insights into what the new strategy will include – and what it won't. BusinessGreen takes a look at what to expect from 'Green Day'.
What's in a name?
The very first thing businesses, investors, and campaigners will consider when looking at Thursday's package of announcements will be what it is called.
Previous reports suggested it was being badged as 'Green Day' within Whitehall, but a Number 10 source pointedly told the FT over the weekend that "it is not Green Day" insisting instead the government would brand the package of announcements as "Energy Security Day". The Guardian also reported that the government was considering having Prime Minister Rishi Sunak unveil the package in Aberdeen, the UK's oil and gas capital. There is speculation the government could accompany fresh decarbonisation policies with approval for the controversial new Rosebank oil field and proposals to water down the windfall tax on oil and gas companies.
In many ways the messaging around Thursday's announcements should be seen as secondary to the policy detail, but at a time when the White House and Brussels are going out of their way to woo clean tech investors any positioning from the UK government that smacks of triangulation between clean energy and fossil fuel interests has considerable risks attached. Everyone will be watching closely to see if the government foregrounds the 'clean energy superpower' rhetoric favoured by Energy Security and Net Zero Secretary Grant Shapps or opts for a more pro-fossil fuel investment pitch.
Green groups in particular are likely to respond with fury to anything that runs counter to how 'Green Day' was originally billed – as the last chance in this parliament to get the UK back on track towards its net zero goals.
Do the numbers add up?
Whatever it decides to call it, the government will be keen to position Thursday's announcements as a proactive response to the energy security and economic challenges the UK faces. But the truth is that it is being forced to respond to a very specific High Court ruling.
The case brought against the government was based on Ministers' failure to provide sufficiently granular data on how they envisaged the policies set out in 2021's Net Zero Strategy delivering on the UK's legally-binding carbon budgets. Consequently, right at the heart of Thursday's announcements should be more detailed modelling explaining how the UK's decarbonisation policies translate into actual emissions reductions that are in line with the country's medium and long-term climate goals.
The big question is whether this modelling will be based on credible new decarbonisation policies or yet more heroic assumptions about what current policies and upcoming technology innovations can deliver. If it is the latter, expect the updated strategy to face much the same legal challenge as the current strategy.
Will the new strategy have room for a ratchet?
It is notable the updated strategy comes just a week after UN Secretary General Antonio Guterres responded to the latest stark warnings from the IPCC on the worsening global climate crisis by calling on industrialised nations to pull forward their 2050 net zero target dates to 2040.
Climate campaigners will be keen to see whether the new strategy references the possibility of the UK's emissions targets being strengthened in the coming decades, as climate impacts escalate and pressure to decarbonise faster intensifies.
Will the big plans for CCS and hydrogen deliver?
Reports suggest carbon capture and storage (CCS) and hydrogen will be central to the new strategy, with the government expected to confirm plans to provide around £10bn of funding over the next decade in support of at least six proposed CCS plants. The Sunday Times also reported that a new hydrogen 'roadmap' will be unveiled detailing how the government plans to boost low carbon hydrogen production through to 2030 and beyond.
The big question is how much detail and ambition is contained in these plans. CCS and hydrogen project developers clustered around the government's two proposed Net Zero Industrial Hubs in the north west and north east of England have been waiting for months for clarity on the proposed 'business models' that would see them provided with long term revenue assurances that would allow projects to proceed. The hope is Thursday provides full confirmation of these subsidy regimes, as well as the rules and regulations that will govern the supporting network of carbon transport and storage infrastructure. Such policy clarity would likely result in a wave of high profile low carbon industrial projects getting the green light.
Green investors regard this as one of the areas where the UK faces the biggest competitive threat from the US and EU. The White House's Inflation Reduction Act (IRA) contains significant support for CCS and hydrogen projects, while governments across the EU are pumping billions of Euros into hydrogen development in particular. If the UK fails to develop its own CCS and hydrogen economy then carbon and energy-intensive sectors such as chemicals, steel, and glass will over time shift to regions where they can access the infrastructure that will enable their own decarbonisation.
Will steel manufacturers get a green rescue package?
The steel industry will be hoping that plans for boosted CCS and hydrogen capacity could be accompanied by a fresh package of financial support to help UK steel manufacturers transition over to cleaner technologies. The industry is adamant that without such support it is likely to enter a period of sustained decline, squeezed between competitors in regions with lower carbon prices and those plants across Europe investing in the latest green steel manufacturing technologies.
There has been no indication to date that the updated strategy will include specific support for steel, but across multiple energy intensive industries there is a growing sense that a more detailed and coherent plan is required to explain how they can decarbonise and remain competitive.
Will auto manufacturers get sufficient EV clarity?
One of the other policies that is widely expected to be confirmed this week are proposals for a zero emission vehicle (ZEV) mandate for UK auto manufacturers.
The plans, which mirror similar moves from the EU, would require manufacturers to produce a rising share of ZEVs ahead of the 2030 ban on the sale of new petrol and diesel cars and vans.
The proposals have split the auto industry, with some manufacturers arguing they are too demanding and others arguing that policy clarity is required to ensure new electric vehicle (EV) factories locate in the UK. Again, the impact of the policy will be determined by the precise nature of the targets and penalties set through the new mandate.
The adoption of a ZEV mandate is likely to be welcomed by green groups, but the auto industry will also be looking for further commitments from government to accelerate the roll out of EV charging infrastructure and attract the new battery factories that are widely regarded as critical to ensuring auto manufacturing plants stay in the UK in the long term.
Will renewables developers get meaningful planning reform?
The government has repeatedly hailed the success of the UK renewables industry as evidence of its commitment to the net zero transition and the way clean tech can drive economic growth and curb energy costs. But even here UK developers are facing challenges.
Industry insiders have repeatedly warned that the planning system and grid connection regime is not fit for purpose, while stressing that the UK cannot rely on offshore wind alone to deliver on its clean energy goals.
This week's announcements are expected to include confirmation of the government's thinking on new planning rules for onshore wind farms, but there are widespread fears that its original proposed reforms would leave the de facto ban on new projects in England largely in place.
The industry will be hoping Ministers have listened to consultation responses and will deliver reforms that genuinely allow new projects to proceed where they can command a reasonable degree of community support.
However, developers will also be hoping for wider ranging reforms that make it easier to deliver new offshore wind and solar projects, tackle the backlog of grid connection applications that remains one of the major barriers faced by new projects, provide a port upgrade programme in support of the coming wave of floating turbine projects, push through rules that can accelerate the roll out of smart grid technologies, and respond to concerns that rising material costs could push up the cost of the next wave of offshore wind farms.
Will the plan for new nuclear be sufficiently ambitious?
Thursday is expected to see the formal launch of the heavily trailed Great British Nuclear agency, which has been tasked with leading efforts to deliver both a new fleet of large scale nuclear projects and the next generation of small modular reactors (SMR).
But the industry will be hoping for a lot more than just the creation of a new office, with investors warning that without real clarity on how new projects should be financed and how the promised SMR funding competition will be delivered the UK risks both an energy security crunch as existing reactors retire and a migration of investment in next generation nuclear projects to the US.
Will the government get a grip on energy efficiency and green homes?
If you asked climate campaigners to pick just one policy that should be prioritised most would select energy efficiency. For years experts have repeatedly warned the UK cannot meet its net zero goals without a massive improvement in the energy efficiency of its housing stock. At the same time economists have highlighted how energy efficiency upgrades represent the most cost effective means of driving down emissions, a major potential source of driving economic growth, and a route to tackling fuel poverty and poor health.
And yet the government has tended to ignore these arguments, cutting funding for energy efficiency programmes in 2013 and largely failing to introduce long promised policies to incentivise investment in green home upgrades. Repeated studies have warned energy efficiency programmes are poorly managed and underfunded, the heat pump roll out is behind schedule, and the green building sector is facing a serious skills crunch.
Hopes have been high that the update to the Net Zero Strategy could deliver a revamped energy efficiency programme, especially after the government recently announced a new target to cut energy use by 15 per cent by 2030 and appointed a new Energy Efficiency Taskforce.
However, reports suggest campaigners could be left disappointed once again. The strategy is expected to incorporate a long delayed response to proposals to make it illegal to let out rented properties that fail to meet minimum energy efficiency standards, but even here observers fear the proposed 2025 date for the new rules could be delayed. More broadly, no new funding is expected for energy efficiency programmes and there has been no briefing to suggest there will be a wider push to tighten building standards and drive greater investment in heat pumps and energy efficiency improvements.
Will the government deliver electricity market reform?
One related area where there could be more progress is in electricity market reform. Writing in the Sun over the weekend, Shapps confirmed the government would deliver long-called for changes to shift some of the green levies on electricity bills on to gas bills. It would represent a significant move that would tilt the economics of heating technologies further in favour of heat pumps and away from gas boilers.
What remains uncertain is whether the government accompanies this move with wider reforms to try and limit the dominant role of wholesale gas prices in setting wholesale power prices. Some experts maintain new rules for the market would allow end users to more directly benefit from the lower prices offered by the renewables projects that deliver a large and growing share of the UK's electricity mix. It remains to be seen whether the government is willing to push through fundamental changes to the way the energy market operates.
It is also unclear whether the government is willing to revamp governance of the market. The Guardian reported over the weekend that proposals for Ofgem to be given new powers to help ensure net zero targets are met are likely to be rejected. Skidmore's proposals for a dedicated Office for Net Zero are also expected to be rejected.
Who will win out in the CBAM debate?
The Department for Energy Security and Net Zero, the Treasury, and Number 10 have reportedly been engaged in intense discussions for weeks over whether to include proposals for a new Carbon Border Adjustment Mechanism (CBAM) as part of the updated strategy.
The EU is moving forward with proposals for new import tariffs on carbon intensive products manufactured in jurisdictions without adequate carbon pricing and climate regulations in place. The bloc maintains such measures are justified given carbon prices in its emissions trading scheme are now at around €100 a tonne, putting European manufacturers at a sizeable disadvantage compared to companies that do not face carbon taxes. The approach should also give the UK significant leverage in negotiating trade deals, like the proposed green steel agreement being explored by the EU and US.
Much the same arguments in favour of a CBAM apply for the UK, but the measure runs counter to the government's free trade instincts and could complicate its efforts to deliver more post-Brexit trade deals, plus the UK lacks the trade negotiation leverage the EU and US enjoys.
However, if they decide against introducing a CBAM Ministers will be under pressure to explain how they intend to ensure carbon intensive industries in the UK remain competitive as the net zero transition gathers pace.
Will green finance plans feature?
Another area where investors will be hoping for clarity is in the government's green finance strategy. The Treasury has said it wants to make the UK the world's leading net zero finance hub, but while the UK has a deservedly strong reputation in green financial and professional services there is growing frustration that the government has not really spelled out how it intends to deliver on this ambition.
Investors will be hoping the new Net Zero Strategy also includes a strengthened green finance strategy with more ambitious plans for everything from green bonds and corporate reporting to green home mortgages and ISAs.
Whither farming, land use, diet, and nature? What of public and active transport?
The numerous studies assessing the UK's decidedly mixed progress against its net zero goals all highlight the same few areas where action is not sufficiently advanced – farming and land use and public and active transport feature prominently in those risks.
Reports ahead of Green Day have once again provided no insight into whether new policies are to be expected in these crucial areas.
The government repeatedly points to its Environmental Land Management Scheme subsidy reforms as evidence of how it intends to curb emissions from farming, but while such proposals are welcome the Climate Change Committee and others have repeatedly argued a more detailed land use strategy is required alongside a willingness to promote more climate-friendly diets.
Similarly, the government has assigned funding for green bus fleets, but the budget for active travel infrastructure has just been cut with no warning and the rail network remains a huge source of frustration for commuters and environmental campaigners alike.
Observers will be hoping for some much-needed clarity and ambition in these crucial areas.
Will the government engage with the need to wind down fossil fuel production and deliver carbon removals?
One of the big tests of the updated Net Zero Strategy will be whether it wrestles with the really thorny challenges associated with the clean energy transition.
Will it accept that even with new CCS capacity future fossil fuel production will need to be wound down? What is its plan for the people and communities reliant on fossil fuel jobs? How does it plan to tackle the worsening green skills gap? Does it really see a role for a new coal mine in a net zero emission economy? How big a role does it envisage for carbon removals and how does it plan to both nurture and regulate the development of this nascent market? It is not enough to simply accelerate the roll out of clean technologies – the UK also needs to slash fossil fuel consumption and establish a credible carbon removals market. On both these crucial fronts the current strategy is badly lacking.
The government has little time for the language of 'just transitions' given the term has been adopted by trade unions and the left, but some kind of plan is required for navigating the wide-ranging economic and social impacts that will come with the increasingly inevitable transformation of fossil fuel industries that have dominated the global economy for over a century. A national net zero skills strategy and a credible plan for supporting the development of carbon removal projects are just two areas where urgent action is required.
More broadly, the failure to deliver a clear plan for tackling fossil fuel stranded assets and wider transition risks would undermine the credibility of the many specific decarbonisation policies it is hoped that 'Green Day' will include.