Active travel is a major economic opportunity – so why is the government sitting down on the job?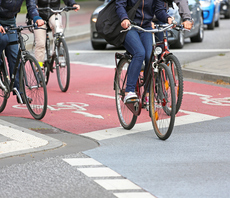 MPs, mayors, and NGOs have slammed plans to slash cycling and walking budgets from £480m to £100m as 'disproportionate' and 'nonsensical'
The furore over news of yet more delays to the HS2 train project last week served to overshadow another announcement on transport-related budget cuts that is arguably even more consequential for the UK's transition to a low-carbon economy: namely, the government's decision to slash England's active transport budget.
Buried at the bottom of a statement issued last week, the Department for Transport (DfT) acknowledged it was making "efficiency savings" to its budget for cycling and walking infrastructure. Citing "global financial pressures", it said it had reduced the active transport budget for England to £100m over the next two years.
The scale of the budget cuts for the remainder of the Parliament are eye-watering. The All-Party Parliamentary Cycling and Walking Group noted that the active travel budget laid out in the October 2021 Spending Review stood at £710m of which £480m is yet to be spent. The new £100m budget represents a spending cut of £380m.
The relegation of major changes to active travel funding to the bottom of a press release focused largely on trains and roads is also being seen as further evidence of the fall from political grace cycling and walking has experienced in the wake of the resignation of Prime Minister Boris Johnson and the return to pre-pandemic travel patterns. Times have clearly changed since mid-2020, when Johnson's government promised – in characteristically boosterish terms – to unleash a "£2bn cycling and walking revolution".
Transport Secretary Mark Harper's decision to press ahead with deep cuts to the active transport budget has drawn significant criticism from MPs, mayors, and NGOs, who argued it was short-sighted given the myriad societal and economic benefits of getting people out of cars to travel by bike or on foot. The well documented benefits associated with active travel include, but are not limited to: improved air quality, reduced road congestion, improved public health, shorter NHS waiting times, reduced carbon emissions, and lower household bills on transport during a cost-of-living crisis.
In a letter to Transport Minister Jesse Norman, whose brief covers active travel, the Mayor of the West Midlands Andy Street and the region's cycling and walking commissioner Adam Tranter demanded the government set out the rationale for the decision to press ahead with such "drastic" cuts given the compelling economic case for boosting active travel.
"Given the current economic challenges we appreciate that difficult spending decisions have to be made, especially in the DfT's capital programme," they wrote. "However, what seems incredibly difficult to justify is the disproportionate cut in the Active Travel budget, which is wildly recognised for its societal benefits."
Street and Tranter argued "no other transport schemes can be delivered as quickly and cost-effectively as active travel", noting that cycling schemes had benefit-cost ratios that are far better than those offered by road schemes.
The West Midlands politicians were joined in urging the government to reconsider the spending cuts by the chairs of the All-Party Parliamentary Cycling and Walking Group, Conservative MP Salaine Saxby and Labour MP Ruth Cadbury. Saxby also highlighted the economic case for a rethink of the proposals. "Cycling and walking schemes deliver excellent value for taxpayers' money and make these healthy, sustainable modes of transport a safer, more reliable option for people to choose," she said.
Meanwhile, the Walking and Cycling Alliance (WCA), which brings together Sustrans, Living Streets, British Cycling and Ramblers, said in a joint statement that it was "heart-breaking to see vital active travel budgets wiped away, at the exact time when they are most essential to UK economic, social and environmental prospects".
The Department for Transport was considering a request for comment at the time of going to press. But in a written statement setting out the rationale for the swingeing cuts to active travel budgets, alongside a two-year "rephasing" of HS2, the Lower Thames Crossing, and other major road projects, Harper pointed to the economic headwinds caused by inflation triggered by the Russia-Ukraine war and supply chain disruptions from the pandemic. "These are the difficult but responsible decisions we are taking, that put the priorities of the British people first, in controlling inflation and reducing government debt," he said.
Given the government's framing of cutting cycling and walking infraustructre budget as an economic decision, the emphasis placed by critics on the economic recklessness of the move is wise. Warnings from climate experts that a modal shift away from passenger cars is key for the UK to play its part in capping global temperatures at safe levels may fail to cut through with some Ministers. But they are looking for ways to reduce government debt and inflation.
Moreover, with Ministers looking to secure some form of legacy as they enter the last few years of parliament, active travel projects offer a relatively quick return on investment across a number of economic and societal indicators. Unlike road or high-speed rail projects that drag across decades and pass like a politically toxic parcel between subsequent administrations, cycle and walking infrastructure is broadly popular and relatively cheap and quick to deliver. It also has the potential to improve the lives of millions of people across the UK, not just those who travel by train or have their own car, and can support corporate efforts to cut emissions, improve air quality, and enhance employee health. Pressure on the government to reverse its decision looks set to intensify.