'Alarm bells should be ringing': New global wind installations falls 15 per cent in 2022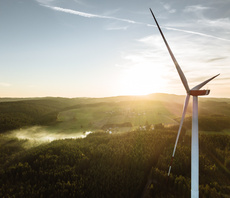 BloombergNEF figures show global commissioning of new wind turbines fell to 86GW last year due to slowdown in US and China
The amount of new wind power capacity brought online last year fell by 15 per cent, bringing to an end two years of record deployment as supply chain constraints and policy uncertainty hit project development rates.
That is the headline conclusion from BloombergNEF's (BNEF) latest Global Wind Turbine Market Shares report, which found that developers delivered 86GW of wind projects globally in 2022, after the rapid growth in installations in China and the US stalled.
"Alarm bells should be ringing," said Cristian Dinca, wind analyst at BloombergNEF and lead author of the report. "Governments around the world are increasing their ambition on decarbonisation and, at the same time, new additions are slowing on the ground."
The offshore wind market faced a particularly acute slowdown, with new installations falling 46 per cent year-on-year to 9.1GW, primarily as a result of the expiration of China's national feed-in tariff premium for offshore projects. According to the research, the slowdown in China was partly offset by strong activity in the UK, which commissioned more than 3GW of new offshore wind capacity for the first time.
Oliver Metcalfe, head of wind research at BloombergNEF, said the slowdown in new offshore wind capacity was likely to be short-lived. "Germany and the Netherlands will install major projects again in 2023, while the industry will also ramp up in newer markets like France and Taiwan," he said.
Similarly, analysts are optimistic the slowdown in US wind projects, where overall additions fell by 4GW last year, should be reversed as the policy environment improves on the back of the Biden administration's Inflation Reduction Act (IRA).
"Uncertainty around extensions to tax incentives for wind projects has stunted the US wind industry for two years," said Metcalfe. "That changed with the passing of the Inflation Reduction Act last year. We think the incentives in the IRA will help drive a cumulative 135GW of new wind capacity from now until 2030, proving the crucial role governments can and must play as they aim for net zero emissions."
The hope is that other governments will now follow suit and deliver stable policy environments and planning reforms that can allow an acceleration in the rate of new projects in support of national climate goals. Late last month, trade body WindEurope warned that without significant policy reforms to help combat rising supply chain costs and planning barriers for wind energy projects the continent risked missing its net zero goals.
BloombergNEF's report also confirmed Chinese wind turbine manufacturers growing dominance of the global market. China-based Goldwind took the crown as the top wind turbine supplier with 12.7GW of installations last year, of which more than 90 per cent were for its home market in China. Denmark-based Vestas commissioned 12.3GW of new projects last year to claim second place in the league table, 3GW ahead of its US-based rival GE.
However, six of the places in the top 10 were taken by China-based manufacturers, including Envision in fourth place and Mingyang, which tied with Europe's Siemens Gamesa in fifth place.