One of pop's greatest looks to be sold
For decades, Prince thrilled with his eclectic songs and unique style. As many of his outfits – including his iconic ruffled Purple Rain shirt – go up for auction, Katya Foreman assesses his wardrobe.
There is a funky homage to New Age spiritualism on the cover of Art Official Age, the 2014 album by Prince, the solar system reflected in the singer's Lennon-style sunglasses with their striking additional third eye. His cream turtleneck and embroidered gold-leather gilet add to the cosmic vibe. Throw in a perfectly coiffured microphone-shaped afro, handlebar pencil moustache and flawless complexion, and the visual message is clearly one of precision and control. His eyes shaded from view, Prince is untouchable, protected, preserving the air of mystery the interview-shy artist cultivated throughout his four-decade career. With a nod to his spiritual side, this look evokes more the commander of a mystic disco spaceship than the horny, doe-eyed provocateur of yore; among his outré early looks, the kinky costume for 1980s Dirty Mind comprised a red neckerchief, open trenchcoat, thigh boots and bikini briefs.
Prince's style was unique – and many items from his wardrobe are about to go up for auction, including the white ruffled shirt he wore during his performance of Purple Rain at the 12th Annual American Music Awards in 1985. Held online by the US company RR Auction, the sale features 203 items owned by a French collector, who had planned to set up a museum dedicated to the late singer.
More like this:
– The outfit that shocked the world
– A reviled Oscars dress that's now iconic
– The return of a divisive lingerie brand
Prince – who died in 2016 – had only one thing on his mind when it came to carving out his own unique visual image. "He was very, very savvy, even at an early age, and knew he had to differentiate himself and the band in specific ways. One of the earliest conversations I remember having with him, right after being brought into the fold, was that he wanted everybody in the band to have a distinct image, and that what he was going to do was, in his words, 'portray pure sexuality'," recalls Dez Dickerson, Prince's lead guitarist from 1978 to 1983, in the documentary Prince in the 1980s. "Over time, he understood that that was kind of what brought him to the party, and he's been real consistent with that."
The online sale closes on 16 November, and includes 203 items owned by a French collector
One of the highlights, the ruffled white shirt with faux-pearl buttons and shoulder pads worn by Prince during his performance of Purple Rain at the 12th Annual American Music Awards, has already attracted more than $25,000 in bids
According to the auction site, it was acquired by the seller "directly from a designer" who worked on the Purple Rain film and tour
Other sale highlights include the round-rimmed sunglasses worn by Prince during his Sign o' the Times era
Prince's risqué, provocative point of difference and powerful image paid off and Prince became one of the first black artists – along with Michael Jackson – to land heavy play on MTV, a move that sealed his commercial success. "I don't think any artist before had used that level of sex to get in the door and be accepted by the mainstream" wrote Questlove of The Roots, in Rolling Stone's 100 Greatest Artists tribute (Prince was ranked at 27). "I wonder what his mind state was in 1981, standing onstage in kiddie briefs, leg warmers and high heels without a number one hit. That was a risk."
Less is more
Equally at ease in his birthday suit (as the sleeves for his eponymous second album and Lovesexy both attest) as in sequins, furs and multi-layered lace – his Purple Rain-era outfit for the 1985 American Music Awards would have found favour with Liberace – Prince didn't do dull. And the same sartorial effort was expected of his band, The Revolution. "Prince was tired with the costumes I was coming up with. He sent his girlfriend down to the hotel room I was in, and she knocked on the door and she sweetly came in and dumped this bag of metallic, multi-coloured underwear on my bed – bra and panties, basically – and said, 'Prince said wear this or you're fired'," recalled Gayle Chapman, keyboardist from 1978 to 1980.
Mixing virility and femininity, his bare chest often a centrepiece, Prince nonetheless radiated pheromones. "People say I'm wearing heels because I'm short," said the pint-size (5ft 2in, 1.57m) performer. "I wear heels because the women like 'em." A flip through his photo album sees an array of funky bell-bottoms, polka-dots galore, and a run of garish metallic body wrappings to rival a Quality Street tin. Silhouettes oscillated between crop tops and high-waisted bodycon trousers to elongate the body, showcasing his ever-trim physique, and long strong-shouldered power-dressing jackets creating the illusion of a bigger frame.
Top of the fops
As eclectic as his musical offerings, Prince's wardrobe also included Freddie Mercury-style nipple-baring leotards, offset by blow-dried locks, an asymmetric hoop earring and a purple sequinned hooded cape that he wore to the Oscars in 1985 where he won the Academy Award for original song score for Purple Rain. (Never knowingly understated, Prince pulled up to the event in a purple limo escorted by some 20 uniformed security men on motorcycles, according to a report in People magazine.) And once seen, the bottom-baring yellow laser-cut suit worn for his performance of Gett Off at the MTV Video Music Awards in 1991 can never be forgotten – Lady Gaga, eat your heart out.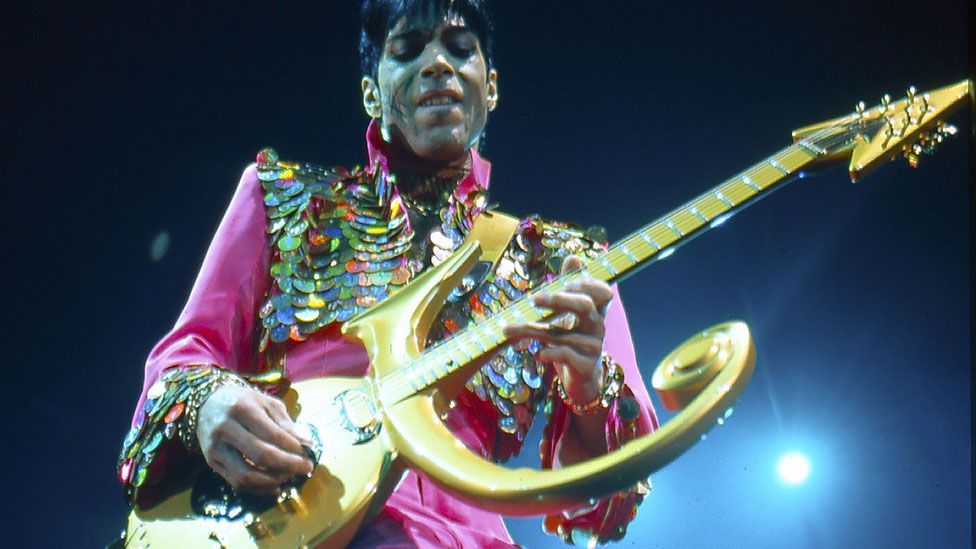 One of Prince's many eclectic wardrobe choices (Ilpo Musto/REX)
But one key look remains constant in the collective memory: the Purple Rain ensemble of guyliner, curls and ruffled shirts. The influence of his androgynous '60s musical heroes The Rolling Stones and Jimi Hendrix was flagrant but, possessed with a swagger belying his petite stature, Prince made it his own, pulling off the foppish attire with an attitude befitting his moniker. (It's no coincidence his signature shade was the colour of royalty.)
Pressure from a pushy father – John L Nelson was a pianist and songwriter whose stage name was Prince Rogers – probably fuelled Prince's hunger for success. But in an interview with Tavis Smiley, Prince also referred to the impact of being teased at school for being epileptic. "Early in my career I tried to compensate for that by being as flashy as I could and as noisy as I could," he said, clad in a slim-cut black satin suit with matching white satin tie and shirt, his face framed by high starched collars à la Karl Lagerfeld, shod in high-heeled black-and-white dress shoes. Yet despite using his image as armour, Prince was also willing to send himself up: he used a shot of comedian Dave Chappelle dressed as him for the cover of his 2013 single Breakfast Can Wait and cameoed on hit sitcom New Girl, delivering love-life advice while playing ping pong.
Prince presented much to parody. See the canary-yellow pants and booties and retro black leather jacket he wore for an appearance on The View in 2012, during which he debuted his new afro. Commenters swiftly compared him to a dodgy '70s villain but it didn't really matter. Prince was Prince. The prolific musician – who in 1993, following a dispute with music label Warner Bros, famously changed his name to "an unpronounceable symbol" – always defended his freedom of expression and artistic vision. And his look was no exception. In a 2013 interview with V Magazine, he described his creative set-up as being "like a galaxy. The sun is in the centre giving off energy and everything revolves around it". It's easier to imagine him as the Willy Wonka of the music world, concocting musical magic in Paisley Park Studios in his native Minnesota while an on-site wardrobe department ran up wacky costumes, than kicking back in a pair of sweatpants – although ex-wife Mayte has revealed he, too, has his plebeian moments.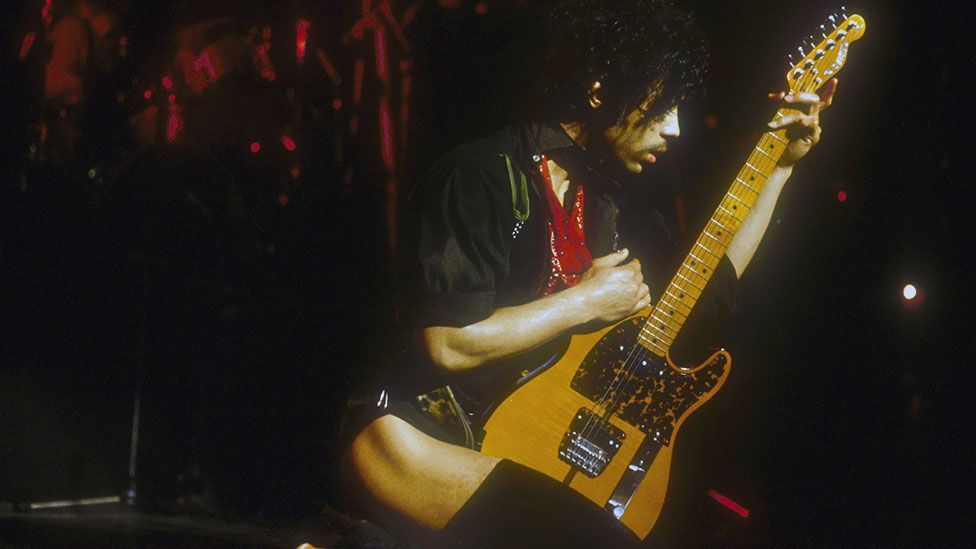 Prince's portrayal of 'pure sexuality' helped set him and his band apart from other acts (Andre Csillag/REX)
A 2006 Daily Mail article revealed the pair would go to the movies or bowl together: "She would cook vegetarian food grown in the greenhouse they built together, he would wear a sweater… 'It would be a Versace sweater, but never jeans,'" Matye clarified. "'There is a downtime side to Prince but, despite these reality TV-obsessed days, he just chooses not to show it, which I respect him for.'" Perhaps it was the reason why, in an industry increasingly inhabited by a parade of talent-show fluff, Prince maintained his career and his allure for a remarkable 36 years; in the words of his song Let's Go Crazy, that's a mighty long time.
If you liked this story, sign up for The Essential List newsletter – a handpicked selection of features, videos and can't-miss news delivered to your inbox every Friday.