The controversy surrounding Priscilla
With the news that Lisa Marie Presley objected to Sofia Coppola's new film, Nicholas Barber takes a look at the relationship at the centre of the film.
Four months before she died in January, Lisa Marie Presley objected to a film that was being prepared about her parents, Elvis and Priscilla Presley. An article in Variety has reported that she sent two emails in September 2022 to its writer-director, Sofia Coppola (Lost in Translation, Marie Antoinette), complaining that the screenplay characterised Elvis as "a predator and manipulative", and that this was a result of Coppola's "shockingly vengeful and contemptuous perspective".
More like this:
– Priscilla review: 'A sympathetic tribute to Elvis's wife'
– 12 films to watch this November
– 20 of the best films of 2023 so far
It's not uncommon for somebody to be upset about the way a loved one is portrayed on screen, of course. What makes Lisa Marie's diatribe unusual is that this particular film, Priscilla, isn't an unauthorised hatchet job or an overblown Hollywood fantasy, but a muted, intimate drama adapted from Priscilla's own memoir, Elvis and Me, and executive produced by Priscilla herself. She has promoted it side by side with Coppola ever since its premiere at the Venice Film Festival in September.
It charts the course of the Presleys' romance, starting with their first meeting in Germany in 1959, when Priscilla Beaulieu (Cailee Spaeny) was a 14-year-old schoolgirl and Elvis (Jacob Elordi) a 24-year-old superstar. The film stresses that Elvis wasn't a "predator" in the sense we might assume: to Priscilla's frustration, he keeps rebuffing her sexual advances, even when they are sharing a bed – not that he always rebuffs the advances of other women. A courteous, soft-spoken gentleman, he doesn't get intimate with her until after they are married, when she is 21. Still, by this time he has already assumed complete control of her life, deciding on her hairstyle and clothing, refusing to let her get a job, and feeding her pep pills. That's not necessarily how anyone would like to imagine their parents' relationship.
"As his daughter, I don't read this and see any of my father in this character," wrote Lisa Marie. "I feel protective over my mother who has spent her whole life elevating my father's legacy. I am worried she doesn't understand the intentions behind this film or the outcome it will have."
These worries are understandable, coming from a devoted daughter, but they aren't entirely valid. For instance, is it relevant that Lisa Marie couldn't "see any of my father in this character", given that the film is intended to reveal a side of him that most people hadn't seen? Likewise, her worries that the biopic might undo her mother's dedication to "elevating my father's legacy" miss the point that it wasn't Coppola's job to elevate Elvis, but to bring him down to Earth as a flawed, complicated human being. Maybe it was Lisa Marie who didn't "understand the intentions behind this film".
Her emails also praise Baz Luhrmann's Elvis, a glitzy biopic that depicts Elvis as a noble victim and his manager, "Colonel" Tom Parker, as a cartoon supervillain. Coppola's film is more nuanced, and is so careful to avoid sensationalism that critics have been divided over whether or not it shows Elvis "grooming" his teenage girlfriend, ie, preparing a child for sexual abuse.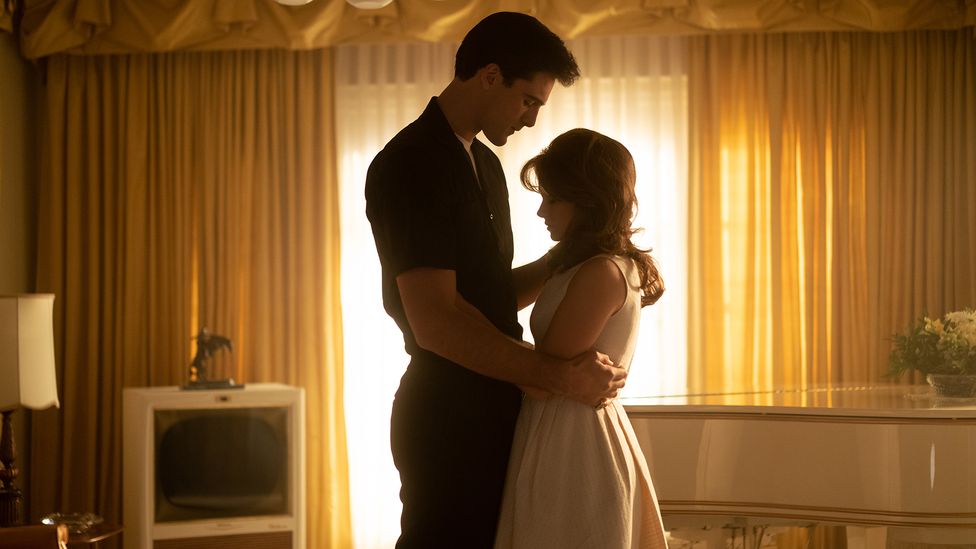 The film follows the Presleys' romance, from when Priscilla Beaulieu (Cailee Spaeny) was a 14-year-old schoolgirl and Elvis (Jacob Elordi) a 24-year-old star (Credit: A24)
"Is this an act of grooming," asks Richard Lawson in Vanity Fair. "Priscilla does not really editorialise on that, instead calmly showing true events as they happened (or in some version of how they happened) and letting the audience make assessments." On the other hand, Tara McNamara at Common Sense Media has no doubts. "While it's perhaps not the breast-thumper of female empowerment that some women (at least this one) might have been hoping for, Priscilla is an unvarnished primer for what grooming looks like."
Neither assessment suggests that the film contains the "shockingly vengeful and contemptuous" caricature that Lisa-Marie was afraid of. Personally, when I first saw it, I felt that it was too soft on Elvis; another critic I spoke to – a lifelong Elvis fan – felt that it was too tough on him. The disparity in our reactions, much like the reactions of Priscilla and Lisa Marie to the screenplay, could be taken as evidence that Coppola got the balance just right.
"I hope that when you see the final film you will feel differently," she wrote in an email to Lisa Marie, "and understand I'm taking great care in honouring your mother, while also presenting your father with sensitivity and complexity." The tragedy is that Lisa Marie never got to see the final film, after all.
If you liked this story, sign up for The Essential List newsletter – a handpicked selection of features, videos and can't-miss news delivered to your inbox every Friday.
If you would like to comment on this story or anything else you have seen on BBC Culture, head over to our Facebook page or message us on Twitter.