The vintage French style resonating now
Move over mid-century modern, French Art Deco is the furniture trend to watch. Clare Dowdy explores the latest must-have vintage style.
Move over, mid-century modern, and make way for Art Deco. The furniture from this earlier period is increasingly appealing to collectors and interior designers, who mix it up with mid-century and contemporary pieces for extra richness.
More like this:
– Inside eight interior designers' homes
– Ten revealing images of artists' studios
– Scandalous roots of the amusement park
With its sleek geometric or stylised forms, Art Deco took the world by storm in the 1920s and 1930s. It was a reaction against the natural, flowing designs of Art Nouveau, which was popular in the late 19th Century and early 20th Century. But one country, in particular, wears the Art Deco crown: France. Because unlike much Art Deco elsewhere, including the US, French Art Deco furniture tended to be hand-crafted rather than mass-produced.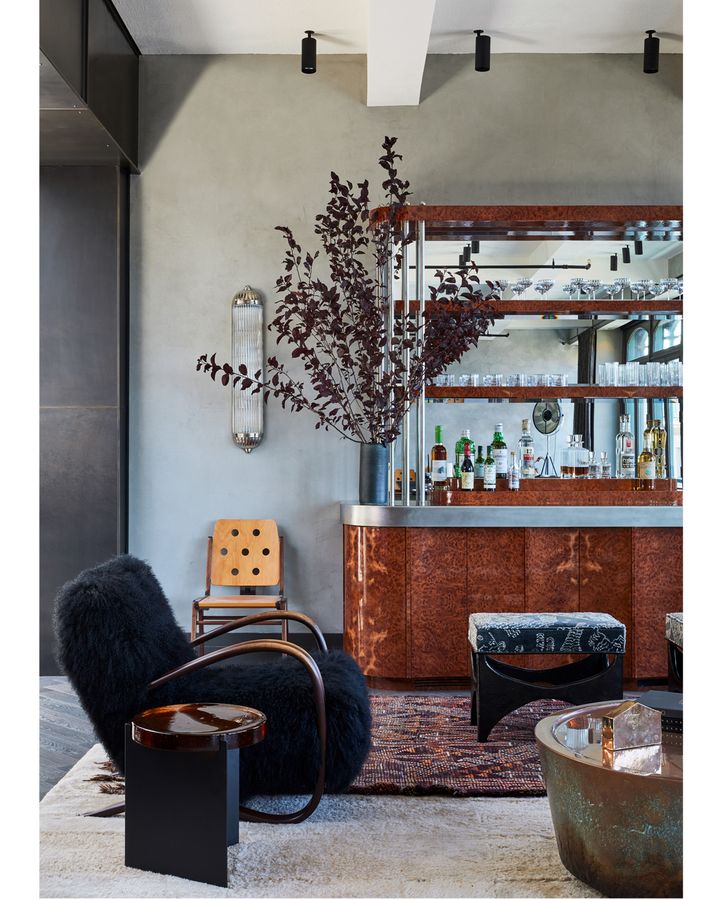 A French Art Deco cabinet is incorporated into a New York loft apartment designed by interiors firm Jesse Parris-Lamb (Credit: Nicole Franzen)
These top-quality, one-off pieces were made by named ébénistes or cabinet-makers, who specialised in intensive inlaying, marquetry and lacquering, and stamped their initials on each creation. Furniture by the best of them – like Jacques-Émile Ruhlmann, René Groult, Paul Dupré-Lafont and Pierre Legrain – is highly sought-after, and only for those with the deepest pockets.
At online furniture marketplace The Bruno Effect, CEO Carmine Bruno has spotted a resurgence of interest in Art Deco, "after being somewhat eclipsed over recent years by the ongoing popularity of mid-century modern," he tells BBC Culture. "And French Art Deco, in particular, is having a moment.
"French Art Deco wasn't a celebration of mass-production – it was a continuation of all the fine workmanship we associate with the best antiques," Bruno adds, "but with a future-facing outlook, which to our eyes now looks both decorative and modern."
Anthony Barzilay Freund, director of fine art and editorial director of online design marketplace 1stDibs, backs this up: "The pieces seem to straddle two realms: on one hand, the world of antiques, with its sinuous forms, luxurious detailing and fine craftsmanship; and on the other, modernity, which can be seen through the designers' stripped-down silhouettes and forward-thinking approach to materials, ornament and functionality. Many of the best examples of Art Deco were ahead of their time and feel today like they were created decades later than they were."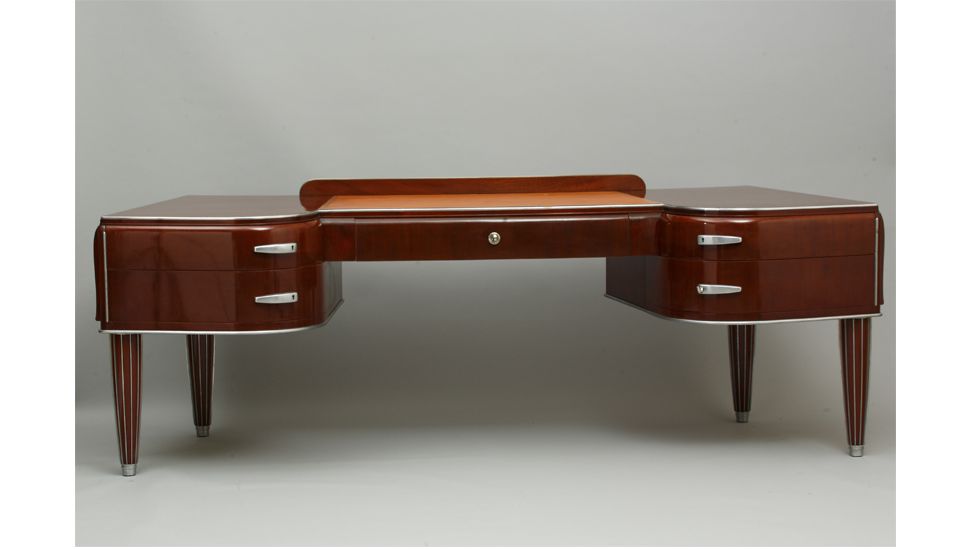 A Paul Follot bureau, 1937, is among the exhibits at an exhibition, Le Chic!, at Paris's Mobilier National (Credit: Mobilier National/ Isabelle Bideau)
It's this apparent modernity, an influence of Cubism, that is part of French Art Deco's appeal for collectors and designers. "This furniture with its sober, clear and clean lines corresponds to the expectations of the many enthusiasts who wish to integrate an older piece into contemporary interiors," says Gérald Remy, heritage curator of the exhibition Le Chic! French Decorative Arts and Furniture from 1930 to 1960.
And now, these collectors' items are cropping up in the swishest of homes. In a mid-century house by architect Lionel Pries in Seattle, US design firm Hoedemaker Pfeiffer put in a sideboard by Charles Dudouyt – one of French Art Deco's most famous exponents, who is best known for designing pieces that have a rustic and modernist nature; and a pair of crushed velvet chairs by Guillerme et Chambron, who designed in the post-Deco era but still held to many Deco forms.
"Many early 1970s furniture designs took cues from the Art Deco shapes and forms," Peak Petersen, project manager at Hoedemaker Pfeiffer, explains. The firm also installed an 18th-Century Swedish Baroque cabinet, which "has the beginnings of repetition in form that fuelled later Art Deco masters," she adds.
Tim Pfeiffer of Hoedemaker Pfeiffer got the French Art Deco bug when he was working at Ralph Lauren in Paris from 1997 to 2008, and took to scouring flea markets for pieces. "I fell in love with the elegant discipline of shapes inherent from the era in both architecture and the decorative arts."
Perfect proportions
Meanwhile, for a loft in New York's SoHo, 1stDibs interior firm Jesse Parris-Lamb took as their inspiration that New York City Deco landmark, the 1930s Chrysler Building, and brought in pieces by Dudouyt and Paul Frankl. The reupholstered Dudouyt dining chairs are "robust, beefy, and incredibly comfortable", says Amanda Jesse, adding of the designer, "he had a way of embellishing chunky proportions with elegant carvings that is unmistakably his own." The fluted glass sconces at the bar are from the late 1930s.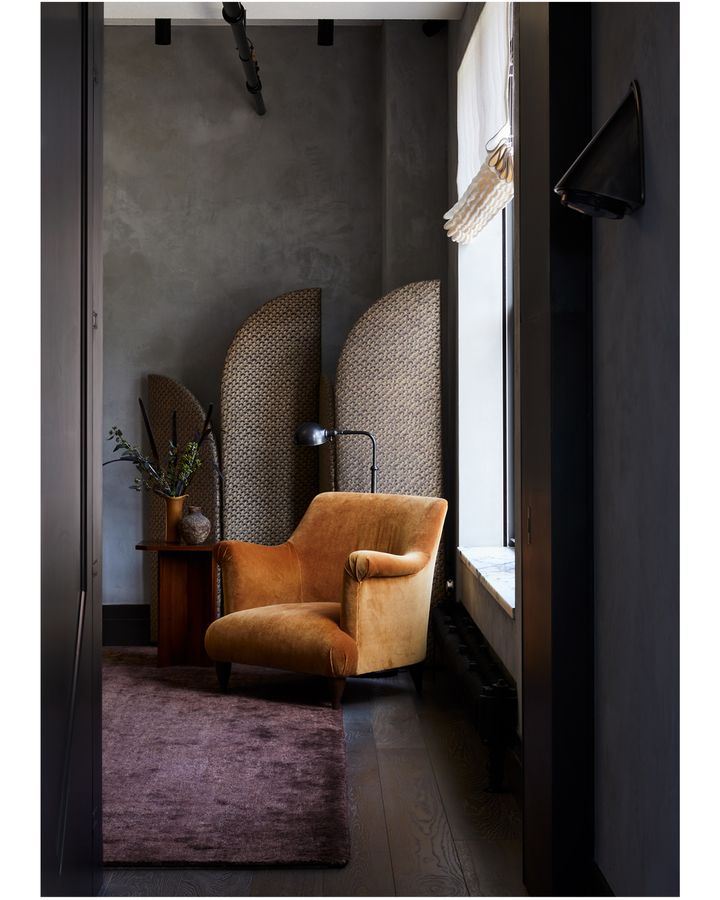 The SoHo loft designed by Jesse-Parris-Lamb is contemporary in feel and references French Art Deco (Credit: Nicole Franzen)
Fluting has played a significant role throughout this loft – as it did in the work of French Art Deco designers and decorators. In their research, "we came across many varied uses of fluting from this period – in wood, stone, metal, and glass – at a variety of scales from cigarette cases to armoires," says Whitney Parris-Lamb. "We wound up deploying this motif throughout the apartment," she adds, citing the tiny, fluted glass on architectural partitions, and the massive wood flutes on the custom burl wood bar.
"Art Deco furniture is totally in line with our lifestyle," Remy believes. "These pieces, which are both aesthetically and functionally designed, can easily be integrated into a contemporary environment. For many enthusiasts, it is not a question of living in a total look but of having one or two works of art within reach."
For a French Art Deco furniture fix, Paris's Mobilier National is the place to head for. More than 200 pieces by the likes of André Arbus, Jules Leleu, Suzanne Guiguichon and Raphael Raffel will be on show at the public institution this winter as part of the exhibition Le Chic!. All the pieces are drawn from the Mobilier National's collections.
Unlike some antiques from earlier centuries, top quality Art Deco can be restored back to pristine condition without damaging its value. At Le Chic!, 129 items have been restored by more than 50 professional craftspeople and heritage restorers around France. They've been funded through a 1m Euro, two-year government support scheme, aimed at reviving the nation's craftsmanship economy.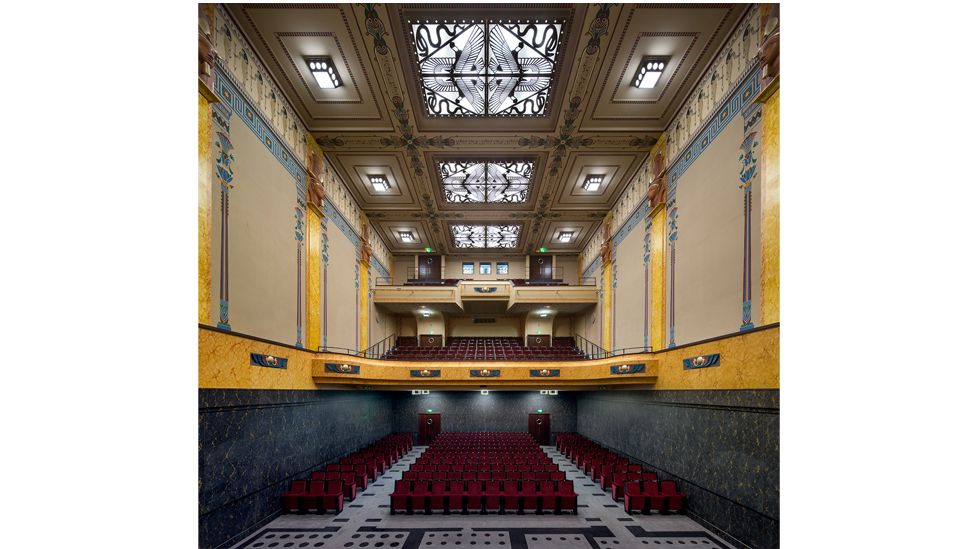 The Louxor cinema in Paris is a French Art Deco masterpiece, and has been fully restored to its former glory (Credit: Editions AAM/Luc Boegly/ Les Amis du Louxor)
In Paris itself, this period has had a revival in recent years, as major Art Deco buildings have been restored and reopened. Architect Henry Zipcy decorated his 1929 Louxor cinema in the Egyptian style. It was threatened with demolition, but in 2013 reopened after an overhaul, which included its geometrically ornate ceiling in the original auditorium. And the 1929 swimming pool Piscine Molitor by architects Lucien Pollet, Jacques Rougerie and Alain-Charles Perrot has been faithfully reconstructed, right down to its balustrades, mosaics and colour palette. It reopened in 2014.
Further afield, entire properties still exist from the period – including Villa Leïhorra in the Basque Country. It's the design of Joseph Hiriart, who did everything from tiles, chandeliers and furniture, and was also behind The Blue Villa in Barcelonnette, in the southern French Alps. And in Belgrade, Serbia, the 1930s French embassy is the work of Roger-Henri Expert with Serbian architect Josif Najman. The original furniture is signed Jules Leleu and Raymond Subes.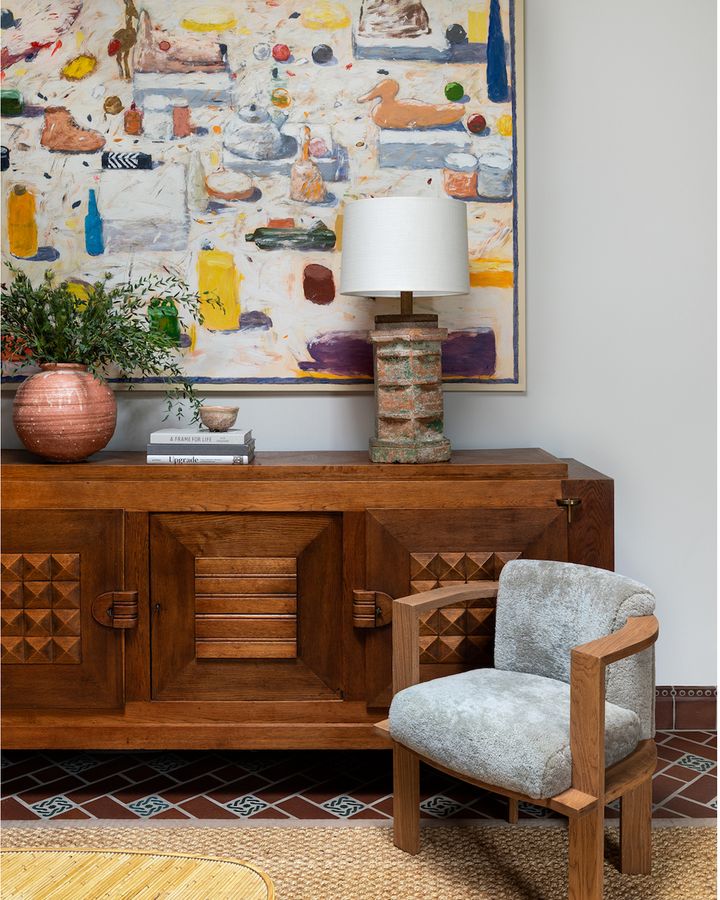 US design firm Hoedemaker Pfeiffer chose an elegant French Art Deco sideboard by Charles Dudouyt for a Seattle home (Credit: Haris Kenjar)
While Art Deco came to be replaced by the functionality, clean lines and simplicity of mid-century modern, its influence didn't end in the 1960s. Nowadays, some interior designers are specifying or commissioning contemporary pieces inspired by the era. At Hoedemaker Pfeiffer's Pries Residence, there's a side chair by Home House Co-Op from US-based Jean De Merry, which was set up in 2001 by Christian Darnaud-Maroselli and Jean de Merry specifically to focus on age-old crafts and techniques, and to produce French Deco-inspired, artisanal designs. "It's a beautiful contemporary example of pure Art Deco form that blends impeccably with its vintage partner," says Pfeiffer of the chair.
And in Jesse Parris-Lamb's SoHo loft, the kitchen island design is based on a French Deco cocktail shaker, and the blade-style foot is inspired by the bottom of a vintage serving bowl. "So much of contemporary design references Art Deco," Jesse says, "and it all started in France."
Le Chic! French Decorative Arts and Furniture from 1930 to 1960 opens at the Mobilier National, Paris on 12 October.
If you would like to comment on this story or anything else you have seen on BBC Culture, head over to our Facebook page or message us on Twitter.
And if you liked this story, sign up for the weekly bbc.com features newsletter, called The Essential List. A handpicked selection of stories from BBC Future, Culture, Worklife and Travel, delivered to your inbox every Friday.