Global Briefing: Climeworks flicks switch on commercial carbon absorbing site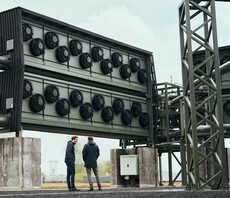 Biden's goes big on low carbon aviation fuels, Kim Jong-Un calls for climate action, and NewsCorp Australia mulls a move away from climate denial
Climeworks brings Orca plant online
The world's largest direct air capture project has started removing carbon dioxide from the air and turning it into rock, according to its developers.
Climeworks said the 'Orca' plant will be able to draw 4,000 tonnes of CO2 from the air annually, storing the emissions permanently through a natural mineralisation technology developed by its partner Carbfix.
The Swiss company, which has contracts to provide carbon removal for Microsoft, Swiss Re, and Shopify, said the pioneering plant would be followed by larger facilities that would allow it to deliver "megaton removal" of CO2 in the second half of this decade.
World's richest university divests from fossil fuels
Harvard University, which has the largest endowment of any university in the world, has announced it no longer has any direct investments in fossil fuels and confirmed it will no longer invest in coal, oil, and gas holdings.
Announcing the university's divestment from fossil fuels in a letter posted to the university's website on Thursday, the university's president Larry Bacow said the institution no longer had any active investments in firms that explore for or extract fossil fossils and "does not intend to make such investments in the future", citing the importance of decarbonising the economy.
The move was applauded by climate campaigner Bill McKibben, a key figure in the divestment movement that has swept the investment sector in recent years. "I can't overstate the power of this win," he wrote on Twitter. "It will reverberate the world around."
The move comes after many years of activism from students calling for the university to divest its giant $42bn fund from businesses contributing to climate change, and follows a raft of similar pledges from other universities, including the University of Oxford and the University of Cambridge.
Reports: Rupert Murdoch tweaks his climate position in Australia
Rupert Murdoch-owned media group News Corp Australia is planning to change its stance on climate issues ahead of the COP26 Climate Summit this autumn, according to reports.
Sevreral Australian newspapers and the New York Times this week reported that the media group – the largest in Australia and a long-time promoter of climate 'scepticism' – will next month publish a series of features and editorials endorsing the drive to net zero emissions by 2050, across both its papers and its Sky News channel.
The media group has faced widespread criticism for allegedly spreading misinformation about climate change, in particular during Australia's bushfire crisis in 2019.
The Sydney Morning Herald reported that people familiar with the matter said "News Corp executives and editors have changed based on what the readers believe and want."
Analysts have expressed concern the Murdoch-owned outlets would replace climate denial with advocacy for delaying climate action. "The real risk is News Corp shifting from denying climate change to delaying climate action with nonsolutions and unaccountable long-term targets," Richie Merzian from the Australian Institute think tank told the New York Times.
White House aims to slash US aviation emissions 20 per cent by 2030
The Biden Administration is aiming to slash US aviation emissions by 20 per cent by the end of this decade through the introduction a new tax credit that would incentivise production of sustainable aviation fuels (SAFs).
Announcing the plans on Thursday, the White House said it aimed to ramp up US supply of SAFs to three billion gallons a year by 2030 and produce enough of the low carbon fuel to meet all US aviation demand – roughly 35 billion gallons a year – by mid-century.
President Biden said this dramatic scale up of SAF production would be supported by a new tax credit in the $3.5tr budget reconciliation bill currently being pushed through Congress by Democrats.
North Korea's Kim-Jong Un warns about 'abnormal climate'
North Korean leader Kim Jong-Un has urged party officials to ramp up measures to tackle climate change, BBC News reported this week.
Speaking to North Korea's ruling party's Politburo on Thursday, Kim said the dangers of climate change were growing and called for "urgent action" to be taken, according to the broadcaster.
In his address, the leader called for officials to make improvements to the country's flood management systems, and introduce other land-based measures that could boost the country's resilience to floods and typhoons.
The president noted the "abnormal climate" of the past few years had led to the worst food shortage in North Korea's history.