'Passing the buck has to stop': UN warns current climate pledges set to drive 16 per cent increase in emissions by 2030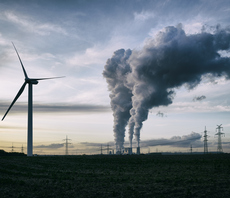 Major report highlights goals of Paris Agreement are threatened by weak climate ambition from countries and limited climate finance flows from rich to poor nations
The world is not remotely on track to limit global warming to 1.5C emissions, despite more than 113 countries and states submitting new climate plans over the last two years, a major UN report has today warned. And experts fear the chances of a major breakthrough agreement at the imminent COP26 Climate Summit have just been dealt a blow by escalating geopolitical tensions between the US, UK, Australia, and China.
A comprehensive review of national climate plans from the 191 countries and states signed up to the Paris Agreement – known as 'nationally determined contributions' (NDCs) in UN jargon – calculates global greenhouse gas emissions are set to rise by 16 per cent by 2030 against 2010 levels.
In contrast, scientists have recommended emissions reductions of 45 per cent are required by 2030 to meet the Paris Agreement's more ambitious goal of limiting warming to 1.5C this century, while emissions cuts of around 25 per cent would be needed to cap global temperature increases at 2C, the less stretching goal set out by the treaty.
Today's UN report predicts that current climate plans are set to drive a dangerous 2.7C increase of warming by the end of this century – and that assumes the decarbonisation plans that have been submitted are fully enacted, something many countries are struggling to achieve.
Patricia Espinosa, the UN climate chief, said the projected 16 per cent increase in emissions was "a huge cause for concern". "It contrasts sharply with calls by science for rapid, sustained and large-scale emissions reduction to prevent the most severe climate consequences and suffering, especially of the most vulnerable, throughout the world," she said.
The report comes just a few months after the official deadline for countries and states signed up to the Paris Agreement to submit updated NDCs, and just weeks before nations meet in Glasgow for the COP26 Climate Summit.
The UN report notes that just 59 per cent of parties signed up to the Paris Agreement had submitted updated NDCs as of July 2021, calculating these countries and states are responsible for 49 per cent of greenhouse gas emissions. And the report warns that the climate plans that have been resubmitted fall far short of delivering the emissions reductions required to stabilise global temperatures in line with the Paris Agreement.
If the 113 countries that have submitted updated NDCs reach their goals, greenhouse gas emission levels would fall across those regions by an average of 12 per cent by 2030 against 2010 levels, according to the analysis.
G20 countries have a critical role in driving action, the report notes, calculating that actions taken by these major economies alone could cap global warming at 1.7C, the lion's share of emissions reduction required to avoid catastrophic levels of warming.
The UN report also stressed the critical importance of developed nations meeting their commitment to mobilise $100bn of climate finance for poorer countries, highlighting that many of the climate plans put forward by developing countries are conditional on receiving financial aid.
Espinosa called on countries to work together to meet their climate finance commitments, a target set out more than 11 years ago at the COP15 Summit in Copenhagen. "It is time to deliver on those commitments, and COP26 is the place to do it," she said. "Developing countries need support to act in the most ambitious way possible."
The UN's analysis comes the same week as new data from the Organisation for Economic Co-operation and Development (OECD) revealed that developed countries continue to make negligible progress towards the $100bn goal.
The OECD's update reveals the grand total of climate finance mobilised by rich countries for developing nations in 2019 stood at $79.6bn, an increase of just two per cent on the year before. Data for 2020, the target year by which the $100bn goal should have been achieved, will not be available before 2022 due to time lags in official reporting, but the historic rate of annual increases outlined by the OECD suggest it is highly unlikely developed countries will meet their goal.
Espinosa emphasised that countries still had time to enhance their climate plans ahead of the COP26 conference, noting that another synthesis report would be published in late October. Campaigners remain hopeful that ambitious NDCs from some of the major emitters that are yet to update their plans could yet drag projected temperature increases downwards, with observers noting that if China were to formalise its promised net zero emission goal it could both curb projected emissions and have a catalysing impact on other economies.
As such COP26 President Alok Sharma again urged countries around the world to strengthen their national climate plans and financing pledges in the coming weeks. "Those nations which have submitted new and ambitious climate plans are already bending the curve of emissions downwards by 2030," he said. "But without action from all countries, especially the biggest economies, these efforts risk being in vain. We can change the course of history for the better. We can and must act, for ourselves, for vulnerable communities and future generations.".
In response to today's sobering findings, Greenpeace executive director Jennifer Morgan urged governments to ramp up their national climate action plans, noting that the report "did not paint a hopeful picture of progress".
"Current NDCs amount to around a 16 per cent increase in emissions by 2030 from 2010, when they need to be slashed by at least 50 per cent," she said. "Achieving the Paris 1.5C goal is possible but only with courageous leadership and bold decisions.
"Governments are letting vested interests call the climate shots, rather than serving the global community. Passing the buck to future generations has got to stop – we are living in the climate emergency now."
Meanwhile, shadow business secretary Ed Miliband said the UK now has a "unique opportunity" to drive global climate action as the co-host of the COP26 Summit. But he also expressed concern about the government's ability to secure a sufficiently ambitious global agreement.
"As hosts, the UK has a unique responsibility to make the summit a success," he said. "Instead, Boris Johnson's serial unseriousness, failure to engage with the detail and hypocrisy at home including rolling over to big polluters is undermining COP26 before it has begun.
"We can have no more climate delay. The government must act now before the window closes."
Gareth Redmond-King, COP26 communications and engagement lead at the Energy and Climate Intelligence Unit (ECIU) think tank, said the latest numbers were "stark" and called on developed nations to come to the table with stronger pledges and more climate finance for developing economies.
"If the two most powerful G20 nations lead the way – China with much deeper short-term emissions cuts, and the US with much more money for developing nations – then others may follow," he said. "More ambition to close this gap – along with real-world action to phase out coal, end deforestation, and make rapid cuts to methane – could yet ensure that the world can leave COP26 in Glasgow with the Paris Agreement goal of 1.5C within reach."
The UN's report is published just days after a separate study reviewing updated national climate targets found that just one country, the Gambia, is taking action in line with a 1.5C warming pathway.
That report, produced by Climate Action Tracker, warned that three quarters of the countries assessed in the survey suffered from significant gaps in climate action.
Overall, updated NDCs that have been submitted over the last two years have narrowed the 'emissions gap' between current plans and the level of decarbonisation needed to keep temperature increases below 1.5C by around 4GtCO2e, roughly 15 per cent of the total needed.
Countries that have submitted the same or even less ambitious targets for 2030 than they put forward in 2015 are of particular concern, Climate Tracker noted, pointing to a lack of progress from Australia, Brazil, Indonesia, Mexico, New Zealand, Russia, Singapore, Switzerland, and Vietnam.
While the analysis put the UK among a small clutch of companies with climate targets that are "nearly sufficient", it warned the government needed to follow up its ambitious targets with policy action and increased investment. "While the UK's domestic target is 1.5C compatible, its policies and international support don't match," the report notes.
The NDC assessment reports also come as campaigners have expressed concern that the new defence deal between the UK, US, and Australia could hamper crucial climate diplomacy efforts in the lead up to COP26, according to a report in the Guardian.
The co-called Aukus trilateral security partnership launched this week has been broadly interpreted as a move to challenge China's military dominance in the Asia-Pacific, with the deal prompting warnings from Chinese officials that Australia could be the target of a nuclear strike.
Climate experts warned the deal could damage relations between the pact partners and China at precisely the moment when the UK should be attempting to work closely with the Asian superpower to achieve a successful outcome at the COP26 Climate Summit.
The UK's headline aims to "assign coal to history" and "keep 1.5C alive" at the conference will not be achievable without increased climate ambition from China, the world's biggest polluter and the biggest producer, consumer, and financier of thermal coal.
Last year, China announced it was aiming to deliver carbon neutrality by 2060 and hit peak emissions by 2030, but it is broadly accepted that China must deliver sharper emissions reductions over the coming decade if the world is to stand a chance of limiting global temperature rise at 1.5C.
COP26 negotiators had expressed hopes the country could establish a more ambitious target and take steps to curb coal financing over the coming weeks, with the Chinese President Xi Jinping set to meet other world leaders at the UN General Assembly next week.
But climate experts and politicians have warned the new defence pact could reduce the UK's ability to influence China and make crucial climate diplomacy negotiations more difficult ahead of COP26.
In the House of Commons, Labour Leader Keir Starmer said the defence deal could hamper progress towards co-operation on issues like climate change and pandemic preparedness.
"What plan does the Prime Minister have to ensure that this new arrangement increases rather than decreases our ability to influence China?" he asked. "With COP26 around the corner, the UK's approach to China matters."
The European Climate Foundation's Laurence Tubiana, a key figure in brokering the Paris Agreement in 2015, said solidarity and multilateralism was critical to climate negotiations. "Climate diplomacy relies upon an understanding of the scale of the crisis and the self-interest states have in strong and robust climate action," she told The Gaurdian. "It is not a question of deals or transactions; it is a common fight. Further success is predicated on a repaired US-China relationship, but also upon a commitment to multilateralism across the board if we are to keep the spirit of the Paris agreement alive."
And Tom Burke, founder of the E3G environmental think tank said the deal called in to question how seriously the Prime Minister was taking the vital climate talks.
"This [Aukus announcement] is bad timing ahead of Cop26, as Glasgow is time-critical and it's hard to see what was critical about the timing of this announcement," he told the newspaper. "It does not appear to suggest that the prime minister is taking Glasgow very seriously. And it exposes the fact that he has not got much to offer ahead of Glasgow."
There are good reasons to think many nations will continue to ramp up their decarbonisation plans in the coming weeks and months, as clean tech costs continue to fall and climate impacts escalate. But with COP26 just weeks away the scale of both the environmental and the diplomatic challenge just got even more daunting.