Prince Charles joins insurance heavyweights to launch new climate taskforce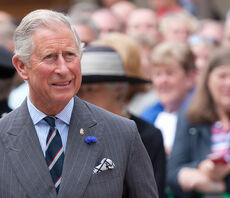 Chief executives of 17 major insurers join new taskforce designed to explore how the insurance sector can accelerate progress towards a zero emission economy
Prince Charles has launched a new task force under the banner of his Sustainable Markets Initiative to bring together the CEOs of some of the largest insurance companies to explore how to accelerate the transition to a nature positive and net zero emission economy.
The heir to the throne officially launched the Sustainable Markets Initiative (SMI) Insurance Task Force yesterday on a visit to UK insurance giant Lloyd's, which will chair the group.
The Prince of Wales, a long-time champion of environmental causes, emphasised how the insurance industry had a unique view on the climate crisis given its detailed understanding of the dangers that arise from ignoring risks and delaying action to mitigate escalating threats to infrastructure and economic stability. "The insurance industry is exceptionally well placed to understand the impact of climate change and the damage it can cause to us all if we don't take action now," he said.
"This is why I am so pleased that a large number of the world's leading insurance companies have joined together to identify how the insurance industry can help put nature, people and planet at the heart of our entire economy," he added.
The taskforce will bring together a number of industry heavyweights, including the chief executives of AIG, Allianz, Aon, A A, Hiscox, Legal & General, and Munich Re.
In a statement of intent published yesterday, the group confirmed it planned to support the transition towards a more sustainable economy by providing businesses and individuals with climate positive finance and risk management solutions designed to build a more climate resilient, low carbon economy.
Specific new offerings could include adapting and expanding coverage for offshore wind projects in a bid to accelerate the clean energy sector's growth, and introducing 'build back better' claims clauses in home insurance policies to encourage customers to ensure damaged homes are rebuilt in line with environmental best practices, the group said.
The taskforce has also committed to working with governments to establish a "public-private disaster resilience, response and recovery framework" that could help nations on the frontlines of climate change prepare for its escalating economic and societal impacts.
And it pledged to develop a framework that will enable the sector to shift more capital towards investments that drive climate-positive incomes in both advanced and emerging economies.
Lloyd's chairman Bruce Carnegie-Brown stressed there was still time to mitigate the risks presented by the climate crisis. "Although climate change poses unprecedented systemic risk, it is one which – through partnership and accelerated action – we have the means to address," he said. "As a taskforce, we are making a resolute commitment to be a catalyst for action to help create a more sustainable future through the risks we manage and the capital we invest."
The move comes as the insurance sector faces growing pressure from campaigners to match long-term net zero targets with a complete phase out of investment and underwriting for fossil fuel projects, with campaigners arguing such a policy would allow the sector to play a decisive role in reducing global greenhouse emissions. Green groups have warned many of the world's leading insurers continue to play a vital role in enabling new oil and gas activity around the world, despite the industry's significant progress in curtailing its support of coal.
The project is one of a number of schemes geared at galvanising climate action from businesses that is rolled out by the SMI, a charity launched by Prince Charles at the World Economic Forum in Davos last year.