The Scottish film that foretold our era
Forty years ago, Bill Forsyth's film warned us to consider the consequences of putting short-term gain ahead of the environment, writes Anthony Frajman.
Few films have been as enduring as Local Hero. Released 40 years ago, the landmark Scottish film starring Hollywood legend Burt Lancaster put Scottish cinema on the map, launched the career of a then-unknown Peter Capaldi and showcased the nation's incredible landscapes to the world.
More like this:
– The 1998 film that predicted the future
– David Lynch on 'the beauty in the dark'
– Dating culture's most toxic stereotype
Yet, the film was also remarkably prophetic. Decades before climate change was a widely discussed issue, Local Hero was one of the first contemporary films to draw attention to our impact on our environment.
Set in the fictional village of Ferness, Local Hero follows US oil executive "Mac" MacIntyre (Peter Riegert), who is sent to Scotland by his eccentric billionaire boss Felix Happer (Burt Lancaster) to buy the entire town and its surrounding areas to build an oil refinery. As he spends more time with the locals, Mac slowly falls in love with his adopted surroundings, and begins to question his role, its ethics, and his entire worldview.
Eerily relevant in our era, the climate satire shows almost no citizen standing up to the oil conglomerate. There is no environmental protection agency that steps in, no law against the oil company's intended destruction of the land.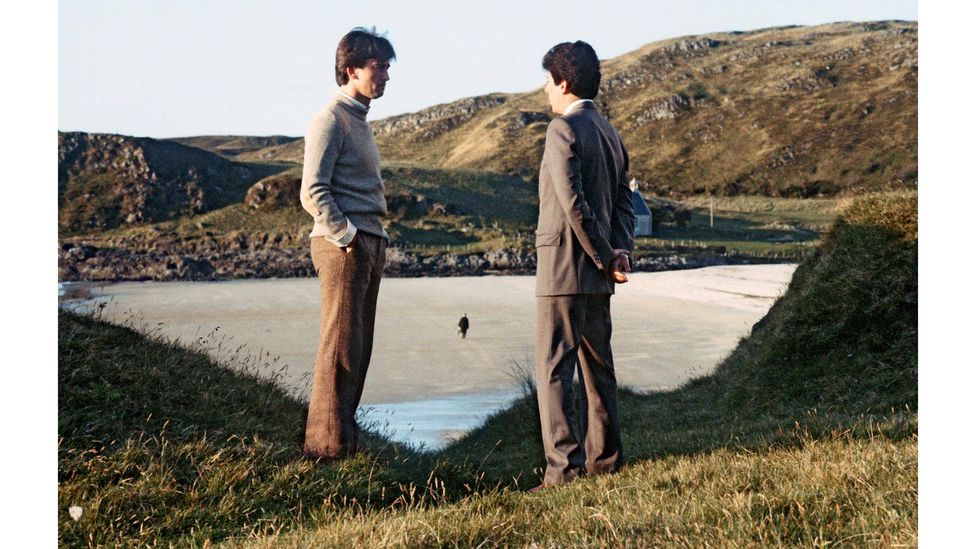 During his 2000 campaign for the US presidency, Vice President Al Gore told Oprah Winfrey in an interview that Local Hero was his favourite film (Credit: Alamy)
The film began with Chariots of Fire and The Mission producer, David Puttnam, whose films have been nominated for 26 Oscars. Puttnam had read an article in The Observer about a Scottish man's battle against an oil giant, andwas determined to make a film that addressed the unethical behaviour of oil firms and their toxic impact on natural landscapes.
Puttnam, who had been an environmentalist since the 1970s, and was president of the Council of Protection of Rural England, saw the potential for a film that directly addressed environmental issues. "I was really interested in the idea that a local accountant could sue a major, major international oil company and win on environmental grounds. I thought that was great. It was really a David and Goliath story," Puttnam tells BBC Culture.
Puttnam had seen the debut feature of then largely unknown Scottish director Bill Forsyth, That Sinking Feeling, produced for £5,000, which he helped Forsyth sell to the BBC, and wanted to work with him. Sparked by the article he'd read, Puttnam brought the story to Forsyth, along with a proposal for a film set in Scotland dealing with ecological issues. "We hired two journalists, one on the East Coast, one on the West Coast, to give us cuttings or any other stories they had about communities being affected by a major oil company or major conglomerate coming in. And we were able to collect quite a lot of bits and pieces, and Bill then built that collage into the screenplay," Puttnam remembers.
A hard sell
While Puttnam had produced the debut films of celebrated British directors Ridley Scott and Alan Parker, and had an eminent reputation as a producer, he struggled for years to get this unlikely Scottish film into production. "I couldn't get much interest in it. I just found it very, very difficult getting traction," says Puttnam.
Although he had only been able to secure half the budget for the film, that changed almost immediately when Puttnam won the Oscar for best picture for Chariots of Fire in 1982, on top of the best picture Bafta, bringing home Britain's first best picture Oscar since 1968, when Oliver! won.
"I won the Bafta for Chariots and extraordinarily, was presented the award by Burt Lancaster. I mean, how that happened, God. But he happened to be presenting the best picture award that year. I walked back to my table and a guy called James Lee stopped me. He said, 'If you're still looking for money for Local Hero, you've got it'. And we shook hands. I went back to the table with a Bafta and the other half of the money," Puttnam recalls.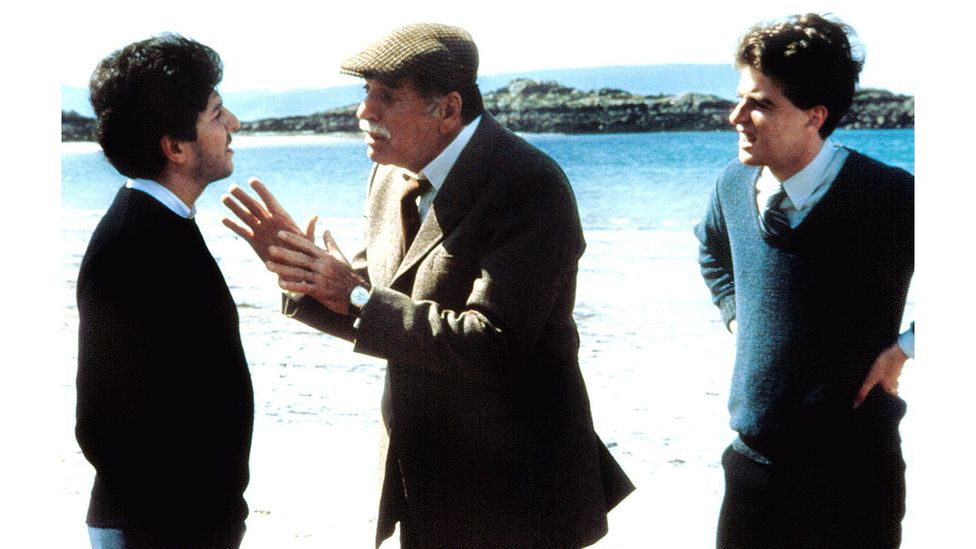 Burt Lancaster's salary was a large portion of the film's budget; but Warner Bros offered Puttnam a US distribution deal and extra funding to get him on board (Credit: Alamy)
As it happened, Puttnam and Forsyth had their eye on Lancaster to star in the film from get-go. "The first thing that Bill had said to me when he delivered the screenplay was, 'I'd like Burt Lancaster to play Happer," says Puttnam. While securing Lancaster was crucial for the film's international appeal, this proved extremely difficult as the star's salary took up half of the film's budget. It took a year of negotiating to get him on board.
Despite considering stars such as Michael Douglas and Henry Winkler for the role of Mac, Forsyth was set on casting Peter Riegert as the oilman who experiences an awakening and succumbs to the charms of the rugged Scottish landscapes. For the key part of Oldsen, the local guide who escorts Mac around Ferness, Forsyth chose Peter Capaldi, a then fresh-faced Scottish actor just out of art school, with no credits to his name.
Another integral element of the film is the score by Scottish-born Dire Straits frontman Mark Knopfler, who Puttnam suggested to Forsyth. While it is regarded as a key component of the film, underscoring shots of the Scottish coastline and the Northern Lights, it almost never came about.
"I heard his (Dire Straits) album Making Movies. So, I wrote to him, I got a letter from his manager who said, 'Oh, that's really, really interesting'. I got Mark and Bill to meet, Bill didn't like Mark's music, so it was a very tense meeting. But Bill liked one track, Telegraph Road. So, I managed to have a meeting where the only track we talked about was Telegraph Road. And, in the end, they got to like each other and they got to work together," says Puttnam.
Ahead of its time
Released to immediate acclaim, the film was a major success in the UK and in the US, going on to be honoured as one of the top 10 films of the year by the National Board of Review in New York and launching the career of future Doctor Who star and multi-Bafta winner Peter Capaldi. Forsyth – who'd garnered praise for his 1981 sleeper hit Gregory's Girl – won a Bafta for best direction.
While Local Hero remains arguably the finest film to have come out of Scotland, perhaps its most enduring legacy lies in its prescient caution on the environment. Fully aware that going ahead with the oil plant will irrevocably damage their village, the locals of Ferness willingly agree to sell their land, rather than oppose the corporation – bar one holdout, a dogged old man.
Well before it was echoed in the incident of the Scottish farmer who refused to sell his land to Trump when he built his golf course, Forsyth's film implored audiences to conserve the environment, to stand up and fight for it, and to contemplate how easily it can be destroyed.
In the willingness of the residents to sell their land, Forsyth urged viewers to consider the irreversible repercussions of environmental harm. Looking back on the seminal Scottish film 40 years later, Puttnam says he believes it was prescient and is his favourite of the films he has produced: "It was certainly a good 20 years ahead of its time."
Love film and TV? Join BBC Culture Film and TV Club on Facebook, a community for cinephiles all over the world.
If you would like to comment on this story or anything else you have seen on BBC Culture, head over to our Facebook page or message us on Twitter.
And if you liked this story, sign up for the weekly bbc.com features newsletter, called The Essential List. A handpicked selection of stories from BBC Future, Culture, Worklife and Travel, delivered to your inbox every Friday.