Shell fires up Europe's largest green hydrogen facility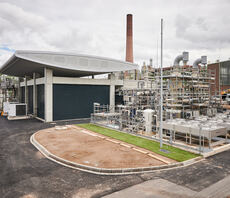 European consortium says project marks a major milestone for the key decarbonisation technology
Shell this afternoon began operations of Europe's largest PEM hydrogen electrolyser at its Energy and Chemicals Park in south west Germany, pledging to deliver up to 1,300 tonnes of green hydrogen a year from the trail-blazing facility.
The project is being led by the Refhyne European consortium, with support European Commission funding, and will is to use renewable power to convert water into green hydrogen.
The plant is the first to use the technology at such a large scale in a refinery, Shell said.
"This project demonstrates a new kind of energy future and a model of lower-carbon energy production that can be replicated worldwide," said Huibert Vigeveno Shell's downstream director, at the project's opening ceremony.
While operations begin today, plans dubbed Refhyne II are already under way to expand capacity of the electrolyser from 10MW to 100MW at the site. Shell said it also intends to use the site – which is located in the Rheinland, near Cologne – to produce sustainable aviation fuel (SAF) using renewable power and biomass in the future. In addition, a plant for liquefied renewable natural gas, known as bio-LNG, is also in development, the company said.
European Commission funding for the innovative electrolyser has come via the Fuel Cells and Hydrogen Joint Undertaking (FCH JU). The consortium backing the project includes: Shell, UK-based hydrogen technology developer ITM Power, research organisation SINTEF, consultants Sphera, and Element Energy. The electrolyser was manufactured by ITM power in Sheffield and includes parts made in Italy, Sweden, Spain, and Germany.
Bart Biebuyck, executive director of FCH JU, said: "In order to achieve climate neutrality by 2050, we need to fundamentally reshape our energy system. Clean hydrogen will play a key role in e-mobility and in industry, as it has great potential for decarbonising sectors where direct use of renewable energy is not possible. Accordingly, we want to accelerate the market launch of fuel cells and hydrogen technology and tap into their advantages in Europe."
Dr Graham Cooley, CEO of ITM Power, described the latest development as "the beginning of the journey to net zero". "The next step, Refhyne II, is even bigger and would take us into the hundreds of megawatts for the first time, on our way to gigawatts deployments," he added. "The vision and commitment of Shell, North Rhine-Westphalia and the FCH JU show what can be achieved to deliver the world's commitments on climate change."
The site has achieved the backing of local politicians, keen to emphasise the economic as well as environmental benefits of the development of green hydrogen technology.
"We are a hydrogen region," said Armin Laschet, North Rhine-Westphalia's Minister-President. "With the commissioning of the largest PEM electrolysis plant in Europe, we are further expanding our leading role in this field. We are therefore laying the foundation for a modern and green industry, with highly skilled jobs. Today, 30 per cent of German demand for hydrogen already comes from North Rhine-Westphalia's industry. Estimates predict that demand will double by 2030."
The project marks a major milestone for the green hydrogen sector, as debate continues to rage amongst policymakers and energy industry players over the role of hydrogen in the net zero transition and whether green hydrogen produced using electrolysers or so-called blue hydrogen produced using natural gas with carbon capture technologies come to dominate the market.